Mobile skips are incredibly convenient and offer the flexibility of use that some skip bins don't.
The main difference between an ordinary skip bin and a mobile skip is that mobile skip bins are mounted on trailers. This movability means that they do not require permits like other types of skip.
Skip Bins usually need permits if they're placed in a public area because they're considered to be a semi-permanent structure. Mobile skip bins out-maneuver this rule by having wheels.
Mobile skip bins also come complete with lockable lids. This is advantageous because it keeps other people from adding their rubbish to your skip bin.

What is a Mobile Skip Bin?
Mobile skip bins are commonly used by businesses and organisations which are in areas where parking a larger skip bin might be tricky.
They can be used for almost any waste type. As mentioned above, they're lockable and can be used in a variety of situations.
What are the advantages of using a Mobile Skip Bin?
The main advantages of using a mobile skip bin are as follows –
Affordable
Lockable
No permit needed
Suitable to be parked in awkward spots
Common uses of a Mobile Skip Bin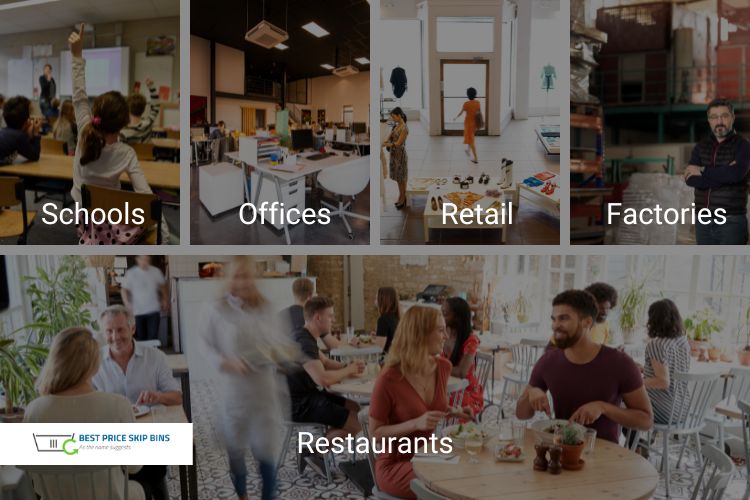 Many retail stores use mobile skip bins but there are other businesses which benefit from them too.
Retail stores
Restaurants
Schools and colleges
Offices
Smaller factories and warehouses
How to operate a Mobile Skip Bin?
Once you know you're going to book a mobile skip bin, think about the best place to park it.
You do not need a permit for a mobile skip bin, so you can choose to park it more or less, anywhere that's convenient, such as your driveway or anywhere else you need it.
Choose an area which is not directly in front of any exits or entrances and somewhere which is easy to access.
Once your mobile skip bin has been delivered, you will need to begin filling it up. Make sure that there are no restrictions on waste type – you'll get the opportunity to decide which waste type you want to dispose of when you book.
Make sure your staff understand what rubbish can and cannot go into your mobile skip bin. Here at Best Price Skip Bins, we recycle as much as possible and that's why we try to separate some waste types from others.
Check our waste types page for more information.
Regulations for using a Mobile Skip Bin
You may need to check your local council rules if you want to place your skip bin on the road outside your property or premises.
However, in general, no permit is needed for a mobile skip bin. There may be regulations about skip bins near crossings or schools or car parks.

Safety Precautions for using a Mobile Skip Bin
All staff who will use the mobile skip bin should be well-versed in the health and safety rules regarding heavy lifting.
Although mobile skip bins are not large, or especially deep, care still needs to be taken when filling them up.
Wear gloves and eye protection if you are breaking down junk to fit inside the mobile skip bin and always get help to carry heavier items.
Where to hire a Mobile Skip Bin?
Best Price Skip Bins offers an Australia-wide service, so wherever you're located, you can book a mobile skip bin through us.
Find your local area mobile skip bin hire here.
You can choose between different waste types, including mixed and general.
Booking is simple. Just enter your postcode  
Alternatives to a Mobile Skip Bin.
Whilst there may be a few alternatives to mobile skip bin hire, you'll find that there's nothing quite as convenient.
Skip hire is a useful tool when it comes to waste management, including green waste. Avoiding council permits is another plus.
While you can book a rubbish removal service, these limit the days on which you can have the waste removed.
With a mobile skip bin, you can keep the skip for as long as you choose. Dump runs offer one alternative solution to a build-up of junk, but there are still fees to pay and your vehicle will, of course, need to be filled with rubbish.
Visit our service areas page to find out more about mobile skip bins in your state.
Melbourne | Sydney | Adelaide | Perth | Brisbane | Sunshine Coast | Gold Coast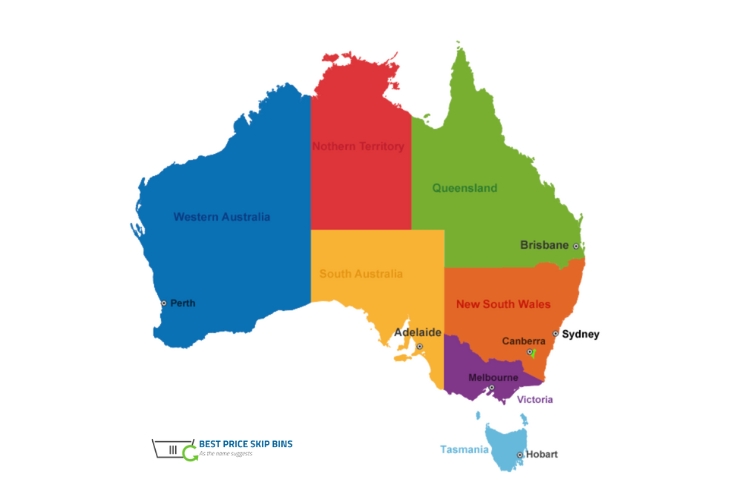 Final considerations
Whether you own a business that produces a lot of waste on a regular basis or perhaps run an organisation such as a place of education or service, mobile skip bins offer a convenient solution to rubbish build-up.
With the amount of waste we recycle today, mobile skip bins are a great option.
Remember, Best Price Skip Bins cares about the environment. To get your immediate quote, enter your postcode here.
There's no callback – we don't bother you at all. You just need to add your postcode so we know your location, to see skip bin types and sizes, then select your preferred date of delivery.
That's it! Please feel free to contact us with any questions regarding the process of mobile skip bin hire. For construction projects or larger skip bins, please visit our waste types page.