Everything You Need to Know About Hiring Commercial Grade Skip Bins for Your Waste Management Needs
Hiring a commercial grade skip bin is one of the most effective ways in which to manage big industrial operations or the waste generated by commercial activities such as retail, restaurant, factory and education settings.
Because these businesses and organisations produce a large amount of rubbish on a regular basis, there is a need for very large waste containers.
Services such as those provided by Best Price Skip Bins are ideal for the regular removal of waste.
Here, at Best Price Skip Bins, we offer short-term hire or long-term hire of skip bins and a variety of skip bin sizes. Waste removal needs to be planned and carried out in the most eco-friendly and affordable fashion and those requirements are front and centre with our service.
What are the advantages of using a commercial grade skip bin?
A commercial grade skip bin is a larger container than those you will normally see on domestic projects.
Commercial grade skips are much bigger and they're made specifically to contain a variety of rubbish.
They're used in construction projects as well as the management of factories, schools and retail outlets.
Because of their ability to hold such a lot of waste, they not only save time but also space. Storing waste at a busy facility with a lot of people on site is not safe unless the waste is contained.
Skip bin hire is ideal for commercial purposes because rubbish can be removed quickly and cleanly as soon as the container is full.
Common things you'll dispose of and when you'll most likely need a commercial grade skip bin for your project or waste management requirements.
The most common things which are disposed of in commercial grade skip bins are as follows.
Demolition waste
Bricks, concrete, metals, timber
Building waste
Such as packaging, sand, soil and rubble
Packaging
Cardboard and plastic in addition to timber from pallets
Green waste
From food services and production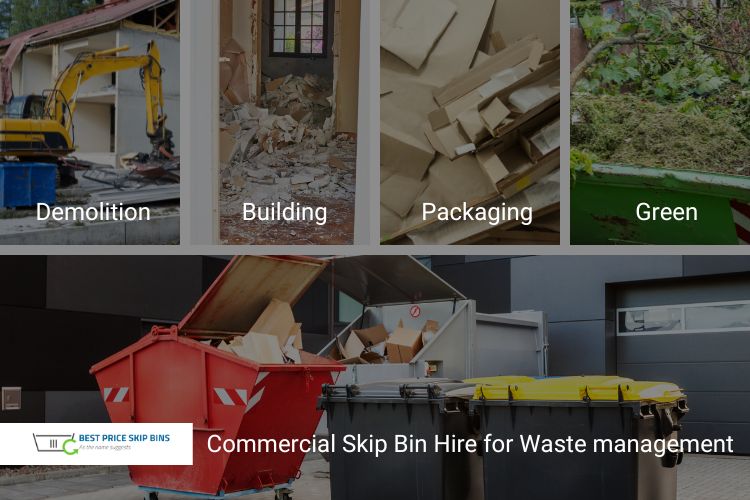 Things from a commercial cleanout that can go into your local rubbish collection.
You may be engaged in a big commercial cleanout – for example, a factory which is being refurbished, a shop which is being re-fitted or a school which is having a facelift or building repairs.
The fact is that commercial cleanouts produce far too much waste for local rubbish collections, but a little of what is produced may certainly go into your local collection bins if there is space.
Cardboard
Plastic packaging
Some green waste
Things from a commercial cleanout that cannot go into your local rubbish collection.
Although local rubbish collections do provide containers for general, green and recycling, there are limits as to what may be put inside the bins. The following may not be put into your local rubbish bins.
Batteries
Oils
Paint
Chemical waste
Environmental considerations for a commercial cleanout
It's important for anyone using a skip bin to understand what items may be put into the skip bin.
Here at Best Price Skip Bins, we're proud of our record for our environmental efforts and we offer a range of skip bins for different waste types as this is one of the best ways to recycle.
When separated, much of what we collect can be recycled. For example, green waste can be turned into compost.
Some things such as paint and oil may not be put into skip bins but should be taken to a specialist local recycling facility.
If you'd like to know more about our services in your state, please don't hesitate to visit our service areas page.
Safety considerations for a commercial cleanout
Commercial cleanouts come with unique hazards specific to their industry. The most important consideration for staff, is that they understand how to use the skip bin, including what sort of waste to put in it.
Protective wear should be provided for all employees, including boots, head and eye protection and gloves.
Lifting heavy waste should not be attempted alone. All members of staff should be familiar with lifting techniques as prescribed by the Australian Government. You can view the recommendations made by Safe Work Australia here.
Frequently asked questions about skip bin hire for a commercial cleanout
The most common questions asked about hiring skip bin solutions are as follows.
Q: Are skip bins bad for the environment?

A: No. In fact, skip bin hire is a great way to ensure that waste, even construction waste, is recycled.

Q: Are commercial grade skip bins expensive?

A: No and what's more, they can actually save organisations money. Using other forms of waste management to ensure a clean environment can be costly over a long period of time. Your business could benefit from using skip bin hire for renovations or cleanups.

Q: How long can I keep an industrial skip bin for?

A: Generally, for as long as you need it. Contractors may need a skip bin for days or weeks at a time and that's fine. The capacity of your skip bin should be enough that you don't overfill it or run out of space.

Q: In which locations are Best Price Skip Bins?

A: We cover the whole of Australia and you can find your closest skip hire from us by checking our regions page.
Alternatives to a commercial skip bin
The most common alternative to commercial skip bins are rubbish removal services. This entails a van which will arrive to drive your rubbish to a dump.
Skip hire is the best solution because it puts you in control of your waste management and you can contact customer service about any issues which might arise such as additional waste to manage.
Tips for choosing a skip bin hire company for commercial waste management or a cleanout
The most important things to look out for in a skip bin hire company dealing with commercial waste are as follows.
Excellent customer service
Available at your location
Ability to book for next day delivery
Low prices
Immediate quote
High standards of cleanliness on pick-up
Here at Best Price Skip Bins, we work hard to fulfill all of the above. When you're booking your skip bin with us, you'll find the process simple and easy to understand.
We work hard to ensure there's a skip bin suited to every situation and a variety of waste types. Contact us if you have any questions about the process.
To find more information about skip bin hire in your state, visit our regions page.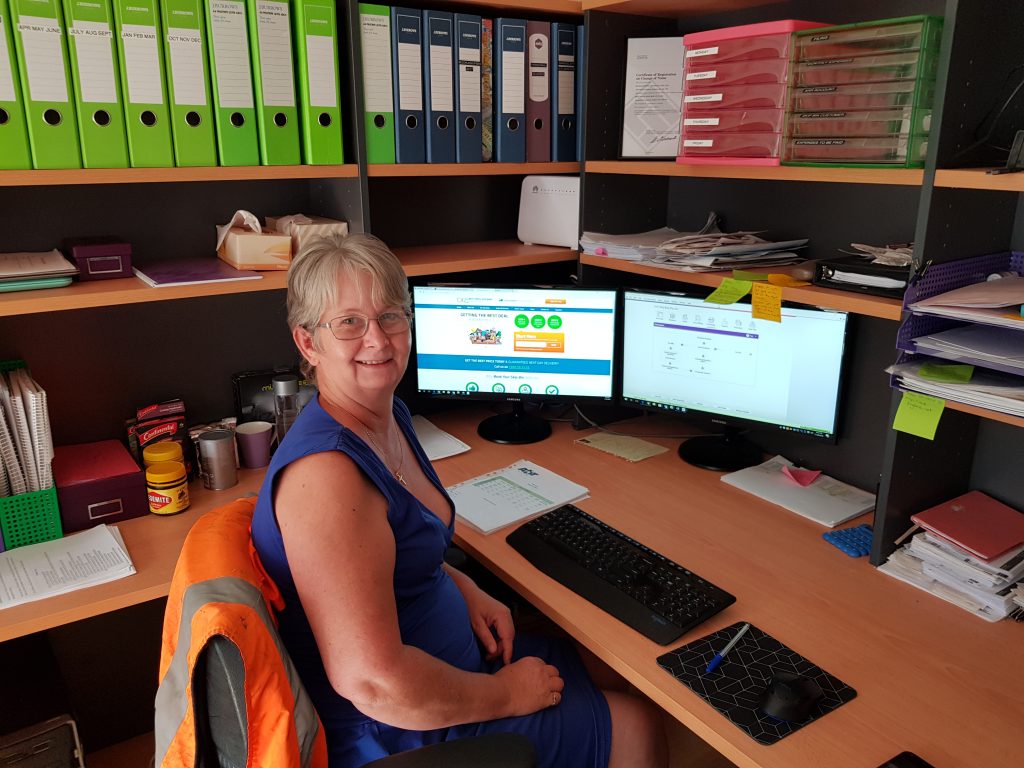 Conclusion
Commercial grade skip bin hire is the best way to manage large amounts of waste in factories, office or large residential facilities.
The sizes available are in keeping with the amounts of waste produced at locations like these and Best Price Skip Bins have been serving industrial businesses for many years.
We're dedicated to providing the best in both service and price. Contact us for all enquiries about commercial grade skip bin hire or residential skip bin hire.