Disposing of concrete and bricks from construction products should be done properly. At Best Price Skip Bins, we have the right solutions to help you choose the skip you need. There are many types of building materials, especially from older properties, and each needs to be dealt with correctly.
Whatever the size of your demolition job, you are likely to produce an uprising amount of concrete and brick waste. It usually surprises people just how much material goes into the smallest construction. You can deal with all these waste products efficiently with the right type of skip bin.
Choosing The Right Skip Bin
When it comes to building materials, there is sometimes jargon that people find confusing. At Best Price Skip Bins, we provide two types of bins to dispose of concrete, bricks and other building materials. You can book a Concrete/Bricks skip bin, or a Mixed Heavy Waste skip bin.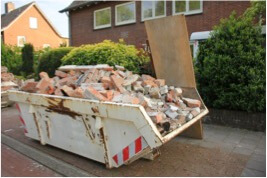 Cleanfill and hardfill are building terms which often confuse people. They are in fact the same thing, and also known as clean hard fill. As these are terms used in the building trade, they refer to what can be done with the material.
Hard fill is a term used to differentiate materials from general waste. This usually means concrete and bricks, but also refers to ceramic tiles and rock or stone. As these can be ground down and used in future building projects, they need to be collected separately.
The term clean fill means that the hard material is uncontaminated by other types of waste. This is why it is so important to keep waste products separate when carrying out demolition or construction work.
If a clean hard fill skip bin is taken to a processing plant with items of general waste among it, this causes problems. As the hard fill is ground down, plastics and other materials contaminate processing material and possibly the final product.
At Best Price Skip Bins, we simply just call these terms Concrete and Bricks so there is no confusion about the waste type.
What To Put in a Concrete/Brick Skip Bin
Bricks and/or Bricks and Mortar
Bricks and mortar are suitable for a concrete/brick skip bin.
Concrete
Any concrete must be no bigger than 600mm x 600mm.
Tiles
This includes roof tiles and floor tiles.
Pebbles, Rocks, and Stone
Products such as pebbles, rocks, and stone are suitable for the concrete/brick skip bin.
What Not To Put in a Concrete & Brick Skip Bin
Other Waste Types
This includes but is not limited to general, green, or excavation waste.
Soil, Turf or Sand
All sand soil and dirt are strictly prohibited and must go in the Soil & Dirt Skip Bin.
Palm Trees and Fronds
This form of waste is prohibited and should be disposed of in the green waste skip bin.
Hazardous Materials
Including but not limited to asbestos, insulation, food, wet paint, empty chemical containers, liquids or putrescible.
Heavy Waste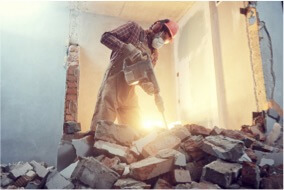 As well as our Concrete/Brick skip bins, we offer the option of Mixed Heavy Waste skips. These give you the option to dispose of concrete and other building materials as well as many other waste types in one bin.
As with the clean hard fill bins, you must not include any hazardous materials or food products.
The Mixed Heavy Waste bin gives great flexibility to dispose of the heaviest items you are likely to need to get rid of. Each type of waste will be properly dealt with and recycled wherever possible.
Book a Skip
For a free quote on your skip bin simply enter your postcode and follow the instructions or give us a call on 1300 791 132 to make the right choice for your skip bin hire.
Go back to > All Waste Types