How Skip Bin Hire can Simplify your Kitchen and Bathroom Renovations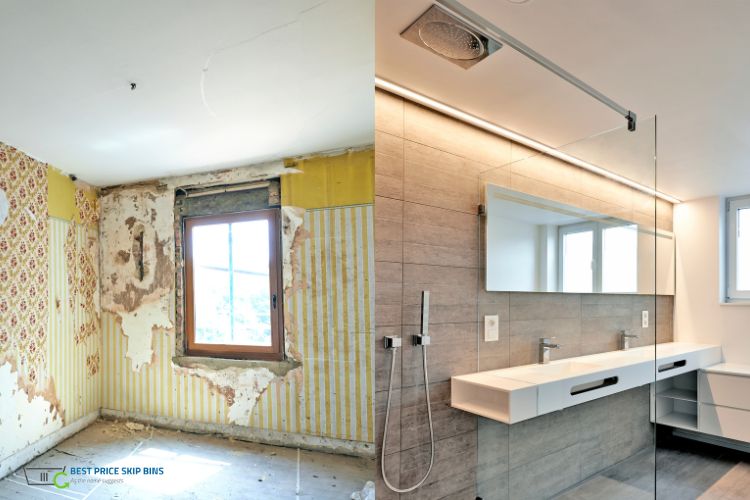 Simplify your Kitchen and Bathroom Renovations:
Kitchen and bathroom renovations are rarely as simple to carry out as we might hope! There are often all manner of issues which can arise during the planning and execution stages.
Each room brings about its own unique set of challenges, but depending upon the age and condition of your home, the issues which you do – or don't-face, will vary.
For example, renovating a bathroom in a house which was built prior to the early 2000s will have many more considerations than those which are relatively new.
There's the issue of asbestos to consider for one and for heritage homes, other problems can arise.
When you're in the pre-planning stage, it's a good idea to have an asbestos inspector out to visit your home.
A qualified asbestos professional can pinpoint areas of concern – those places where asbestos may be lurking.
The problem with asbestos is that it's in a great many Australian homes built before the 2000s and it can hide in the most unlikely of places.
Did you know, for example, that some flooring tiles are made of asbestos? This is why you'll need an inspection before you start ripping fixtures and fittings out.
Once you have pinpointed any asbestos which might be present, then you will need to have it removed by professionals.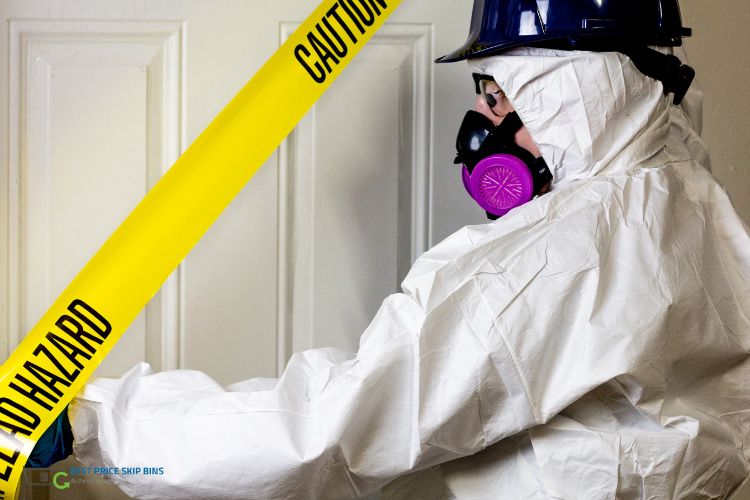 It's vital that you do not attempt to manage the removal yourself. Even a very small amount of friable asbestos breathed in can have fatal consequences later in life.
Let's imagine you've had your bathroom and kitchen checked though – and the issue, if there was one, has been dealt with.
What you will now need to do is work out what you're removing and what you'll be replacing it with.
It's at the point when you want to begin removing cabinets, fixtures and fittings such as toilets, sinks and tiles, that you will need skip bin hire in place.
Once you begin removing cabinets, cupboards, tiles, wallpaper and so on, then the mess will be difficult to contain without a skip bin.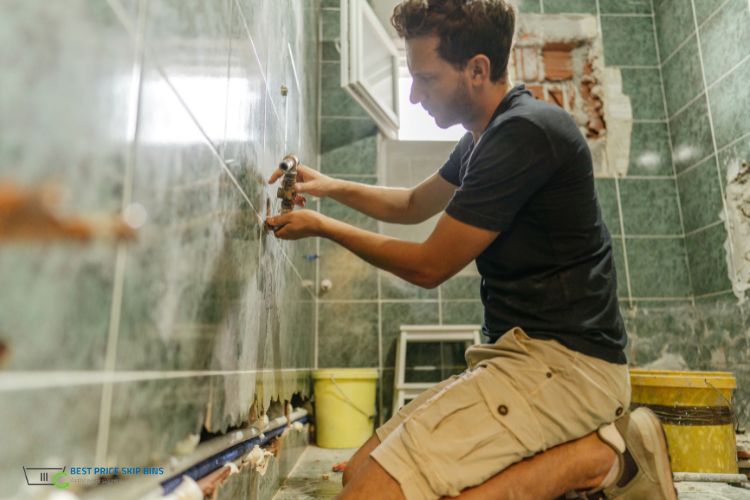 What are the advantages of using a Skip bin for Bathroom or Kitchen Renovations?
There are many advantages when it comes to using a skip bin for your waste materials generated from DIY renovations.
Waste management is a big factor in how successful your project will be. You need your workspace to remain as clear of debris as possible or there's not only a hazard to contend with, but the air quality in the rest of the home might suffer.
Removing tiles from kitchens and bathrooms always creates a great deal of dust, so you might want to consider hiring an air filter for the duration of your project.
With a skip bin, you can remove old fixtures and rubble as soon as it's generated and domestic skip bin hire comes in a variety of sizes, so you can select the best one for your needs.
The alternative to using a skip bin is, of course, making dump runs. Dump runs are not an effective use of your time. The last thing you want to do between smashing out old sinks, is to load up a trailer and drive to the dump!
It's far easier to simply throw rubbish into your skip bin and once it's full, have it removed by your skip hire company.
Common things you'll dispose of when completing a bathroom renovation
As mentioned previously, kitchen and bathroom renovations make a lot of mess. If you're planning on replacing the entire room, including cupboards, cabinets and white goods, then you're going to need a lot of help.
Here are some of the most commonly removed items during bathroom renovations.
Cabinets
Toilets
Baths
Tiles
Wallpaper
Shower screens
Mirrors
Flooring such as laminate or lino
Bathroom accessories
When it comes to getting these waste items into your skip bin, it's important to remember that breaking things like cabinets and cupboards down, will save space in your skip bin.
Depending on which skip bin size you have booked, you'll still want to have plenty of room left in it after disposing of larger items.
By breaking down cabinets, you can stack the flat pieces on the base of the skip bin, which avoids creating air pockets.
Common things you'll dispose of when completing a kitchen renovation
If you're replacing your entire kitchen, including cupboards and white goods, then you're definitely going to need a skip bin.
Many of these items are heavy and awkward, so a skip bin makes sense. Some of the most common items to remove from an old kitchen are as follows.
Cabinets and cupboards
White goods such as fridges
Tiles
Worktops
Wallpaper
Flooring such as laminate and lino
Remember that white goods may incur an additional charge from your skip bin supplier.
Things from the bathroom or kitchen renovation that can go into your local rubbish collection
Of course, there are some things from your bathroom and kitchen renovation which are fine to put in with your ordinary, local rubbish collection.
These include –
Old makeup and toiletries
Smaller mirrors
Pots and pans
Old wallpaper
Remember that mirrors are not recyclable and must only be placed in your general rubbish bin.
Wallpaper may be recyclable depending on its condition. Old makeup and toiletries can sometimes be recycled if the containers state that they are and if they are washed.
Things from the bathroom or kitchen renovation that cannot go into your local rubbish collection
You cannot dispose of some things in your general rubbish collection. This is usually because they require specialist treatment and might be a fire risk.
Gas canisters
White goods
Florescent light bulbs
E-goods such as implements with a plug
Some branches of Bunnings will take florescent light bulbs from customers for recycling and e-goods can be disposed of at some council depots.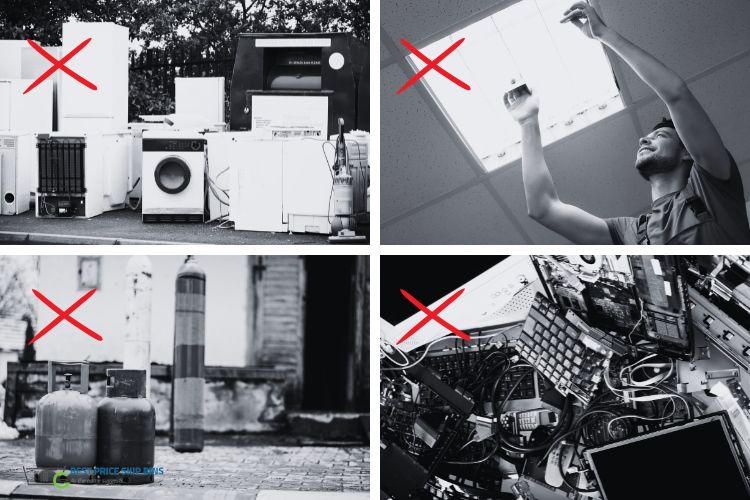 Skip Bin Regulations
Here at Best Price Skip Bins, we're always ready to support our customers as they make progress on their kitchen and bathroom renovations.
We're here to help and you can always get in touch with us if you have questions about skip bins and their use.
You should always be aware that if you hire a skip bin, you will need to place it on your own property. If you choose to place it on the road outside, then you will need a permit from your local council.
Skip Bin Safety
Always be aware that when you're dealing with any renovations and building work, there are some accompanying risks.
Breaking glass, rubble, tiles and concrete are all sharp and hard. To avoid injury, wear protective gloves, eye protection and, if possible, steel-toe-capped boots.
It's better to be safe than sorry! Take great care when filling your skip bin. Never lift more than is comfortable and seek assistance where possible.
Skip Bin Collection
When you book your skip bin, you'll be offered a choice of dates for drop off and for collection.
It's up to you how long you wish to keep the skip bin, though the most common is a few days to a week.
Try to book the skip bin to arrive the day before you think you will need it most. This is because there is no guarantee as to what time your skip bin will arrive.
It's better to have it the evening prior to your big push if possible. Booking is easy no matter where you are. We supply skip bins across Australia including –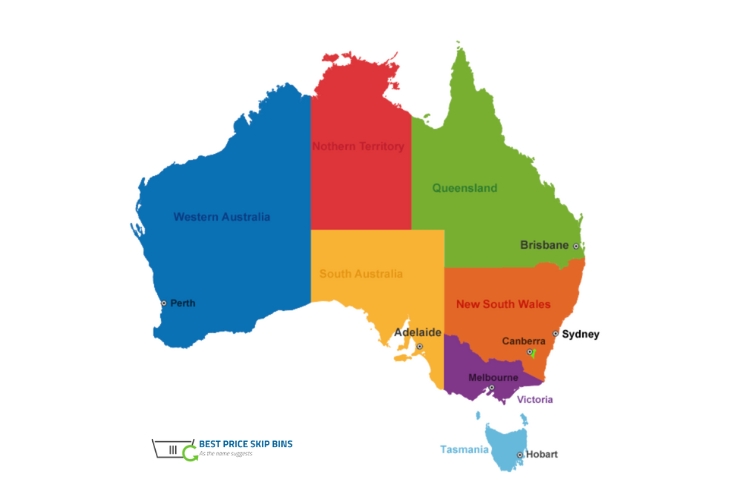 Alternatives to a Skip Bin.
There are a variety of alternatives for disposing of rubbish generated by a bathroom or kitchen renovation.
The most common would be the local dump. You can visit your local dump with a trailer or van full of waste and pay to dump it there.
Some items will incur additional charges.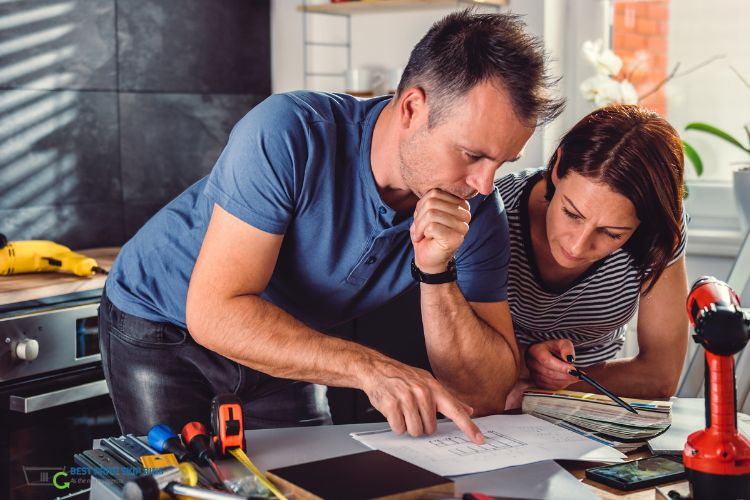 Conclusion
Your home is your castle and because you want it to look and feel as comfortable as possible, you'll likely go to great lengths to ensure that your bathroom or kitchen renovation runs smoothly.
Part of that is, of course, how well your waste disposal is managed. Most of us need to live in our homes during renovations, so it's very important to keep the work site as clean and tidy as possible.
Skip bins help do just that. By containing your junk in one, designated spot outdoors, you will minimise the upheaval which renovations always cause.
Make sure to get in touch with our team if you need any advice about skip bin hire for renovations of kitchens or bathrooms.
We're always happy to help.