Industrial Skip Bin Hire
Everything You Need to Know About Industrial Skip Bin Hire
Industrial skip bin hire is somewhat different than domestic skip hire. Firstly, the amounts of waste produced by industrial activities are much larger in general and the types of waste are often different too.
Industrial projects might be ongoing in nature or one-off tasks where special cleaning and renovation are taking place and so a lot of extra waste is produced.
Hiring skips for industrial use is quite similar to the process of hiring ordinary skip bins, but there may be different considerations as the process plays out.
If your project is a one-off, then it's likely you won't have any records of the amount of waste produced historically, making it tricky to work out the size of the industrial skip bin required.
It can be useful to visualise waste amounts in relation to wheelie bins or trailers and how much they hold.
For example, a 30 cubic metre skip bin, which is the largest available, will hold 130 wheelie bins worth of waste. That's 43 level 6 x 4 trailer loads.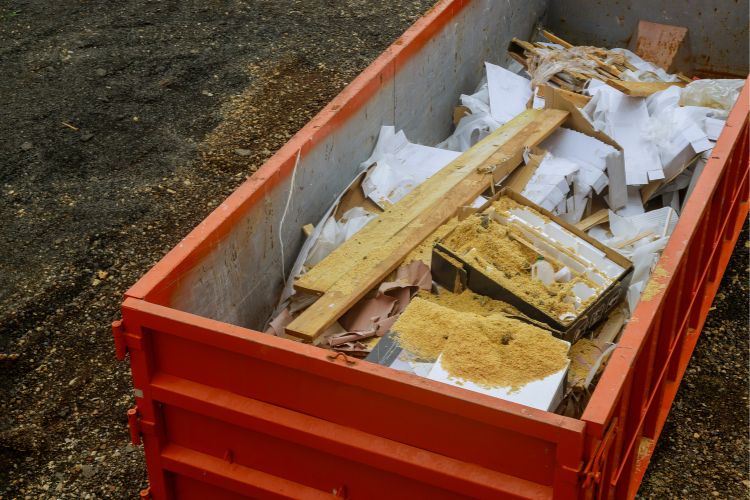 What are the advantages of using a skip bin for an industrial project?
Industrial settings are often inherently dangerous due to the presence of heavy equipment or toxic chemicals.
This isn't always the case but quite often. As such, any cleaning or renovation project needs to be run with extreme organisation. In this way, the safety of personnel is kept at the forefront of all activities.
One of the most important aspects of on-site waste management is safety and that means storing waste in a responsible and safe fashion.
Skip bins provide the ideal receptacle for your waste as it builds up. The other options, such as keeping it in bags or worse, piles are dangerous due to tripping hazards and the risk of pollution.
Common things you'll dispose of when completing an industrial cleanout
Depending on the nature of the industry, the waste disposed of will vary, but the most common include the following.
Varied household rubbish
This is when skip bins are used at waste transfer stations. Local councils collect rubbish from residents and once collected, it's all taken to be sorted at a waste transfer station. Large skip bins are necessary to store the different rubbish types.
Building materials
When demolition has taken place on a large scale, waste like bricks, concrete, rubble, sand and soil must be removed by particularly strong skip bins due to the weight.
Green waste
Farming and food production industries can sometimes produce enormous amounts of waste green materials from processing fruit, vegetables and grains.
Things from the Industrial cleanout that can go into your local rubbish collection
Industrial cleanouts are, by their very nature, dirty and sometimes hazardous. Because of this,there is not much which could be placed in a local rubbish collection.
However, some items, if there aren't too many of them, can be placed in local rubbish. They include the following.
Cardboard
Plastic
Glass
Green waste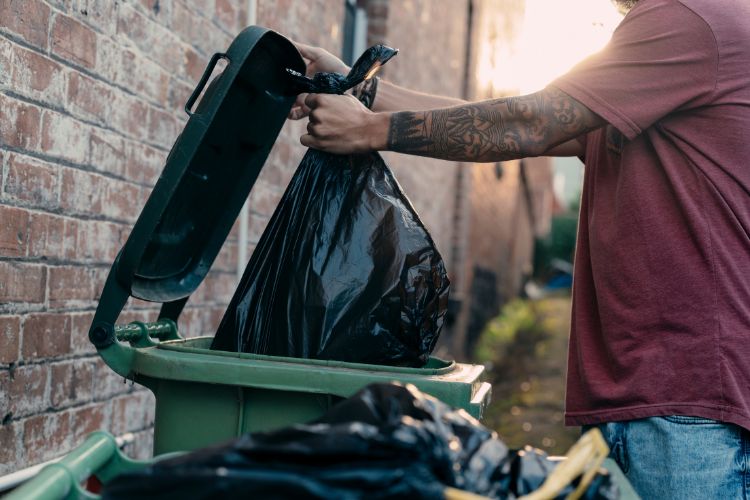 Things from the Industrial cleanout that cannot go into your local rubbish collection
Local rubbish collections are designed mainly for domestic use and so they're not equipped to remove certain types of waste. These include the following.
Oils
Paints
Batteries
Chemical waste
Environmental considerations when planning for an industrial skip bin
The environment is at the forefront of all waste management practices in Australia and industry professionals are constantly working to improve methods of removing and processing waste.
The old days of councils simply taking all household and industrial waste to a tip or landfill and throwing it all together are over.
Those sites were found to have a hugely negative effect on the land and the air quality. As a result, landfill sites were soon re-imagined and designed to have less impact on the environment.
The reason here at Best Price Skip Bins, skip bins are separated into different waste types is to ensure ease of recycling. All waste which can be recycled must be recycled. So green waste can be turned into compost, metals and plastics, cardboard and paper can all be made into new products too.
We care about the environment and make every effort to ensure all recyclable waste is recycled.
If you would like to book a skip bin in your area, visit our region page to find your local area and get in touch.
To learn more about recycling in your region, check the following pages. Choose your state for the latest in recycling and waste.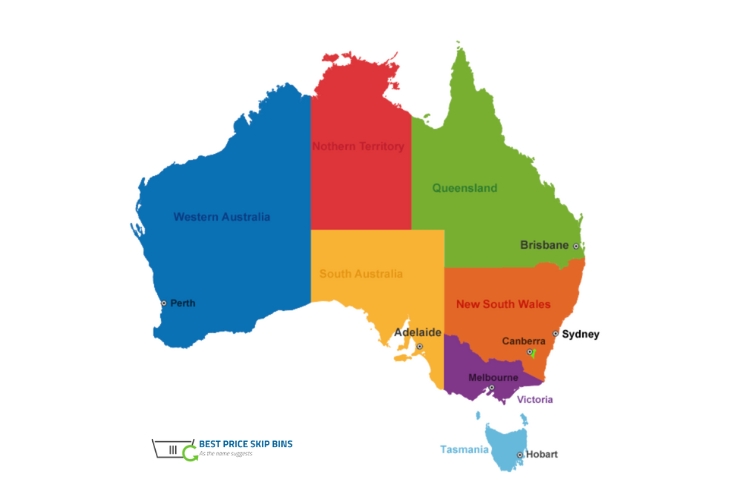 Safety considerations when planning for an industrial skip bin
When you're in the planning stage of large-scale waste removal, it's important to think about the placement of the skip bin you'll use.
Skip bins are large, heavy and potentially dangerous containers and so must be approached with some caution.
Always ensure you place your skip bin in an area which is away from entrances and exits and which is not close to overhanging trees or wires.
Those who are to use the skip bin should understand which waste types may be placed inside.
Protective clothing should be provided and this is especially important in an industrial setting such as a factory.
Frequently asked questions about industrial skip bin hire
The most common questions with regard to industrial skip bin hire include the following.
Q: Are bigger skip bins more expensive? 

A: the answer is yes and no. Hire time will impact the price which you pay. Although larger containers cost more, they are still a good way to get value for money as other methods of waste removal will mean additional charges for dumping and fuel.

Q: How large is the biggest skip bin?

A: 30 cubic metres

Q: How long can I keep an industrial skip bin for?

A: Generally, for as long as you need it.
Alternatives to a skip bin.
The alternatives to skip bins are generally rubbish removal services or dumps. Using rubbish removal services comes with added issues which make it an awkward solution at best.
Rubbish removal services are only able to come along on a specific day which can be difficult to plan for.
Using dumps can be a good way to dispose of smaller amounts of waste, but if you're dealing with industrial-scale rubbish, it's impractical.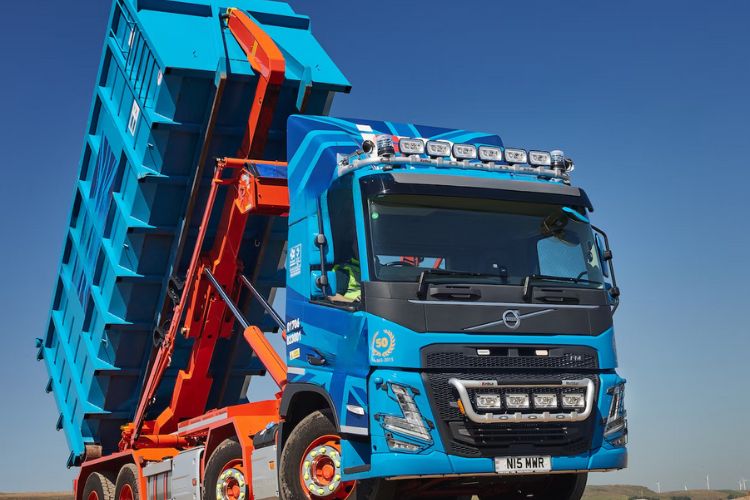 Tips for choosing an industrial skip bin hire company
When you're looking for industrial skip bin hire services, you'll need to find a suitable company which can offer reliable delivery and a good selection of bins.
Skip bin hire, particularly industrial skip bin services, are usually needed during times which are busy. This means you want a company like Best Price Skip Bins with excellent customer service and an easy-to-use booking system.
Construction, renovations, builders, commercial business all require large scale waste disposal and Best Price Skip Bins are experienced in this field.
Visit our service areas page to learn more.
Conclusion
For industrial waste disposal, skip bin hire is the best solution. Fast delivery coupled with speedy removal make for a successful project.
No matter what waste type you're dealing with, Best Price Skip Bins can provide a suitable bin. We have a variety of waste types available and our friendly team is always on hand to assist.
Get in touch for more information or book online.