Domestic and Residential Skip Bin Hire: A Comprehensive Q and A Guide
Questions you May Have About Domestic and Residential Skip Bin Hire
Domestic and residential skip bin hire is a convenient and affordable way to dispose of all kinds of waste from your home.
If you're new to the process, you may well have some questions about how it all works. We've designed this guide for you to use if you're new to skip bin hire or if you simply have some questions about specific areas of the process.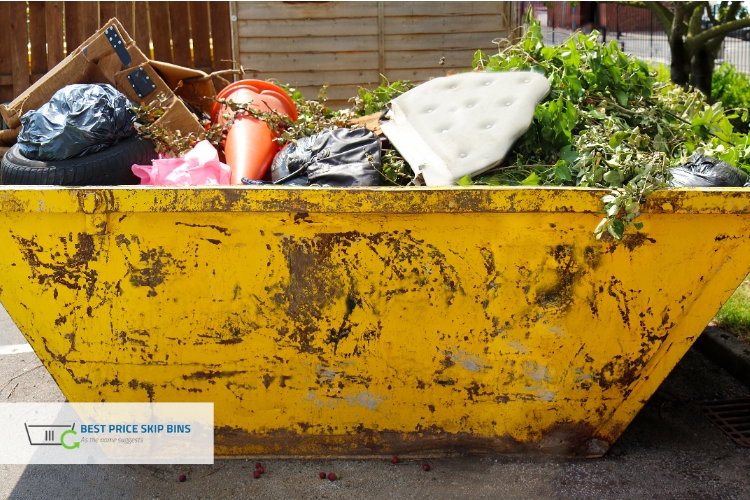 What Are The Advantages of Using a Skip Bin For A Domestic or Residential Clean Up?
The advantages of using a skip bin for a domestic or residential clean up are many. It's common for home owners to occasionally need to organise a big clear-up and making dump runs is not always the most practical option. This brings us to the main advantages of skip bin hire.
Convenient
Skip bins are both convenient and affordable. Delivered straight to your door, you only have to fill them up. There's no messing around with trailers or dump fees, no loading and unloading vans and wasting hours of time (not to mention fuel) getting to your local dump.
Affordable
The cost of hiring a reasonably sized skip bin is not at all high. Because we offer many different sizes of skip bin, you can choose the best one suited to the amount of waste you have.
This means you're not going to waste any space – or money – on booking a massive skip bin if you only need a small one.
Eco-Friendly
Because much of what we collect in skip bins is then taken to be recycled, you can use your skip bin confident that you are making the right choice for the environment.
We try to avoid landfills as much as possible.
1. What Can I Expect To Pay – Skip Bin Hire Rates In My Area?
The costs of skip bin hire do vary depending on how long you need your skip bin and, of course, which size you choose.
In general, most domestic customers are not in need of huge skip bins. A 2 cubic metre skip bin would be ample for an average household clean-up. Larger would be necessary for big DIY projects or building jobs.
As an example, a 2 cubic metre general waste skip bin hired for around a week would cost approximately $270.
This is just a guide – to get an exact cost, it's best to enter your postcode into the booking form, choose your dates and size preferences and then you can see the costs before you book.
Remember, each skip bin has a weight limit. If you exceed the weight limit, then you can expect to be charged around $25 per additional 100kg.
2. What Is The Largest Size Skip Bin You Offer For Residential And Domestic Use?
The largest skip bin we stock is a 30 cubic metre Marrel skip bin. However, this size would not usually be practical in most domestic and residential situations.
It's a very large skip bin indeed and placement might be an issue. It's also unlikely that you would need such a large skip bin for average domestic use.
When you're deciding on which size skip bin you need, consider this – a 30 cubic metre skip bin will hold around 43 6×4 trailer loads of rubbish. That amounts to 120 wheelie bins worth of waste.
This is obviously a huge amount of rubbish and it's unlikely you'd be able to fill it. If you can, look at the waste you're likely to produce during your clean-up and book accordingly.
It's not always easy to predict, but envisioning the rubbish as full wheelie bins can definitely help.
3. What Are Your Skip Bin Hire Terms And Conditions?
The terms and conditions of skip bin hire can vary but some of the most relevant are as follows.
Customers must use the skip bin in a reasonable and sensible manner

The customer must render the skip bin to the supplier on the collection date in the same state and condition as when it was delivered subject to fair wear and tear

The skip bin must be ready for collection on the collection date

Additional charges may be incurred in some situations such as excess weight or restricted waste types
View our full list of terms and conditions. Be sure to familiarise yourself with the list – this is especially important if you're new to skip bins and their use.
4. What Is Your Skip Bin Hire Cancellation Policy?
We understand that occasionally, circumstances and plans change unexpectedly. If this happens to you after you've booked, you may find yourself needing to cancel a skip bin.
If this is the case, please be aware that we do need written notice not less than 24 hours before the delivery date and there will be an administration fee of $35 to pay upon cancelation.
Check terms and conditions for the full details of our cancellation policy. We try our best to make things easy for our customers as we understand that sometimes, things happen which may result in a skip bin not being practical any longer.
5. What Is Your Skip Bin Hire Delivery Area?
Best Price Skip Bins is a national company. We have suppliers in –
NSW | Victoria | Western Australia | Queensland | South Australia | Northern Territory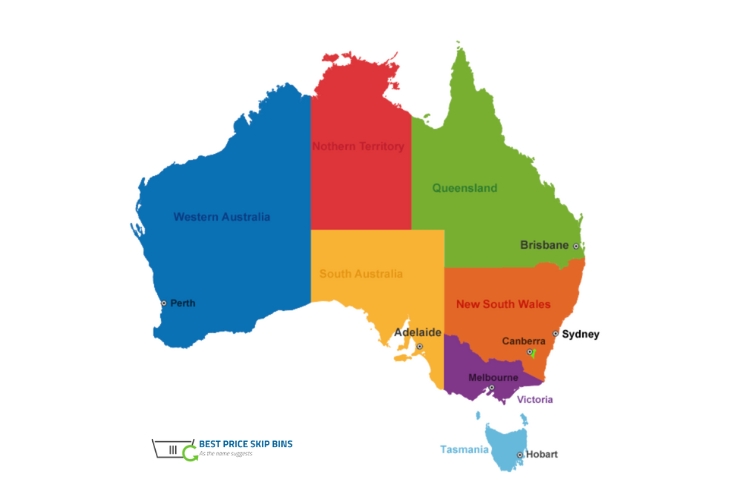 When you book your skip bin, all you need to do is enter your postcode and our booking system will sort through your closest, local suppliers to ensure you get the best and fastest deal.
If you find that you are too rural for our skip bin delivery and there is no close supplier, please get in touch and we will endeavour to assist you.
6. What Is The Minimum Hire Period For A Skip Bin?
The minimum hire period for a skip bin is 24 hours. This is because, practically, it's not viable for trucks to return on the same day as they may need to travel further afield with other deliveries.
If you want to use your skip bin quickly and don't need it for a week, for example, then 24 hours is ample time for you to fill it up.
7. What Is Your Skip Bin Hire Payment Policy?
Payment for your skip bin is managed online through our secure payments. This is the best way to manage payments as once you have booked and paid, there's nothing else for you to do other than fill the skip bin and await collection.
There may, in some circumstances, be additional fees for the customer. This is in the case of weight limits being exceeded or certain items being added to the skip bin which incur additional charges for us at the disposal facility.
For example, mattresses – these mean additional charges and those charges must be paid by the customer before the skip bin is removed.
If you have any questions about charges, please get in touch with us.
8. What Happens If I Fill My Skip Bin Before My Hire Period Is Up?
Sometimes, you may find that you fill the skip bin up before the collection date. If this is the case, you can certainly contact us to ask for it to be taken away.
However, there will not be a discount on this and your charges will remain the same.
9. Can I Get A Discount If I Hire A Skip Bin For A Longer Period Of Time?
Not usually, no. However, booking a skip bin for a longer period may be a good way for you to manage your waste more effectively.
For example, if you hire a skip bin for only a week and then discover a week later that you have generated more mess – then you'll need to hire a second skip bin.
It will usually be cheaper to hire one skip bin – so plan carefully before booking.
10. What Is The Process For Hiring A Domestic Or Residential Skip Bin?
Booking a domestic or residential skip bin is incredibly simple. Our booking form is designed with you, the customer in mind. 
It's been formulated to keep things simple and to help you choose the best skip bin for your needs.
It's a 3-step process.
Enter your postcode

Choose your waste type

Choose your size and select your dates
When you land on the waste type option, each skip bin type is made clear so you can select the best skip bin for your needs.
For example, if you have a lot of garden waste, then you might want a green waste skip bin. Or, if you have mixed/general waste, then that will be your best option.
Each category is explained in the booking process, so you will be able to choose the right type.
11. What Are The Different Types of Domestic or Residential Skip Bins Available For Hire?
There is a broad variety of skip bin types available for domestic or residential hire.
Our skip bins are separated into different categories depending on waste types.
This is because it's far easier for us to recycle when each skip bin is meant for specific waste types.
Don't worry though – our general and mixed waste skip bins are ideal for people with a broad variety of rubbish.
The different skip bin waste types are as follows:
12. Where Is The Best Place To Find A Domestic or Residential Skip Bin Hire Service?
Best Price Skip Bins offers a competitively priced service that covers most of Australia.
Whether you represent a business or if you're a homeowner looking for domestic and residential skip bin hire, we can assist you.
We work with the very best suppliers in each state and, because of our innovative booking system, you'll always be offered the cheapest available skip bin at the time of booking.
13. Where Do Most People Put Their Skip Bins?
When you're booking a skip bin for home use, you might be wondering where best to park it.
The simple fact is that you will need to place your skip bin in a convenient location and in a spot that doesn't block access in or out of your home.
A convenient location will be somewhere not too far away from the source of the rubbish.
So, if you're emptying a house of junk, you'll probably find that the driveway is a good spot.
Remember, a skip bin parked on your own land does not require a permit. Parking it outside your property, on the nature strip, for example, will mean that a permit is needed.
14. Where Are The Most Popular Places To Put A Skip Bin?
The most popular places to put a skip are as follows:
Driveway: as long as there is enough space for a skip bin truck to enter and

 manoeuvre

, your driveway is a good spot for your skip bin.
Front yard:  those with properties with a decently sized front yard are in a good position because the placement of a skip bin away from the driveway is very practical. A free driveway is preferable for residents.
Roadside or nature strip: if your garden or driveway are not practical options due to space, then the roadside or nature strip is a good choice. It is important, however, to note that you may need a permit from your local council.
Inner-city streets: this is only needed for commercial businesses in general, but sometimes, those who live in very urban areas may need a skip bin to be placed on the street. Each city has different regulations for this and they're quite stringent with regards to keeping crossings and entrances clear. It's always best to do your research with local councils first.
Car parks:  sometimes, it may be necessary for you to utilise a car park for your skip bin. Mostly, this is not needed for residential customers, but occasionally, it can happen that this is the only option. Always contact the body which manages the car park in advance.
For more information on parking of skip bins in the different states, please visit our service areas page.
Book a Skip
Get a free quote on your skip bin by entering your postcode and following the instructions, or call us at 1300 791 132 to make the right choice for your skip bin hire.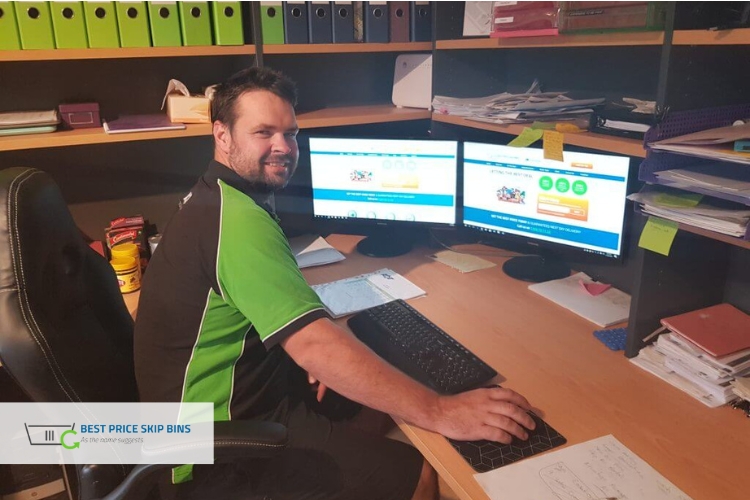 Conclusion
Skip bin hire for your home is a great choice when it comes to both practicality and speed.
The fact is that there's nothing more convenient than being able to manage your excess waste so quickly and easily.
A skip bin placed at a convenient location is the best tool for house moves, clearances, renovations and DIY.
Whether you're moving or undergoing a building project, book your skip bin in advance to save yourself both time and stress.
Contact us for advice or assistance if you have any questions or concerns about domestic and residential skip bin hire. Our friendly team is always ready to help.