Skip Bins for Office Strip Outs and Office Renovations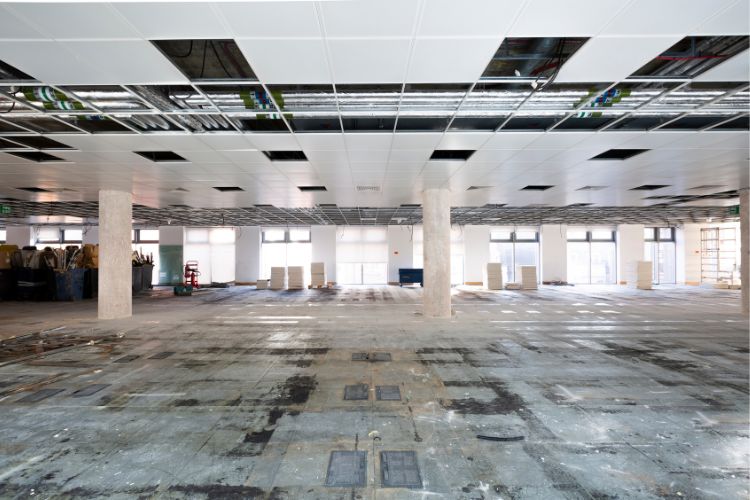 A Comprehensive Guide to Using Skip Bins for Office Office Renovations
Renovating an office can be a complex project. Firstly, if the office is a busy, commercial affair, then you'll need to arrange alternative accommodation for staff so that business can carry on as usual.
If it's a new premises which needs a facelift, then there's slightly less pressure unless you're on a very tight schedule and need to get the property ready quickly.
Waste removal from offices isn't too hard to manage, especially if you use skip bins. Skip bins are a great way to organise an office renovation and ensure everything goes smoothly from start to finish.
Our guide is designed to help you get the most out of skip bin hire for office renovations and to answer any questions you might have.
Common types of waste generated by office strip outs and office renovations
When it comes to waste types and offices, there are a number of considerations. Some things can be thrown straight into a skip bin but others might need special arrangements due to disposal rules.
The most common items generated by office strip outs and renovations are as follows.
Office furniture
Chairs, desks and tables
Carpet
And other floor coverings
Blinds and curtains
Broken and dirty window dressings
Electrical items
Computer monitors and keyboards, printers, telephones
Skip bin hire is definitely a good solution to the many different types of waste which can be generated in a big office clean up, but there are a few restrictions in place for certain things.
For example, e-waste needs to be treated differently due to its potential to cause fire and also the many dangerous and toxic parts within things like telephones and printers/monitors.
Rather than simply throwing away your old office electrical items, sort through any which are still serviceable, clean the hard drive and consider donating them to good causes or giving them away to the local community.
There may well be organisations locally which would greatly appreciate the donation of a working printer or computer.
Alternatively, many Australian cities have drop-off points for e-waste. These locations are a great way to be sure that things which don't work will be recycled and things that do will be put to good use.
Check out our guide to e-waste and learn more about why there are restrictions on putting electronics into skip bins.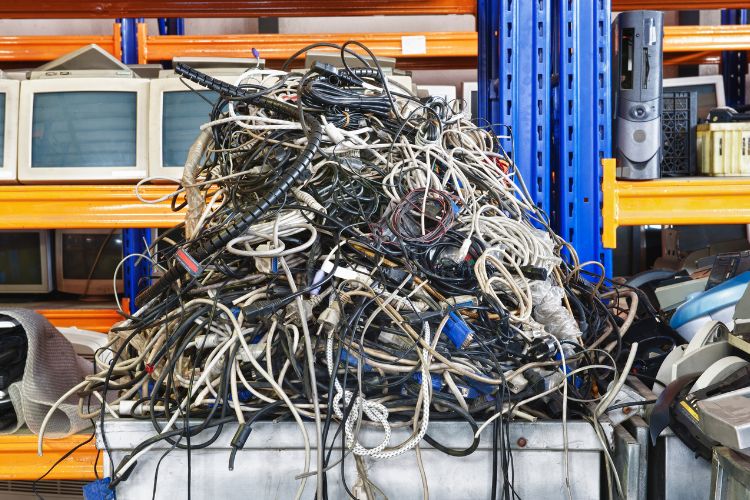 What are the advantages vs disadvantages of using a skip bin for an office strip out or office renovation?
Skip bins are a versatile and convenient solution to the mess generated by office strip outs and renovations.
The advantages are many and the disadvantages few – but you might benefit from checking them out below. Knowing the ins and outs of skip bin hire will ensure you can choose the best option for your situation.
Advantages
Convenient – delivered to your door
You choose the size so that you can budget according to your needs
Next day delivery
Eco-friendly choice – much of the waste we collect is recycled
Less time wasted on driving to local dump
Most waste types accepted
Disadvantages
E-waste must be dealt with separately
Carpet must not go into general waste in NSW
If you'd like to learn more about restrictions in your state, please visit our service areas page and click on your local region.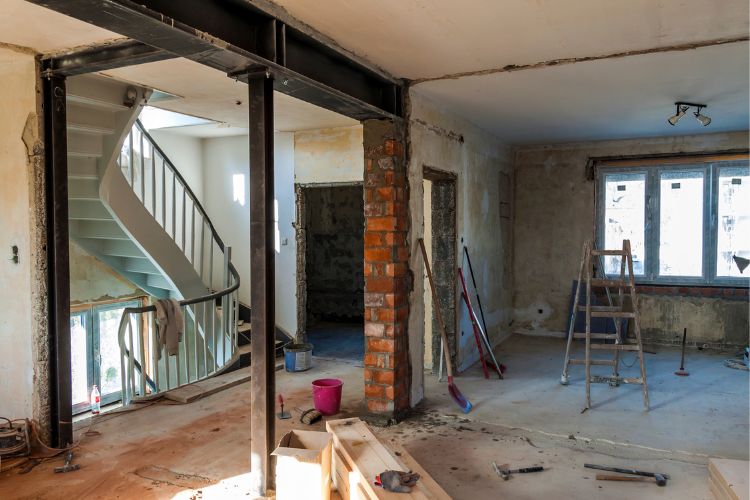 Skip Bin for an Office Strip Out
Considering a skip bin for your office strip out has a ton of advantages. Below are some of the pros and cons of hiring skips for your office clear-up.
Pros
Fast
Convenient
Affordable
Many different sizes available
Different waste types dealt with
Easy online booking. See the price before you pay
Cons
Some waste types will mean additional charges
Asbestos may not be placed in skip bins
Permits required if parking skip bin on public land
Skip Bin for Office Renovations
A renovation generally creates less mess than a strip out. The difference is that a strip out will produce heavier waste such as kitchen cabinets, light fittings, flooring and more.
A renovation is generally simply a replacement of furniture and flooring/window treatments. It's a facelift for your office.
Pros
Affordable
Fast
Convenient
Easy booking system
Variety of sizes
Lockable skip bins available
Cons
No carpet may be placed in skips in some states. Check our guide here
Environmental impact
As mentioned previously, offices generate a lot of e-waste. Although some offices have found a way around this with a Bring Your Own Device (BYOD) rule in place.
BYOD is an excellent way for businesses to ensure that they have less environmental impact, but even so, without going entirely paperless, most businesses do need some devices such as printers, telephones etc.
That said, many offices do not choose to impose a BYOD rule because it's impractical for security reasons. Sensitive information may be shared during the working day and that's hard to monitor without an internal security system on all devices.
E-waste is now banned from all landfill sites in Victoria and so it needs to be carefully dealt with to ensure that regulations are adhered to.
It's the fastest growing waste stream in Australia and, as a result, there are a growing number of recycling organisations dealing with it in a safe, responsible manner.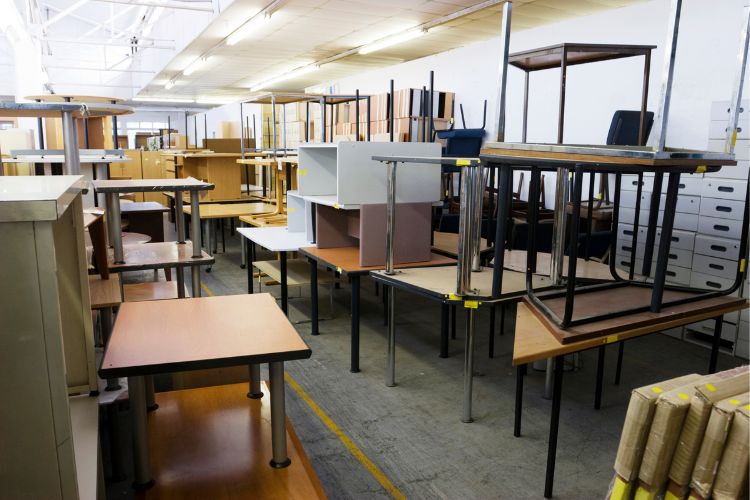 Safety Considerations
When using skip bins, there are safety precautions which you and any other people using them, will need to be aware of.
Firstly, the skip bin should be placed in an area where it will not cause any obstructions to the general comings and goings of people using the site.
If using a car park for the skip bin, ensure that it is in no way blocking the entrances or exits.
Similarly, make sure that all fire exits are clear.
Keeping a skip bin for any length of time might mean that people attempt to use it for other, general waste which is not allowed in that skip bin.
Be sure to inform other staff that skip bins are not meant to be used by everyone but only for those people authorised to use them.
When moving heavy items into the skip bin, always make sure you get help. Do not attempt to carry weighty items such as furniture without help.
Most skip bins come with a ramp, so you can use a trolley or wheelbarrow to move items into the skip.
Wear heavy footwear, preferably with steel toe caps, and always use eye protection if breaking down items of furniture for ease of disposal.
Regulations and Guidelines to be aware of
The need for a permit is often a worry people have when booking a skip bin.
Be aware that the only time you will need a permit is if you plan to place the skip bin on a public road or other public land.
If it is to be placed on private property, no permit is needed.
Things from your landscaping and gardening projects that can go into your local rubbish collection
If there are landscaping concerns when you are renovating your office, you should be aware that some things can go into your local rubbish collection.
For example, most local councils in Australia provide a green waste bin. This is good for weeds, branches, grass clippings and bark.
They must not be used for plastics or anything else of human origin.
Things from your landscaping and gardening projects that cannot go into your local rubbish collection
There are a few things which you should not attempt to put into your ordinary rubbish collection.
This is usually because of safety concerns. The items include –
Batteries
E-waste
Oil
Paint
Gas cannisters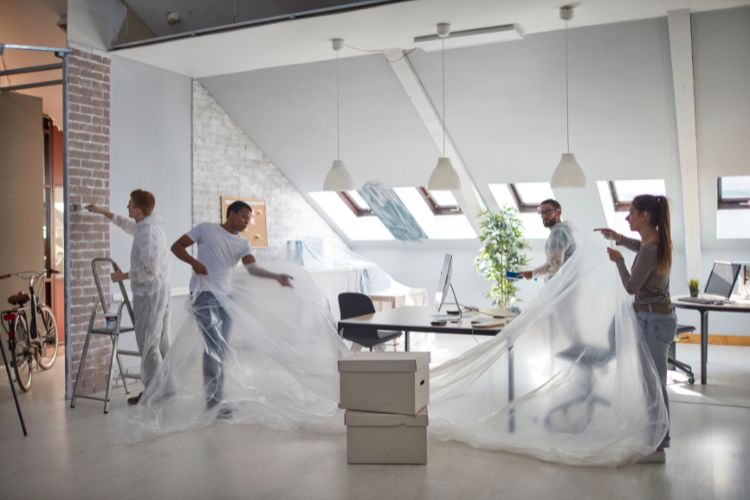 Alternatives to a Skip Bin for your office strip out and office renovation projects
There are a limited number of alternatives when it comes to waste disposal for office renovation projects.
The local dump is, of course, one option – but using a local dump will still incur charges and, of course, there's petrol and time to consider.
Other alternatives include –
Donation to charity
Offering items on local social media pages
Tips for Choosing a Skip Bin Hire Company for commercial waste management or a cleanout
The most important things to look out for when choosing a skip bin hire company include the following.
Care for the environment
Affordability
Reliability
Fast delivery
Friendly, helpful team
Here at Best Price Skip Bins, we pride ourselves on delivering all of the above. We are consistently aware of the impact the waste produced in Australia has on the environment and we work hard to recycle all we can.
Our prices remain as low as you'll find in all states and when it comes to reliability, we're the most reliable out there.
When you book with us, you can choose next-day delivery if you're in a hurry and any questions you might have will be answered quickly by our friendly, knowledgeable team.
To find your nearest delivery option, please visit our local area page where you can select your region and then get in touch to ask any questions you might have.
Link back to local states where they can contact someone to find out more information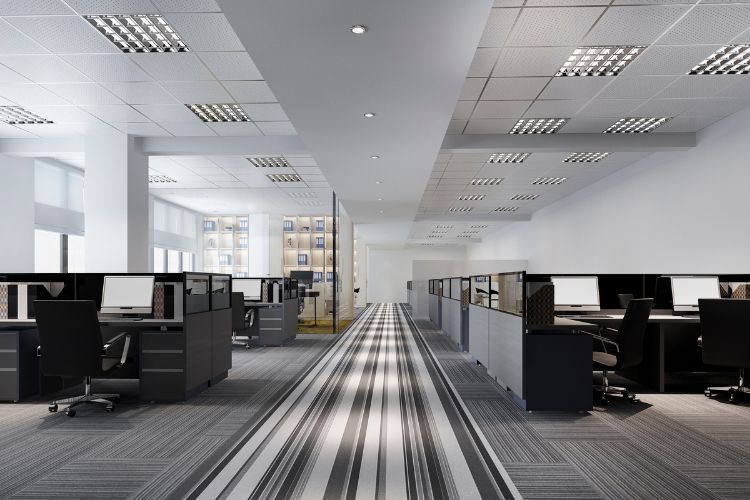 Final thoughts
Whilst office renovations can be time-consuming, they're still a necessity and you can ensure yours goes smoothly with the aid of a skip bin.
The process is simple, just enter your postcode to find your price. Once you've entered your postcode you will be asked about your waste type and how large a skip bin you need.
Then you'll be shown your price. It's easy – book your skip bin if you're happy with the cost and it will be delivered on the day of your choosing.
Remember, office clearouts produce varied rubbish – we can make special allowances at a cost for materials which are otherwise difficult to dispose of such as carpets.
Get in touch to ask questions.