Skip Bins for Landscaping and Gardening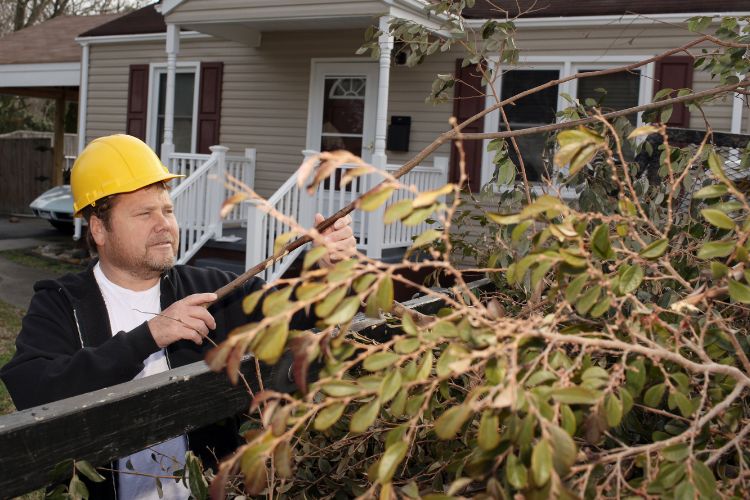 How to Make the Most of Your Outdoor Space
Whether you own acres of land or just a small yard, you'll want to make the best of your available outdoor space.
Landscaping and gardening are not only a fun and rewarding pastime but also great for your health – both physical and mental.
Research has shown that people who spend more time in the garden report fewer incidents of low mood or depression.
If you're a keen gardener or you're just starting out and want to give your garden an overhaul, it's a good idea to do a little planning in relation to what it is you want to achieve.
Most gardens which are in need of a facelift are also in need of some waste management support.
Gardens, especially those which are a decent size, produce a lot of green waste. Arranging a good waste disposal system can make your project easier to manage.
What are the advantages of using a skip bin for landscaping and gardening?
There are a number of advantages to using a skip bin for landscaping and gardening.
Skip bins offer the ideal solution to quick, convenient disposal of the garden waste which will build up during your weeding and trimming. Of course, all gardens will have varying amounts of green waste to dispose of and that's something you can address once you begin weeding and clearing.
Reorganising your outdoor space can be hard work, so having a green skip bin in place can make things much easier.
For a start, there's no need for you to make repeated visits to the dump with your waste. Most big garden overhauls will fill much more than a standard issue council green waste bin.
Having a skip bin in place means you'll save time – no need to drive to the dump – and fuel.
Skip bins are also a very eco-friendly option. Did you know that the contents of green skip bins are taken and turned into compost at a recycling facility?
So the advantages are clear –
Convenient
Time-saving
Eco-friendly
Common types of waste generated by landscaping and gardening projects
There are a number of common waste types generated by gardening projects. The most usual are –
Grass clippings
Twigs
Palm fronds
Leaves
Weeds
Fallen fruit
Tree stumps
Branches
Some garden renovations will produce a certain amount of soil or dirt and perhaps even bricks and concrete. This is only when you're really altering the landscape, perhaps creating a pool or knocking down outbuildings.
If you are planning on these changes, then you can order not just a green waste skip bin but also a soil/dirt skip bin or a concrete/brick skip bin.
Things from your landscaping and gardening projects that can go into your local rubbish collection
There are some things from your garden and landscaping projects which can go into your local rubbish collection.
Most councils provide a green waste skip bin and that is suited to grass clippings, leaves and twigs etc. Check with your local council to see if there are any restrictions.
Things from your landscaping and gardening projects that cannot go into your local rubbish collection
There are some restrictions on what can and cannot go into your local, green rubbish bin.
These include plastic bags, food waste which is still packaged, textiles, building materials and dirt, rocks or rubble.
Basically, if it grows from the ground, then it can go into your green waste bin.
Most councils provide a recycling bin for plastics and if you have unwanted textiles, you can either donate them to charity or cut them up as rags to be used in cleaning jobs.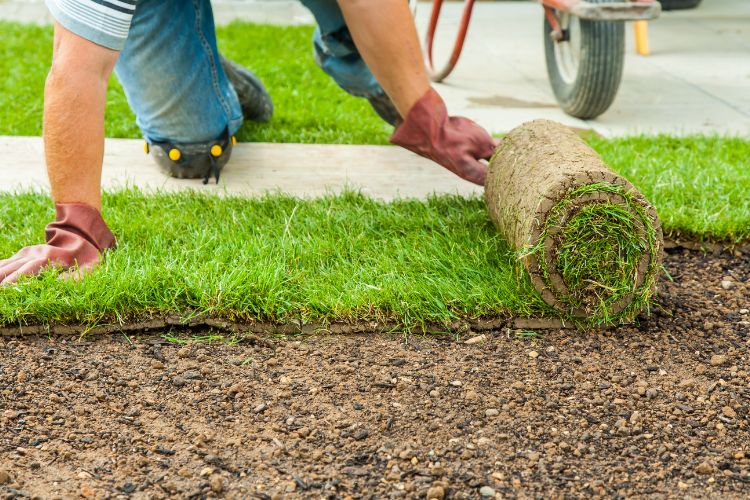 Proper disposal of landscaping waste
The proper disposal of landscaping waste is important for the environment. Much of the green waste produced in Australian gardens can be recycled into compost.
This is a great example of circular recycling and is much better for the environment.
If you have any queries about the use of green skip bins – booking them or using them – please contact the team at Best Price Skip Bins and we will be happy to assist.
Safety considerations as part of loading and disposing of your landscaping waste
It is important to remember safety when using a skip bin. Skip bins are generally easy to use, but if you are lifting heavy waste such as large tree trunks, it's better to cut them up into smaller, more manageable chunks.
Always have someone on hand to help you when cutting down trees or dealing with heavy waste. Take the following precautions –
Wear eye protection
Wear gloves
Steel-toe-capped boots
Use a wheelbarrow to move heavy waste
What are common problems associated with skip bins and landscaping projects?
You may have a few concerns or questions about using a skip bin for your gardening or landscaping project.
Here are some commonly asked questions and their answers.
Where should I park the skip bin?
If you can, park it in your own driveway or garden. Parking it on the road outside will mean it needs a permit from your local council.
How long can I keep a skip bin?
As long as you want. You pay for the time you hire the skip bin though, so be aware of that when booking.
Is there anything that I can't put in the skip bin?
Yes, each skip bin has a list of restricted items. For example, green waste skip bins may not be used for plastics or textiles, rocks or rubble. You may also not place trunks which are larger than 150mm in diameter or over 300mm long in a green skip bin.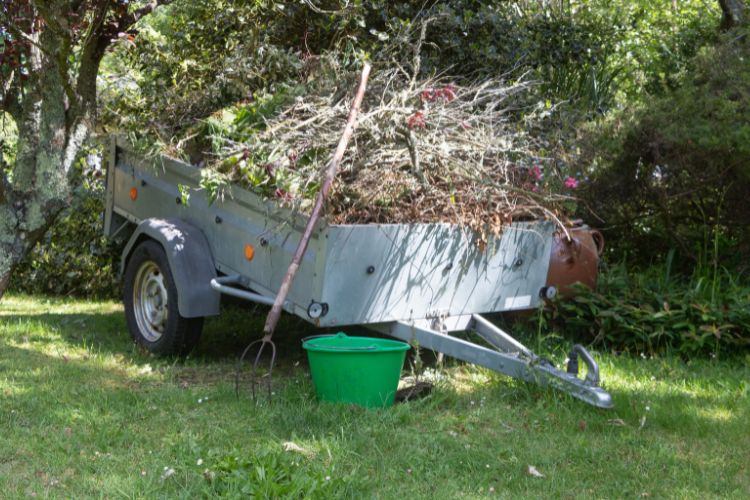 Alternatives to a skip bin for your landscaping and gardening projects
There are some alternatives to skip bins for landscaping and gardening projects. These include
Composting – it's easy to compost at home and some councils will provide a cheap composting starter kit for homeowners to use. By composting, you will always have a cheap supply of fertile soil for your plants.
Dumps – your local dump will accept green waste, though they do charge
All in all, skip bins offer the easiest, most affordable option for green waste removal at home.
Tips for choosing a skip bin hire company for commercial waste management or a cleanout
Best Price Skip Bins works with you, the customer, to ensure a fast, reliable and, above all, affordable waste management system.
Booking is simple. Just enter your postcode and answer a few basic questions about waste types and choose your date of delivery.
Once this is done, you will be shown the price of your skip bin. If you're happy with it, then you can book.
The most important aspects of a good skip bin company are communication and reliability.
People usually need skip bins during very busy periods in their life. Renovations and home sales are stressful enough. That's why we strive to be a fully supportive service for our customers every step of the way.
To learn more about skip bin hire in your local area, please visit our service areas page.
We offer skip bin hire right across Australia.
Melbourne | Sydney | Adelaide | Perth | Brisbane | Sunshine Coast | Gold Coast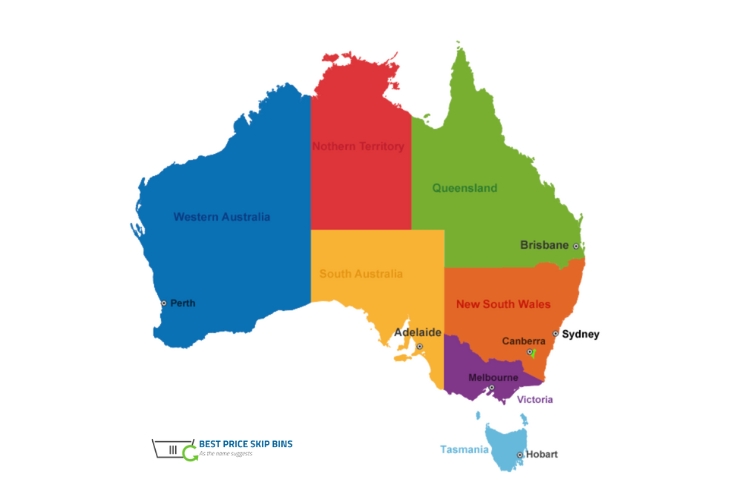 Conclusion
Understanding your options before a big landscaping or gardening project is part of making it a successful venture.
When you use a professional skip bin hire service such as that provided by the team here at Best Price Skip Bins, you're sure to find things run smoothly.
Because there's a skip bin suitable for most waste types, you'll be able to decide on the best option for your needs before you book.
And if you have any questions at all, you can turn to us and our friendly team will be pleased to offer support. Just give us a call or message and we'll be right there.