The Benefits of Skip Bin Hire for Schools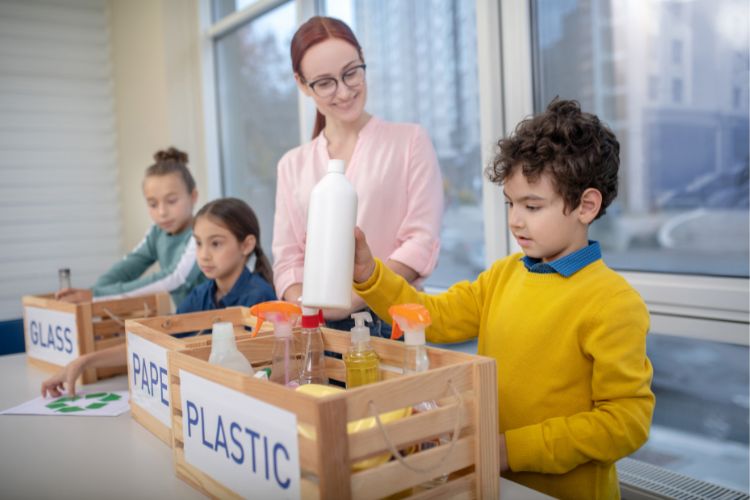 How to Easily Manage Waste and Keep Your School Clean and Tidy
Schools are almost constantly peopled with students, staff, visitors and other members of the local community who may use the amenities there.
It's a constant battle to keep the building and the grounds safe, clean and tidy. Of course, the other issue for many schools is the need to eliminate or heavily reduce waste production for ecological reasons.
No matter the size of the school, rubbish must be contained and removed quickly and efficiently before it becomes a problem.
With hundreds of people passing through the doors each day, learning, eating, drinking and participating in many other activities, the amount of waste produced can be extreme.
Many schools rely on a zero waste policy with students and staff taking the rubbish from lunches home with them. This can be successful but there is always additional rubbish.
You may wish to learn more about innovative ways to keep waste down in your school and how skip bin hire for schools could help.
We've produced this FAQ guide so that you can learn more about how skip bin hire could help your school.
What are the advantages of having a cleaner and safer school environment?
What are some of the questions I should be asking as part of the process?
Schools are an important part of our society and often feature strongly in communities.
They are a hub not only of learning but of socialisation and can also play a part in the education of the community at large.
It's vital that schools are kept clean and organised so that the health and safety of those using the building and grounds is well managed.
Because schools are often on large blocks of land and can have many buildings to manage, their running is sometimes complex and needs a careful waste management plan in place.
It is at school that children can learn good habits which will last a lifetime, especially when it comes to how they dispose of litter.
If rubbish is dealt with well, the environment will remain clean and pleasant. Managed poorly and problems with rodents and other issues will quickly arise.
Skip bins can help to ensure waste is contained and removed quickly and safely. Schools require a lot of individual, smaller rubbish containers throughout the building and grounds. Those containers must be emptied very regularly.
Skip bins can make this a much simpler task for cleaning and maintenance staff, freeing up their time to manage other issues.
To summarise, the advantages of a clean, safe school are as follows –
Pleasant and healthy environment
Fewer issues with pests
More responsible students who learn good habits
More time for maintenance staff to complete other tasks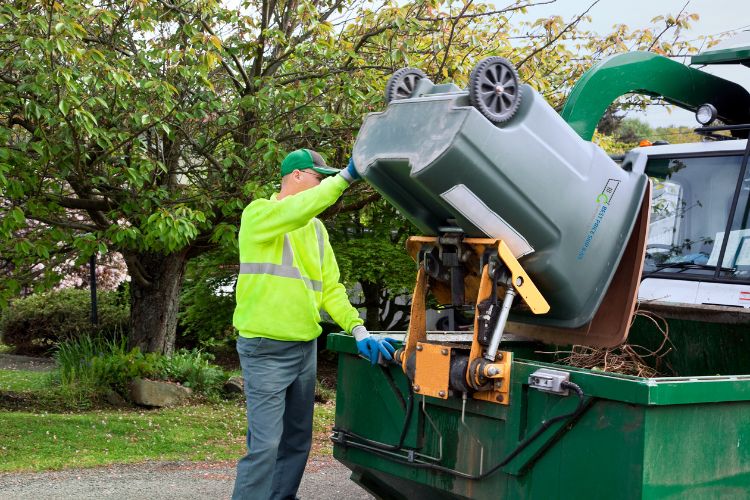 1. How much waste do I estimate will be produced on our site daily, monthly, quarterly, annually?
Skip bin hire can be arranged to suit the needs of each organisation or individual customer.
This means that larger organisations can arrange for permanent skip bin hire. This is where a skip bin is delivered, then once full, it's simply swapped out for a new, empty container.
This can be a very convenient solution for schools which are producing a large amount of waste on a weekly basis.
Estimating school waste
When it comes to estimating the waste disposal needs for your school, it's important to keep records of how many bins are filled and emptied each week.
This will change depending on a number of factors though, and this might need to be taken into account when you are arranging your permanent skip bin hire.
Factors which might cause this change include festivals and special events which take place at your school. This may mean that the number of people using the building/grounds can double, triple or more over a few days.
In order to work out how often you need a skip bin to be changed and how large you need it to be, look carefully at how much rubbish you're producing in general.
Take into account those special days and festivals where you might need more receptacles to be delivered.
Ground maintenance should also be taken into account; are there any big garden cleanups expected soon? If there are, then extra green waste skip bins are a good idea if you don't have your own school composting system and worm farm.
2. Benefits of using skip bins
The benefits of using a skip bin are many. This is especially true for schools, which need to be extremely organised in order to ensure the health and safety of those using the facilities.
One of the major benefits is, of course, the fact that the rubbish can be kept safely contained in one area. This means there's much less risk of rodent activity, which can be an issue for both urban and rural schools.
Another benefit is that skip bins are available for a variety of rubbish types and can be separated.
By providing your students and staff with options for recyclable rubbish and non-recyclable rubbish, you're contributing to our efforts to recycle as much as possible.
By separating rubbish, we're able to easily sort and recycle anything that can be re-used, such as plastic, paper, textiles and green waste.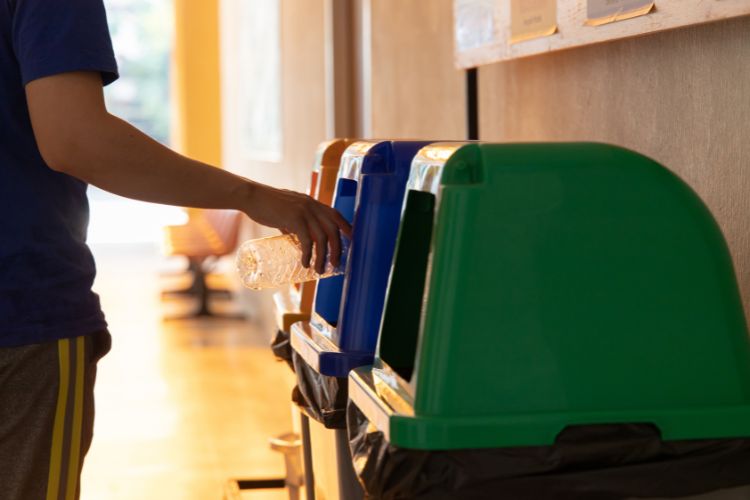 3. How often will the skip bin need to be emptied?
Best Price Skip Bins offers a wide range of sizes. They range from as small as 2 cubic metres to as large as 30.
Because of this flexibility, schools can choose to have a smaller skip bin which will be emptied as frequently as needed or a larger skip bin which can be left for longer.
Working out the amount of waste which your school produces is important when it comes to deciding how often your skip bin should be emptied.
You can decide how often; we will work with you to ensure you have a ready, empty container as frequently as necessary.
4. Who is responsible for managing skip bins on school sites?
All schools have a maintenance team. This generally consists of a supervising caretaker/maintenance manager and a cleaning crew.
Between them, they will manage the rubbish produced within the school, although upper management should always supervise and ensure that health and safety rules are adhered to.
All staff engaged in any waste management activities should be well educated on skip bin protocol, including when and how often the skip bins are emptied.
The supervising maintenance manager should communicate with the skip bin company to ensure that everything runs smoothly. This includes the ordering of additional skip bins when needed. For example, during a school fair or festival, there will always be more rubbish than usual.
5. What is your skip bin hire cancellation policy?
Skip bins may be cancelled via written notice not less than 24 hours prior to the delivery date.
Our terms and conditions explain that cancellation will mean that an administrative fee of $35 is payable.
If the skip bin is cancelled on the day it is due to be delivered, the fee will depend on what the supplier deems appropriate to cover reasonable costs.
Should Best Price Skip Bins need to cancel a delivery, you will be entitled to a full refund.
We always try our very best to ensure customers are happy with their service and try to remain as flexible as possible.
6. Who is responsible for filling skip bins on school sites?
Skip bins on school property should not be accessed by anyone who is not part of the cleaning or maintenance team.
The reason for this is that safety is paramount and skip bins need some care when it comes to use.
Throwing random rubbish in the wrong skip bin, for example, could result in problems further down the line.
This is due to risks from some rubbish types (e-waste and batteries) and to the fact that we want the waste types in certain skip bins to remain consistent so we can recycle. Some rubbish might contaminate a fulll skip bin which could otherwise be recycled.
7. What is the minimum hire period for a skip bin for these longer projects?
You can book a skip bin for as long or as short a period as you need. The usual would be 24 hours because the supplier needs to drop the skip bin off and will then usually, be engaged in other deliveries.
24 hours is a reasonable amount of time for those additional skip bins which may be necessary during special events such as festivals, fairs and performances or sporting events.
8. Is there a hire payment policy for longer agreements?
Arrangements for longer periods will need to be discussed in advance of booking with Best Price Skip Bins.
If you would like to use a skip bin for a long period, talk to our team to work out the ideal time for delivery and collection.
9. What is the process for hiring a commercial skip bin for schools?
Hiring a commercial skip bin for schools is simple. Just get in touch with our team and we will discuss your needs.
Once you've settled on a skip bin type and period of hire, we will arrange delivery. Payment can be made via our secure online payment portal and this can be ongoing.
We supply skip bins across all states and regions, visit our service areas to learn more.
10. What are the different types of skip bins available for hire for schools?
Here at Best Price Skip Bins, we offer 3 types of skip bin.
Marrel Skip Bins
Hooklift Skip Bins
Mobile Skip Bins
Each type has different properties and uses. Marrel skip bins come in a wide choice of sizes from between 2 and 30 cubic metres.
These are commonly used skip bins for many organisations and are very useful. They're easy to access due to their large, wide opening and can come with a ramp so that heavy waste may be transported inside with ease.
Hooklift skips are generally very large and good for building projects, whilst mobile skip bins are useful for placement in difficult to access areas. Mobile skip bins come on a trailer and so do not require a permit. They also have a lockable lid which is a good way to ensure control.
Learn more about our different skip bin types here.
11. Where is the best place to find a commercial skip bin hire service?
Best Price Skip Bins is a well-established skip bin hire company covering the whole of Australia.
We supply skip bin hire to schools and other large institutions and so we're experts in the issues of waste management for large organisations.
Our team share many decades of experience and are well placed to assist you with any questions or concerns which you might have about booking or using skip bins in schools.
Removing all types of rubbish for many years, we're also an eco-friendly company and we strive to ensure that we recycle as much of the waste we collect as possible. Keeping rubbish out of landfill is a priority.
12. What are the skip bin alternatives for schools?
All schools produce a large amount of waste. That's a fact – although some alternatives may be put in place, it's common for schools to need some assistance with the management of their rubbish.
However, many schools like to make an effort to be eco-friendly and these efforts will always reduce the amount and type of waste which is produced in the organisation.
Zero waste schools
Many schools are attempting to become zero-waste organisations. This is a great initiative which means that those people using the building and grounds are not permitted to leave any personal rubbish at the school.
Arranging this takes some organisation. Parents will need to be informed and educated on how to help their child participate in a zero-waste policy.
The easiest way to begin a zero-waste policy is to inform  parents that their child's lunchbox should contain as little packaging as possible. Staff should also be included in the new policy.
No packaging at all is preferable, but sometimes this is difficult to arrange. However, packaging for snacks such as cereal bars can be removed at home or brought back with the child in a lunchbox. Drink cartons should be avoided or taken home and sandwiches and other foods can be placed in reusable containers or wrap such as greaseproof paper or beeswax wraps.
Composting at schools
All schools can take action to manage their own green waste, including food waste. Composting requires some organisation at the start and some additional equipment may be needed, but once the composting process has begun, it's very easy to maintain.
Compost produced at school can then be used to grow vegetables and flowers which can be sold to raise funds for the school and the whole process can be used in the education of the pupils.
Science lessons can be incorporated into the gardening process, as can business lessons, as children actively participate in the management of the composting, worm farming and gardening.
13. Where are the most popular places to put a skip bin on a school site?
Skip bins need to be kept in a spot which is easy to access whilst not interfering with the free passage of people or vehicles.
Car parks are a common choice, especially if there is ample parking. Otherwise, the rear of the dining area can be a good spot because it is from this area that a lot of rubbish is produced.
Before deciding on the area your school skip bin should be placed, there should be a discussion among the staff who will use it to determine the most convenient area.
Ideally, it should be an area not usually accessed by students or parents.
14. Can I have multiple bins on site? Why would I choose this option?
Yes, you can have multiple skip bins on site and it's common for this to happen in larger schools.
This is because each might be for different waste types. For example, a green waste skip bin and a general or mixed waste skip bin might be needed.
Additionally, you can choose to have skip bins for bricks or heavy waste if there is building work going on.
For more information on skip bin hire, the different waste types we remove and booking enquiries, please visit our service areas page.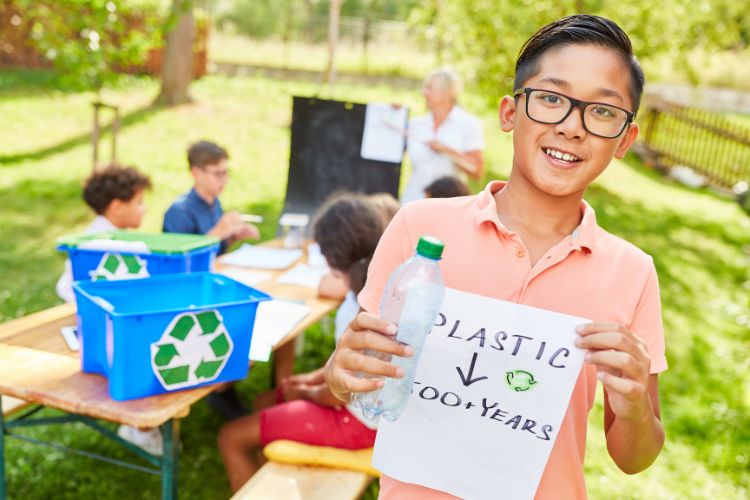 Conclusion
Schools, as mentioned, are always going to produce a lot of rubbish. They're busy, dynamic places with many different activities going on and that, naturally, means that waste management can be an issue.
Skip bins provide a clean, safe and convenient solution to school waste management.
With Best Price Skip Bins, we work flexibly with schools to ensure they always get the skip bins they need and have the freedom to vary their booking when needed.
To learn more about the process or to make your booking get in touch with our friendly team.
We're here to help.