Rubbish removal is rarely as simple as we'd like it to be. This is mostly true for businesses, though householders can also come up against a few hurdles.
The difficulties arise when there are larger amounts of waste to dispose of or unwieldy objects such as washing machines, carpets, mattresses fridges or other white goods.
The good news is that with notice, these can be removed by skip bin hire companies.
Times when waste production increases either at home or for businesses, during special events, clearouts and renovations, can be tricky. Waste builds up, and the environment needs to be kept clean and safe.
Best Price Skip Bins offers an affordable, clean and convenient way to remove rubbish from your home or business, no matter how much or how little waste you need to get rid of.
Occasionally, a permit may be necessary for a skip bin. This will depend largely on where you plan to have the skip bin situated.
When you hire a skip bin, if a permit is needed, the skip hire company will organise this, although you, as the skip user, will be the person to pay the fees for the permit.
Permits are sometimes necessary for various reasons, and this article will answer the most frequently asked questions regarding skips and permits.

Council Permits
What exactly is a council permit? In short, it's a document that permits the holder to park a skip bin on a particular part of the street, footpaths, or other land.
Permits are there to help alleviate infringements of local laws regarding parking. Busier streets must be kept clear, particularly exits and entrances which might be needed during deliveries or emergencies.
Requesting for a skip permit isn't complex. You only need to let us know before booking.
The reasons why permits are required are varied. Still, generally, it's because if there were blanket permission for all businesses to have skip bins on public roads or land, there would be constant obstructions to traffic and pedestrians.
For most Australian councils, the application for a permit must be placed by the owner of the skip bin or the business that owns the skip bin. So, as a customer, you don't need to do any of this leg work – which is good news! You probably have enough on your plate already, and that's why you need the assistance of a waste collection company.
Waste management is simple when you have the support of specialists.
Here at Best Price Skip Bins, we're experts in offering end-to-end support for our customers, including skip bin permits where necessary.
We serve all major regions, including Melbourne, Sydney, Adelaide, Perth, Brisbane, Sunshine Coast and the Gold Coast.
Council permits for residential requirements
When it comes to residential waste removal services, it's quite unusual for a permit to be needed.
Most houses in Australia have some lawn or even a small piece of land on which a skip bin may be placed without impinging on the public highway.
However, in larger cities or towns where urban development has meant that land is at a premium, some homes may not have any garden or land. This is mainly true in inner-city housing, where terraces are tightly packed.
In these cases, a permit might be required because skip bins will have to be placed on the road or nature strip.
Depending on your property, you should not need a permit, but if you do or think you do, please don't hesitate to contact us and ask any questions about permits you may have. You can also enquire about the different types of waste material which we deal with.
Council permits for small business
Council permits for small businesses using skip bins are no different to those for other organisations.
A small business may not have as much land to use as a larger concern, but if you need help with rubbish collection, then skip bins make sense.
The other options, such as visiting the dump or using council rubbish collections, are often unsuitable, even for small businesses, which may produce a fair amount of waste.
This is especially true if the small business is retail or food services related. Food businesses in particular, can create a lot of waste. Retail businesses also produce a lot of packaging waste. This garbage needs to be disposed of in an environmentally friendly way; grounds and premises need maintenance, and rubbish removal is part of that.
Make enquiries with us as to which would be the best option for your small business, particularly if you produce a larger amount of waste regularly. The infrastructure of your business can only benefit from regular, reliable rubbish collections.
A lockable skip bin on a trailer might be a good solution. These are called mobile skip bins and do not require a permit because they are considered vehicles due to being attached to wheels.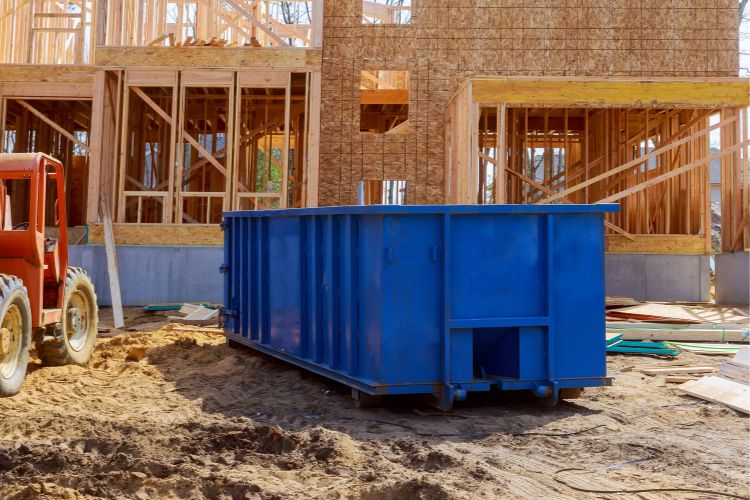 Council permits for medium/large organisations
Medium and large businesses producing a fair amount of rubbish must consider their needs carefully.
Parking might still be at a premium even if your premises are larger, so skip bin placement needs to be carefully planned.
The rules remain the same, and bins may be placed on a public road without a permit, and unless you have your own land, you will need a permit.
Your local city council website will have information on any special requirements for skip bin parking on streets and public areas. There will be additional charges for skip bin permits, but we will deal with that for you. You will be informed of the cost upon booking. Applications for skip bin permits aren't expensive, so considering how convenient a skip can be, it's more than worth it.
Considerations for when you may need a council permit
Those extra busy times, such as renovations and DIY or big clean-up projects, will always produce a lot of additional refuse.
It's good to do some pre-planning where possible so that you may take advantage of recycling programs in your area.
Here at Best Price Skip Bins, we care deeply about the environment, and so much of the garbage we collect is indeed recycled. It doesn't all go automatically into landfills or to incineration. Landfill and incineration are responsible for a lot of pollution, and we want to be sure that we're helping the environment as we help our customers.
We also take great care to ensure that litter from skip bins which we collect, isn't lost and allowed onto the footpaths, roads or lanes. If waste can escape, it can end up in waterways or green spaces where it does not belong.
We offer different skip bin types to make recycling easier. For example, a green waste skip bin will be removed once full, and the contents will be turned into compost.
You will need to consider where you have space for your skip bin before hiring. Health and safety requirements and some staff training might also be helpful.
If you can, place it on your own land and that will save you some money because there's no need for any permits.
Your skip bin permit will allow you more freedom to ensure a convenient placement for the receptacle.
Considerations for when you don't need a council permit
When you don't need a council permit, you can just go right ahead, fill your skip bin up and wait for it to be removed.
It's simple – you book and choose the day of delivery. Once you pay, then your skip bin will be delivered. You also choose the day of collection. If you don't need a permit, you can keep it for as long as you want.
Once you know what you need, it's easy to decide which is the best skip bin to get
If you need a skip bin, you should try to know what sort of waste you're going to produce.
We offer –
All of these skip bins are available in different sizes, too. This makes it much easier for householders and businesses to get the best skip bin for their needs.
Are there any waste types I can't put in a skip bin?
Yes, there are some waste types that should not be placed in a skip. These include –
Batteries
Asbestos
Oil
Paint
Chemicals
Electrical appliances

Below is a full list of areas, nationwide by state – areas we service.
Melbourne | Sydney | Adelaide | Perth | Brisbane | Sunshine Coast | Gold Coast

New South Wales
Click here to find your local region, book a skip bin with us, or learn more.
Queensland
Please click here to find your local area in Queensland served by Best Price Skip Bins.
Victoria
In Victoria, we serve the areas listed below – please click here to learn more and to book a skip bin to remove your junk.
South Australia
In S.A., Best Price Skip Bins serves the areas listed below. Please click here to learn more about hiring a skip bin in your part of S.A.
Western Australia
In W.A., we offer skip bin hire in all areas listed below. Please click here to learn more and to book or ask questions about skip bin hire in Western Australia.
Northern Territory
In the Northern Territory, we serve the greater Darwin area. Click here to learn more, book or ask questions.
Tasmania
To hire skip bins in Tasmania or to learn more and ask questions, please click here. Best Price Skip Bins are always happy to answer your questions.
Contact our Team
Booking a skip bin is easy. Especially when you work with the team here at Best Price Skip Bins. We have many years of experience dealing with waste removal of all types and amounts.
Permits add cost if they're needed, but they're worth it as the convenience afforded by the ability to place a skip where you need it is invaluable.
The alternative options, including council recycling bins, local rubbish collection and dumps or tips, aren't convenient for busy people.
For homeowners,  businesses and organisations, skip bin hire is a great way to ensure a clean and safe environment. Whether you're running a busy building site, a shop, or a home, give us a call, and we can help you plan your next big cleanup.
We can remove everything from bricks and concrete to old office furniture and food waste. One of the best aspects of skip bins is that we come directly to your location; we work with you to ensure that the skip bin is the correct size and suitable for the waste you want to dispose of.
Waste collection services can be useful but cannot afford skips' freedom. Whether you're a busy food business a construction or building works company, you can benefit from the ease of service provided by Best Price Skip Bins.
Bring the discussion back to the types of situations where a council permit is required, and based on your situation, what would be the best option for you?
Contact us if they need further assistance or guidance for the right type of skip bin for the job.