Skip Bins Willunga
Hiring skip bins Willunga
Willunga is a unique and historical suburb of Adelaide. Close to the beautiful coastal suburbs of Port Willunga and Noarlunga, it's a picture-perfect market town with a plethora of historical and picturesque buildings. Hiring skip bins Willunga is commonplace as many of the residents own larger properties which require a lot of maintenance. Skip bins Willunga are a convenient and simple way to organise rubbish collection when you're undergoing renovations, moving house or just having a clear-out. We've been established long enough to know how to ensure our customers get the best deals. Your needs come first when you order with BEst Price Skip Bins.
Best Price Skip Bins understand the needs of most people looking to hire Willunga skips. The need for speedy service and affordable prices are on the top of our list when we're working with customers to ensure they get what they want from Willunga skips. Not only do Best Price Skip Bins ensure that skip bin hire Willunga is second to none when it comes to quick delivery but also in terms of price. We make it our business to get the best possible prices for our customers so they don't need to worry about phoning multiple local skip bin hire Willunga companies.
Whatever you need skip hire Willunga for, call Best Price Skip Bins today and we will immediately set about getting you the best price available. Your time is valuable, let us help.
What can you put in skip bins Willunga
Almost anything! We know that skip hire Willunga is something people need in order to ensure their waste is dealt with efficiently so we endeavour to take most types of common refuse. That includes green waste, rubble and soil, bricks and even tyres. Skip bins are fantastic for those seasonal clear-ups which need to be done occasionally.
Best Price Skip Bins cannot accept asbestos and ask that should you suspect the presence of asbestos within your refuse, that you call the experts. If you have old mattresses which you would like to dispose of, please remove the outer layer of fabric and separate the metal parts so that we can recycle them. We are an eco-aware company and like to ensure that we do our part for the environment.
If you have any questions related to skip hire Willunga and what you can and can't place in your skip bin, get in touch today and we will be happy to advise you further. Our friendly team is always happy to help.
What size skip bin should I order?
We have a large range of skip bin sizes and types in Willunga and are happy to be able to offer mini skips Willunga for those smaller jobs. We offer skips in all sizes beginning at 2m3 and going all the way up to 30m3 so no job is too large or too small.
Depending on what sort of waste you have, we're able to offer large skips to manage heavy waste. We stock Marrel skip bins and Hooklift skip bins, some have wheels whilst others are lifted off trucks. If you would like assistance in working out how large a skip you need to order, simply enter your postcode in our interactive form and we will take you through a set of questions designed to assist.
Below is a list of all sizes offered. If you're unsure as to which size to order, get in touch with us. We are always happy to help!
•2m3 Mini Skips
•3m3 Mini Skip Bins
•4m3 Small Skip Bins
•6m3 Large Skip Bins
•7m3 Large Skips
•8m3 Extra Large Skip Bins
•9m3 Extra Large Skips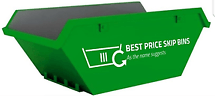 •11m3 Hooklift Skip Bins
•15m3 Large Hooklift Skips
•30m3 Extra Large Hooklift Skip Bins
How do I find the cheapest skips Willunga?
Simple…just call Best Price Skip Bins! Finding our customers the best price possible is what we excel at. As a family owned and managed company, we know how important budgeting is which is why we use all of ourt extensive contacts in the skip bin industry, to ensure our customers get a great deal. As soon as you place your order with us, we go all out to get you the best deal available so you know you can't find a better price than you will with us. We utilise our links within the industry to ensure you get the best price possible.
We aim to provide you with the highest quality service for all your rubbish removal requirements.
Are skips Willunga the best way of removing my rubbish?
Definitely. Skip bins are convenient, easy to use and of course, you don't need to make multiple trips to the dump! We deliver your skip on the date you need it and then you fill it up.
We even provide ramps with many of our skips; this is to ensure that even the heaviest of waste can be disposed of easily and without the backbreaking effort of loading up a trailer. Visiting your local dump with trailer after trailer is no fun! Order a skip bin and half your workload.
Using skip bins is an extremely convenient and cost-effective method of waste disposal and Best Price Skip Bins can make it the cheapest method too. Call us to order yours today! Our knowledgable team is on hand to help!
Do I need a council permit for a skip bin?
A council permit is not required if placing the skip on private property. However, if the skip bin is to be placed on public property in Willunga such as the nature strip, street or footpath, a permit is required. Councils charge for these permits too so it is important to know where you want the skip bin delivered. Onkaparinga Council will be happy to advise you regarding permits. Permits are not expensive and can be helpful in certain situations.
To find a cheap skip bin, just go online 24/7 and get a quote form Best Price Skip Bins Adelaide or call us to make enquiries or get a quote. We're here to help! Our friendly team is knowledgeable and can advise on most issues.
Meet The Team at Best Price Skip Bins