Skip Bins Somerton Park
Ordering skip bins – Somerton Park residents
Somerton Park skips are easy to arrange when you're dealing with Best Price Skip Bins. We have arrangements with the best local skip bin suppliers so you can be certain that when you order with us, you get the fastest service possible. Ordering a skip bin is simple with our easy-to-use form. Just enter your postcode and we will walk you through the simple ordering process.
Most properties in Somerton Park have reasonably sized gardens and that of course means that waste can be an issue. But Somerton Park skips bin hire is simple when you know where to go.
Not only do we deliver your skip bin within 24 hours of your order, but we will also advise you on what you can and can't put into a skip bin. Handling waste isn't pleasant but skips bins Somerton make it easy. Place your order the day before you need a skip and your clear-up will be much easier than managing multiple dump runs.
What can you put in skip bins Somerton Park?
This is a commonly asked question for anyone looking at ordering skips Somerton. We know that waste can vary, especially if you are undertaking renovations or if you're moving in or out of a property. The junk just seems to pile up, doesn't it?
We take most types of waste off your hands and that includes awkward items like mattresses and tyres. We don't charge extra for them either…unlike dumps who will penalise people for bringing these items.
Best Price Skip Bins will also remove soil and concrete, bricks, green waste and mixed waste. If you have an item or substance you're not sure about, do get in touch with us to find out if it's something you should be handling or not. Remember that asbestos can hide in old sheds and other outdoor structures. Don't handle asbestos or anything which you suspect might be asbestos.
If you are unsure about what can go in your skip bin or if garden waste can be mixed with household rubbish, just give us a call. We will be able to help you with any questions you may have.
What size skip should I order – can I order mini skips Somerton Park?
Our selection of skips is very broad so you should find the perfect one for your needs including mini skips. Somerton residents will find that there's plenty of scope for all kinds of waste no matter how small or large the pile!
If you are undertaking renovations and have lots of doors or other construction waste, then it's likely you will need quite a large skip. Check out our handy resource regarding the sizes of our skips.
Our skips range in size from 2m3 up to 30m3, so no rubbish removal job is too big or small. Somerton skips and finding the right size for the job has never been simpler!
Check out the range of sizes offered by Best Price Skip Bins.
•2m3 Mini Skips
•3m3 Mini Skip Bins
•4m3 Small Skip Bins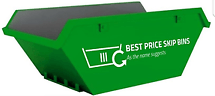 •6m3 Large Skip Bins
•7m3 Large Skips
•8m3 Extra Large Skip Bins
•9m3 Extra Large Skips
•11m3 Hooklift Skip Bins
•15m3 Large Hooklift Skips
•30m3 Extra Large Hooklift Skip Bins
How do I get the cheapest deal for a skip bin?
Just contact us! Best Price Skip Bins are a family-owned and operated company so we understand the importance of budgeting. That's why we work with the best suppliers – skip companies offering the best deals.  Skip bin hire Somerton should be accessible to everyone; don't worry about finding a good deal, that's what we're all about.
As soon as you enter the postcode for skip bins Somerton, our system and team will go to work to locate the cheapest deal available. We do the leg-work so you can relax.
Is skip bin hire the best way to remove rubbish?
In short, yes it is! You can either make multiple trips to the dump, with the irritation of filling and emptying a trailer, or you can contact us and let us bring the dump to you.
A skip bin simplifies the process of rubbish removal so all you have to do is fill up the skip or mini skip. Somerton residents can relax, safe in the knowledge that most of the hard work is being dealt with.
We even supply a ramp for most skip bins; this makes it super-easy to fill your skip using a wheelbarrow if you're dealing with soil or rubble. Even green waste can be dealt with in this way.
Do I need a council permit for a skip bin?
The answer to this question is…possibly. If you're planning on placing your skip bin on your own land then no permit is needed. But if you want to use the nature strip or the road, then you will need to apply for a council permit. Somerton Park is governed by The City of Holdfast Bay. Visit the website to learn more about waste management in Somerton Park or to learn about permits.
Choose Best Price Skip Bins for your Somerton Park skips. Simple, affordable and reliable.