Skip Bins Quakers Hill
Hiring Skip Bins Quakers Hill
Skip bins Quakers Hill are always in high demand. There's a lot of excellent quality housing in the area in addition to many thriving businesses. This of course adds up to lots of movement in and out of the popular suburb.
As Quakers Hill is so close to Sydney's CBD, it's the perfect place for commuters to settle down. There are lots of amenities and good schools in the area which attracts families who want to live in a pleasant but vibrant community.
Best Price Skip Bins have been providing skip bins Quakers Hill for a long time; we're in a great position to be able to offer our customers the lowest prices out there for Quakers Hill skips.
How do we do it? Simply by maintaining our close links with all of the best skip hire companies in and around the area. When you book Quakers Hill skips with Best Price Skip Bins, you benefit from our connections and always get offered the cheapest possible skip bin available.
We know that our customers want the convenience of skip bin hire Quakers Hill but without paying over the odds. That's why as soon as you enter your postcode into our handy online booking form, we're already finding you the best option available.
What can you put in skip bins Quakers Hill?
There's not much you can't put in them! We can't take asbestos or liquids but we can take most other types of waste, including general waste, green waste, concrete/bricks, soil and even mixed waste.
You might wonder why we try to keep waste types separated in our skips– it's to allow for recycling when possible! As an eco-friendly company we take recycling seriously and try to avoid landfill as much as possible so skip hire Quakers Hill doesn't affect the environment adversely.
Did you know that dumps charge extra for certain items that you may need to dispose of including mattresses and tyres? But you can save some money by using a skip bin instead of taking it to the dump. With mattresses, just remove the outer material off the springs and put them separately in the skip bin. The springs can then be disposed of as scrap metal and the material is general waste.
If you would like advice regarding what you can put in Quakers Hill skips or if you'd just like to find out more regarding skip bin hire Quakers Hill, get in touch with us today. We're always happy to help.
What size skip bin do I need to hire?
Many people find this confusing. How to envision the size of a particular skip bin in relation to the waste they have. A good tip is to use our handy infographic below. The image shows an averagely sized man beside a selection of differently sized skip bins.
We do stock a wide range of skips including mini skips Quakers Hill. Mini skips are good for smaller clear-up jobs.
Our skips start as small as 2m3 and go all the way up to an enormous 30m3.
Below is a comprehensive list of all our skip bins.
•2m3 Mini Skips
•3m3 Mini Skip Bins
•4m3 Small Skip Bins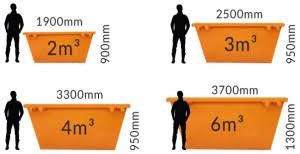 •6m3 Large Skip Bins
•7m3 Large Skips
•8m3 Extra Large Skip Bins
•9m3 Extra Large Skips
•11m3 Hooklift Skip Bins
•15m3 Large Hooklift Skips
•30m3 Extra Large Hooklift Skip Bins
How do I find the cheapest skips Quakers Hill?
Contact Best Price Skip Bins and we'll find it for you! That's what we specialise in and we take great pride in our ability to provide real value for money. We're a family owned and operated company so we really do understand the importance of budget.
When you book with us, you can rest assured that you're getting the lowest possible price on your skip hire Quakers Hill.
To book yours or to get a quote, simply enter your postcode into our handy online booking form. Entering your postcode doesn't mean you have to book immediately…or at all! It will simply offer you the choice of booking or finding out how much a skip bin will cost you.
Is skip bin hire the best way of removing my rubbish?
Every time! There's really no easier way to remove your rubbish than with skips Quakers Hill. The other option involves multiple trips to the dump, messy unloading and loading not to mention dumping fees.
With a skip bin, all you need to do is book, fill and wait for it to be removed! How simple is that? We even provide ramps with many of our skips so you can easily unload heavy waste into the skip bin.
Using skip bins is an extremely convenient and cost-effective method of waste disposal and Best Price Skip Bins can make it the cheapest method too!
Do I need a council permit for a skip bin?
Only if you want to place the skip bin on public property such as the road outside your business or home. If you want to place the skip bin in your garden or on your own private drive, then no permit is needed.
To find out more about permits, contact Blacktown City Council or get in touch with us here at Best Price Skip Bins. We'll talk you through your options and help you find the right skip bin for your needs.
Meet The Team at Best Price Skip Bins
Suite 501 6/197/205 Church St,
Parramatta NSW 2150
Phone: 1300 79 11 32