Skip Bins Port Noarlunga South
Hiring skip bins Port Noarlunga South
Port Noarlunga South is a popular and beautiful coastal suburb of Adelaide. Less than an hour from the city, it's the perfect location for people who want to enjoy the clean air and relaxed beachside lifestyle which this suburb offers. The housing here is varied and there's everything from classic, older style houses to contemporary apartments and a number of high quality restaurants and boutiques. Anyone looking at skip hire Port Noarlunga South will find that Best Price Skip Bins are leaders in the industry.
Best Price Skip Bins pride themselves on offering the lowest possible prices to their clients. Because Best Price Skip Bins have strong links with the industry, they are perfectly placed to ensure that anyone looking at skip hire Port Noarlunga south is going to get a great deal. The team at Best Price Skip Bins ensure that customers get the best deal by contacting all available skip bin hires in the area and grabbing the cheapest deal available. That way, you don't have to!
Ordering is easy; just put your details into our responsive form and we'll do the rest! We talk you through the important information as you go…your skip could be on your doorstep in under 24 hours! Skip hire Port Noarlunga South is convenient, simple and affordable!
What can you put in a skip bin?
We accept most types of waste. Best Price Skip Bins are happy to remove concrete and bricks, rubble, sand and soil, green waste and even tyres and mattresses. We can't take asbestos away so if you suspect there might be asbestos on your property, speak to your local council for advice. The City of Onkaparinga has some helpful information.
Don't mess around filling up trailers and driving to the local dump. We're convenient and reliable; all you need to do is fill your skip and we take it away. We even recycle materials which are recyclable so you don't have to.
What size skip should I hire?
We offer a very wide choice of skip bin sizes including mini skips Port Noarlunga South. If you've got a smaller amount of waste to dispose of, mini skips Port Noarlunga South are perfect.
To help you work out what size skip you need, consider the size of your largest items and bear that in mind when you order. Below is a list of all our skip bin sizes so you can easily make the right choice.
•2m3 Mini Skips
•3m3 Mini Skip Bins
•4m3 Small Skip Bins
•6m3 Large Skip Bins
•7m3 Large Skips
•8m3 Extra Large Skip Bins
•9m3 Extra Large Skips
•11m3 Hooklift Skip Bins
•15m3 Large Hooklift Skips
•30m3 Extra Large Hooklift Skip Bins
How do I find the cheapest skips Port Noarlunga South?
We do it for you! That's our speciality here at Best Price Skip Bins. We utilise our extensive contacts within all local skip hire companies and choose you the cheapest possible skip bin at the time of ordering. Skips Port Noarlunga South are the most convenient and time-saving method of waste removal that you will find. Don't waste your time ringing round a tonne of companies, simply enter your details in our responsive form and we'll do the rest.
As a family owned and operated business, we know that budget matters; that's why we get you the best deals available.
Is skip bin hire the best way of removing my rubbish?
There's always a choice and the double-handling method isn't the right one. Port Noarlunga South skips is the best way to remove your rubbish simply because it;s so easy. Place your order and we do the rest. All you need to do is fill up the skip bin.
Making multiple trips to and from the dump isn't in your best interest, you end up wasting time, fuel and money as you attempt to dispose of awkward waste on your own. Call us today to place your order and you could have your skip bin outside your house by tomorrow.
Skip bin hire Port Noarlunga South couldn't be simpler; we even provide a ramp to enable easy access for our larger skip bins.
Do I need a council permit for skip hire Port Noarlunga South?
The easy answer to this question is sometimes. If you're planning on placing your Port Noarlunga South skip bin on your own property, then you won't need a permit. If however, you want to place your skip bin on public land such as the nature strip outside your property, then you will need to contact The City of Onkaparinga to find out how to apply for a permit.
Remember, skip hire Port Noarlunga South couldn't be easier. Simply go online, 24/7 and get a quote from Best Price Skip Bins. We can't be beaten on price.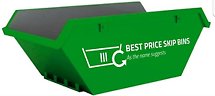 Meet The Team at Best Price Skip Bins