Skip Bins Pakenham
Hiring skip bins Pakenham
Pakenham is a desirable satellite suburb of Melbourne. Popular with both families and single professionals who want high-quality housing, there's always a demand for skip bins Pakenham. The housing in Pakenham is varied with plenty of options for both apartment-style living and large houses with well appointed yards.
Skip bins Pakenham make a great choice for anyone moving house or undergoing renovations. Best Price Skip Bins are here to help. Offering a high-quality service with a difference, what makes Best Price Skip Bins stand out, is our commitment to getting the best prices for our clients.
Because we have excellent links in the skip industry, we're able to grab the best deals too. When you order Pakenham skips from us, we immediately set to work to get you the cheapest possible Pakenham skip out there.
We deliver within 24 hours of your order too so there's no waiting around. To book a skip bin with us, simply enter your postcode in our easy-to-use online order form and we will do the rest!
What can you put in a skip bins Pakenham?
We can collect most types of waste, including general waste, green waste, concrete/bricks, soil and even mixed waste. You might wonder why we try to keep waste types separated in our skips– it's to allow for recycling when possible! Did you know that dumps charge extra for certain items that you may need to dispose of including mattresses and tyres? But you can save some money by using a skip bin instead of taking it to the dump. With mattresses, just remove the outer material off the springs and put them separately in the skip bin. The springs can then be disposed of as scrap metal and the material is general waste. No more extra dumping fees!
Skips Pakenham are the most sensible choice when it comes to saving time and getting your work done quickly with as little inconvenience as possible. To organise skip hire Pakenham, just get in touch with us. We're always on-hand to assist customers to work out which sort of skip bin they need. Get in touch here and ask any questions you might have.
You're guaranteed to get a great deal when you order with Best Price Skip Bins.
What size skip bins Pakenham do I need to hire?
Skip hire Pakenham is super-versatile thanks to our large selection of different skip bins. Mini skips Pakenham make a good choice for anyone who has a little too much waste for their general refuse bins…especially if you don't have time for dump-runs. Your mini skips Pakenham will be delivered at your convenience and all you need to do is fill them up!
Here's a list of all skip sizes supplied by Best Price Skip Bins.
•2m3 Mini Skips
•3m3 Mini Skip Bins
•4m3 Small Skip Bins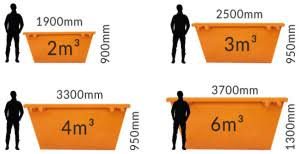 •6m3 Large Skip Bins
•7m3 Large Skips
•8m3 Extra Large Skip Bins
•9m3 Extra Large Skips
•11m3 Hooklift Skip Bins
•15m3 Large Hooklift Skips
•30m3 Extra Large Hooklift Skip Bins
How do I find the cheapest skip bin hire Pakenham?
We do that for you! It's what makes us stand out from the crowd. Most skip hire companies simply send a skip bin out to their customers, but we have a huge selection of skip hire companies at our fingertips and we locate the cheapest option for you when you book with us.
We've been established in the business for years and as a result, we know the best and only deal with service-providers who are going to give the ultimate in terms of service.
We're a family owned and run company so we fully understand how important budget is. That's why we're called Best Price Skip Bins! Contact us today to book yours!
Is skip bin hire Pakenham the best way of removing my rubbish?
Without a doubt! Skip bins are clean, fast and convenient. Compared to the problematic method of rubbish dumps, skip bin services enable people to deal with and sort their own refuse on their own property or close to their business. We even provide a ramp with many of our skip bins; a ramp will enable you to fill up your skip bin with even the heaviest of waste. Concrete, cement, soil and sometimes green waste can weigh a lot.
You order, we deliver and then we remove. Job done! Call us today to find out more!
Do I need a council permit for a skips Pakenham?
A permit is only necessary if you don't place your skip on your own land. If it's in your garden or private property, no permit is needed. If you'd like to place your skip bin on public land, then you will need a permit from Cardinia Council; learn more and apply here.
To find a cheap skip bin, just go online 24/7 and get a quote form Best Price Skip Bins Adelaide or if you see something that suits, book a skip bin on the spot. You can have a skip bin delivered to your door anywhere in Pakenham the very next day! You will wonder why you hadn't booked a skip sooner!
Meet The Team at Best Price Skip Bins