Skip Bins Narellan
Hiring Skip Bins Narellan
Narellan is close enough to Sydeny's CBD to ensure that it's attractive to professionals who're looking to shorten their daily commute as well as families who'd like to live in a pleasant suburb with plenty of good amenities. The popularity of the suburb means that skip bins Narellan are always in demand. This is due to the amount of people moving into the area; house moves and renovations mean waste and the best way to remove waste is via skip bins Narellan.
Best Price Skip Bins are the go-to when it comes to skip bin hire Narellan. Why? Because to put it simply, we've been in the industry for so many years that you won't get a better service. There's also the fact that you won't get a cheaper deal than you will with Best Price Skip Bins. We use our extensive links within the industry to ensure that when you book, we find out which supplier in the area is offering the cheapest skip bin hire Narellan…and that's the one you get.
Narellan skips, when ordered through Best Price Skip Bins are the most convenient, clean and fast way to rid yourself of your unwanted rubbish. You can get a quote or start the ordering process by entering your postcode into our easy-to-use online booking and quote form. Follow this link to find out just how cheap our skip bins are.
What can you put in skip bins Narellan?
There's not a lot you can't put in Narellan skips!  Skip bin hire  allows you to quickly and easily dispose of all kinds of waste. This includes general waste, green waste, concrete/bricks, soil and even mixed waste. We cannot accept asbestos or liquids.
You might wonder why we try to keep waste types separated in our skips– it's to allow for recycling when possible! Skip hire Narellan is a great way to ensure that any of your waste which can be recycled, will be recycled. We're an eco-friendly company and do our best to keep landfill to a minimum.
Did you know that dumps charge extra for certain items that you may need to dispose of including mattresses and tyres? But you can save some money by using a skip bin instead of taking it to the dump. With mattresses, just remove the outer material off the springs and put them separately in the skip bin. The springs can then be disposed of as scrap metal and the material is general waste. We encourage and actively try to recycle as much as possible here at Best Price Skip Bins so you can rest easy that your waste isn't going straight to landfill but will be re-purposed wherever possible.
If you're unsure about whether skips Narellan are right for you, please don't hesitate to get in touch with us and we will be happy to discuss your needs.
What size skips Narellan  do I need?
We offer a huge range of skip bins in various sizes starting as small as 2m3 and going up to 30m3. Mini skips Narellan are great for those times when you have too much rubbish for your general waste but not quite enough for a larger skip bin
If you're unsure about which size skip hire Narellan to order, take a look at the infograph below; it will illustrate to you how large a particular skip is in comparison to an averagely sized male.
Once you've worked out how large your skip bin needs to be, we will do the rest! Just enter your postcode here or give us a call to find out more.
Check out the sizes available!
•2m3 Mini Skips
•3m3 Mini Skip Bins
•4m3 Small Skip Bins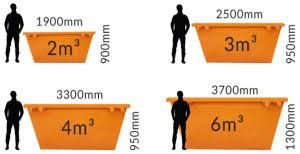 •6m3 Large Skip Bins
•7m3 Large Skips
•8m3 Extra Large Skip Bins
•9m3 Extra Large Skips
•11m3 Hooklift Skip Bins
•15m3 Large Hooklift Skips
•30m3 Extra Large Hooklift Skip Bins
How do I find the cheapest skips Narellan?
Simple! Just contact the team at Best Price Skip Bins and we'll do it for you. You simply cannot get cheaper skip bins because our business model is based on ensuring that you as the customer, always get the cheapest deal out there. We achieve this by shopping around among our extensive contacts so that you don't have to. We have excellent links with all of the very best skip suppliers in your area…that's how we can be certain that you get the best price…every time.
As a family-owned and run company we place as much value on budget as you do. So you can be sure that we're on your side when it comes to price…and that's the low side!
Get in touch with us today to learn more about how we can get you the lowest priced skips Narellan!
Is skip hire Narellan the best way of removing my rubbish?
Definitely! You have two options when it comes to rubbish disposal. The double handling method or our way…which is the easy way. It's tough enough work filling a trailer but then to have to take it all the way to the nearest dump and then unload it all again is exhausting! Not to mention the dumping fees, needing to reverse a trailer or even having to hire a trailer in the first place. Just hire a skip and be done! Once you have filled it we will collect the skip and you can forget all about it!
Using skip bins is the most convenient and cost-effective method of waste disposal.
Did you know that most skip bins even have a ramp for easy access so if you need to dispose of extra-heavy waste you can do so using a wheelbarrow.
Do I need a council permit for a skip bin?
The only time a permit will be needed is if you plan to place the skip bin on public land. If you place it on your own land…your garden or driveway for example, then no permit is needed. You can learn more about skip bin permits and skip hire Narellan by visiting the website of Camden City Council.
To book your skip bin with Best Price Skip Bins or to ask questions about the use or hiring of skip bins, just get in touch and we will be happy to help.
Meet The Team at Best Price Skip Bins
Suite 501 6/197/205 Church St,
Parramatta NSW 2150
Phone: 1300 79 11 32