Skip Bins Mitcham
Hiring Skip Bins Mitcham
Close to Adelaide's CBD and with a plethora of high quality housing in a variety of styles, Mitcham is a popular suburb. Commuters love it due to it's proximity to their places of work whilst families enjoy the many great amenities nearby. Skip bins Mitcham are always needed as people move in and out of the area.
Best Price Skip Bins have been servicing the area for many years and utilise their strong links with local skip bin suppliers to ensure that our customers always get the best deal. We use our links with these suppliers to make sure that when you book a skip bin with us, you get the lowest price possible.
Whatever you need a skip bin for, we've got the right one. Moving house, undertaking renovations or just clearing out a property in need of a tidy-up, skip bins Mitcham are the best solution to the age-old problem of 'too much stuff'.
We're a friendly, family run company and we know what matters most to our customers…price and great service. We can get skip bins Mitcham out to you within 24 hours of your order…delivered to your door for maximum convenience. Call or enter your postcode today to get a quote and learn just how cheap our skip bins are!
Don't worry about the dump! Book a skip bin and save your time!
What can you put in Mitcham skips?
Mitcham skips are suitable for most types of waste, including general waste, green waste, concrete/bricks, soil and even mixed waste. We try to keep waste types separated in our skips to allow for recycling when possible. Recycling is an important part of what we do at Best Price Skip Bins so we do encourage it where possible.
Did you know that dumps charge extra for certain items that you may need to dispose of including mattresses and tyres? But you can save some money by using a skip bin instead of taking it to the dump. Removing the outer layer of fabric makes it even easier for us to recycle your old mattresses and reduce landfill.
If you are unsure about what can go in your skip bin or if garden waste can be mixed with household rubbish, just give us a call. Our friendly team will be able to help you with all your enquiries.
What size skip bin should I order?
We have a large range of skip bin sizes and types. Skip bin hire Mitcham can be tailored to your needs. If you only have a small amount of waste, then mini skips Mitcham will be a good option. Otherwise there's a massive selection of sizes on offer. Check out the infographic below if you need to visualise what the different skip bins look like.
Below are the skip bin sizes we have available.
•2m3 Mini Skips
•3m3 Mini Skip Bins
•4m3 Small Skip Bins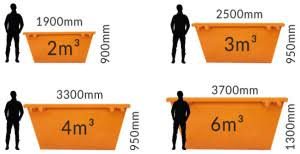 •6m3 Large Skip Bins
•7m3 Large Skips
•8m3 Extra Large Skip Bins
•9m3 Extra Large Skips
•11m3 Hooklift Skip Bins
•15m3 Large Hooklift Skips
•30m3 Extra Large Hooklift Skip Bins
How do I find the cheapest skip bin hire Mitcham
Contact Best Price Skip Bins of course! As a family owned and operated company, we fully understand the importance of budget and that's why we're dedicated to ensuring that you, the customer, always get the best price for skip bin hire Mitcham.
We also have one of the easiest skip hire ordering systems on the internet. We only work with the best skip bin hire companies and have access to them all. Ordering or getting a quote is super-easy. Just enter your postcode into our handy online form and we will take you through a set of simple questions which are designed to ensure you choose the best skip bin hire Mitcham for your needs.
Is skip hire Mitcham the best way of removing rubbish?
Yes! There's no better way to dispose of awkward or heavy unwanted waste. Why bother making multiple visits to the dump when we can get rid of your rubbish for you? Making so many trips to the dump is a false economy…you have your fuel to consider, your time and of course, dumping fees. With skips Mitcham, there's only one fee to pay.
Using skip bins is an extremely convenient and cost-effective method of waste disposal and Best Price Skip Bins can make it the cheapest method too. They can deliver whatever bin size you require direct to your door.
Did you know that most skip bins even have a ramp for easy access so if you need to dispose of concrete or soil you can do so using a wheelbarrow. This is perfect for those times when your waste is too heavy to lift.
Do I need a council permit for a skips Mitcham?
A council permit is not required if placing the skip on private property. However, if the skip bin is to be placed on public property such as the nature strip, street or footpath, a permit is required. Call The City of Mitcham Council for more information.
To find a cheap skip bin, just go online 24/7 and get a quote or if you see something that suits, book a skip bin on the spot. It's easy, convenient and fast…call the team today for more information!
Meet The Team at Best Price Skip Bins