Skip Bins Melton
Hiring Skip Bins Melton
Melton is an attractive and popular suburb of Melbourne and at just 45 minutes drive from the CBD, it's somewhere which many professionals choose to live. Skip bins Melton are a great way to ensure that your home or business never gets overrun with junk or extra rubbish. Whether you're undergoing renovations, moving house or just having a big clear-out, skip bins Melton are a convenient and clean way to manage.
Best Price Skip Bins are at the forefront of waste management and thanks to our extensive links within the local skip bin industry, we're in a position to ensure that our customers get a great deal every time when they book a skip bin through our simple to use online booking form or via telephone.
There will be no need to try to locate the nearest dump to Melton, or to get a crash course in reversing a trailer. When you hire a skip bin, it gets delivered to your door. Once you have filled it, we just collect it. Skip bin hire is that easy!
All you need to do is enter the postcode for Melton, choose your bin waste type, skip bin size and select your dates. We will then give you the best price available for skip bin hire in your area.
What can you put in skip bins Melton?
Pretty much anything! We don't accept liquids or asbestos but there's not much else we can't take. We accept green waste, rubble and bricks, soil and sand in addition to tyres and mattresses. Using skip bin hire Melton to manage your waste is not only convenient but it's also affordable thanks to our dedication to uncovering the lowest prices available when you book skip bin hire Melton.
If you have some waste which you're unsure of, do get in touch to ask us about it. Our friendly team is always happy to advise.
If you are unsure about what can go in your skip bin or if garden waste can be mixed with household rubbish, just give us a call.
What size skip hire Melton do I need?
We have a very large range of skips Melton on offer. Mini skips Melton are a great option for anyone with just a little extra to dispose of, whilst our largest skips at 30m3 are the only way to manage renovations and house moves. Skip hire Melton is simple when you book with Best Price Skip Bins because we're highly experienced and you'll always get a fast and reliable service with us.
Below are the sizes for skips Melton.
•2m3 Mini Skips
•3m3 Mini Skip Bins
•4m3 Small Skip Bins
•6m3 Large Skip Bins
•7m3 Large Skips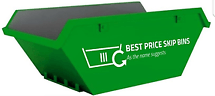 •8m3 Extra Large Skip Bins
•9m3 Extra Large Skips
•11m3 Hooklift Skip Bins
•15m3 Large Hooklift Skips
•30m3 Extra Large Hooklift Skip Bins
How do I find the cheapest skip hire Melton?
Contact Best Price Skip Bins of course! Melton skips are more affordable when you book through us. We use our extensive connections within the industry to grab you the best deal out there. All you need to do is fill in our simple to use online form and we do the rest.
We are a family-owned and operated company so we fully understand the importance of budget. When you book a skip bin with us, we immediately set to work uncovering the best prices out there. When we've found what we're sure is the lowest price available we book it and all you need to do is sit back and wait. Once your skip arrives, fill it up and then we take it away!
Is skip bin hire the best way of removing my rubbish?
Without a doubt! Filling up multiple trailers and going back and forward to the local dump is a chore and also costs you in both fuel and fees. Book with us and you pay once. We even provide a ramp with many of our skips so that filling it up is a breeze.
Ask about ramps when you book your skip bin.
Do I need a council permit for a skip bin?
Only if you want to place it on a public highway or other public land. If you want to place your skip on your own property, then no permit is needed. Contact The City of Melton for more information about permits.
Contact us if you're ready to book or if you have any questions; we're always happy to help!
Meet The Team at Best Price Skip Bins