Skip Bins Highgate
Hiring Skip Bins Highgate, Adelaide
Highgate in Adelaide is a beautiful and popular suburb. Many people are looking to build and buy here and as a result, there are more skip bins Highgate to be seen on the streets than ever before.
If you're looking to build or to buy here, Best Price Skip Bins are the best answer to your waste issues. We have skip bins Highgate of all sizes and also a unique booking system which ensures you always get the cheapest skip hire Highgate on offer.
When you book Highgate skips, our system immediately offers you the cheapest available skip bin from our many, excellent suppliers. We only deal with the best in the business too.
All you need to do to book is enter your postcode here and then choose your bin waste type, skip bin size and select your dates. We will then give you the best price available for skip bin hire Highgate from one of our many skip bin suppliers in your area.
What can you put in skip bins Highgate?
Almost anything aside from asbestos and liquids – there are a few exceptions and if you're unsure, speak to us first. If you have asbestos to remove from your property please visit asbestos.sa.gov.au for more information on how to do it safely.
We can collect most other types of waste, including general waste, green waste, concrete/bricks, soil and even mixed waste. You might wonder why we try to keep waste types separated in our skips– it's to allow for recycling when possible.
Here at Best Price Skip Bins we care about the environment so a lot of what we collect goes into recycling to be re-used.
Did you know that dumps charge extra for certain items that you may need to dispose of including mattresses and tyres? But you can save some money by using a skip bin instead of taking it to the dump. With mattresses, just remove the outer material off the springs and put them separately in the skip bin. The springs can then be disposed of as scrap metal and the material is general waste. No more extra dumping fees!
If you are unsure about what can go in your skip bin or if garden waste can be mixed with household rubbish, just give us a call.
What size skis Highgate do I need to hire?
We have a large range of skip bin sizes and types available including mini skips Highgate.
There are several different types of skip bins including, mini skips, Marrel skip bins and Hooklift skip bins. Some skips are lifted off the truck and other skip bins have wheels.
Best Price Skip Bins have skip bins for hire of all sizes, ranging from 2m3 up to 30m3, so no rubbish removal job is too big or small for us.
Below are the skip bin sizes we have available and which you can book any time on our simple, online booking form.
•2m3 Mini Skips
•3m3 Mini Skip Bins
•4m3 Small Skip Bins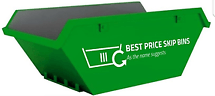 •6m3 Large Skip Bins
•7m3 Large Skips
•8m3 Extra Large Skip Bins
•9m3 Extra Large Skips
•11m3 Hooklift Skip Bins
•15m3 Large Hooklift Skips
•30m3 Extra Large Hooklift Skip Bins
How do I find the cheapest skip bins Highgate?
Contact Best Price Skip Bins. It really is that simple.
We are a family operated skip hire company and we have one of the easiest skip hire ordering systems on the internet. Our team only work with the best skip bin hire companies and have access to them all.
Book your skip hire Highgate here, safe in the knowledge that you'll only be offered the best price available.
Is skip bin hire the best way of removing my rubbish?
Always.
You have two options when it comes to rubbish removal. The double handling method or the easy way. Skip bin hire Highgate represents the easy way – it's so simple! The convenience of a skip bin on your doorstep is not to be beaten.
In short, skip bins are
Affordable
Convenient
Fast
Eco friendly
Did you know that most skip bins even have a ramp for easy access? This makes it super-easy if you need to dispose of concrete or soil – you can do so using a wheelbarrow.
Do I need a council permit for a skip bin?
You do not need a permit if you want to place a skip bin on private property. However, if the skip bin is to be placed on public property such as the nature strip, street or footpath, then a permit is required. Councils charge for these permits too so it is important to know where you want the skip bin delivered.
Book yours today! You choose the size, when it's delivered and when it's collected!
Meet The Team at Best Price Skip Bins