Skip Bins Glenelg
Glenelg Skips
You've arrived at the right place if you're looking for cheap skip bin hire. Glenelg residents will be especially pleased to learn that Best Price Skip Bins can deliver to your area within 24 hours of your first contact with us.
Glenelg skip bins are in demand as this popular and beautiful location is full of large residential properties with generous blocks of land. Large houses with big gardens mean that there's inevitably a lot of waste created which of course means that people need skip bins. Glenelg properties are often blessed with mature gardens as this is an older suburb; it's been well populated since the mid nineteenth century and those big old trees make for a lot of waste!
It doesn't matter if you have a lot of waste or a little, Best Price Skip Bins can provide large skips and mini skips. Glenelg customers can rest assured that our friendly team are always happy to help answer any questions you may have when you get in touch with us.
There's no need to ring around various skip bin companies in Glenelg because Best Price Skip Bins specialise in finding you the cheapest skip Glenelg. We do the leg work for you and not only that but we always make sure you get the best deal.
What am I allowed to put in a skip bin?
Skip bin hire Glenelg is convenient and easy because we can deal with almost any type of waste. We accept green waste, building waste such as rubble and bricks and all sorts of miscellaneous items. Got an old mattress? We can take that too.
If possible, try to pack your skip bin with the large, flat items at the bottom; this means you get even more space for extra rubbish you might have. Try to separate your waste so that it's even simpler for us to recycle it at our waste depot. This means you've got a much tidier home and you're doing your bit for the planet too!
Booking skips Glenelg isn't only the easiest option but can be the most convenient too. Dragging rubbish to the dump costs you in terms of both time and money. Dumps charge to get rid of your waste and many charge extra for mattresses!
If you have any waste which you think may be hazardous or if you're not sure, get in touch with us and we will be more than happy to advise you.
How to work out what size skip bin I need?
Best Price Skip Bins can supply a very wide range of skip bins and we offer various types of skip bin too. In addition to mini skips Glenelg, we also supply Hooklift skip bins and Marrel skip bins. Best Price Skip Bins provide skip bins of all sizes from 2m3 to 30m3 so it doesn't matter how big or small your clear-up, we can cater for your needs.
A good way to estimate which size skip bin you need is to consider the largest piece of waste you have; how wide and tall is it? Can it be broken up? Taking things apart will allow you to effectively stack your skip bin. Hire a skip bin today with Best Price Skip Bins for the best in service and in value.
Check out the skip sizes we carry below;
Below are the skip bin sizes we have available.
•2m3 Mini Skips
•3m3 Mini Skip Bins
•4m3 Small Skip Bins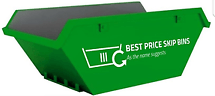 •6m3 Large Skip Bins
•7m3 Large Skips
•8m3 Extra Large Skip Bins
•9m3 Extra Large Skips
•11m3 Hooklift Skip Bins
•15m3 Large Hooklift Skips
•30m3 Extra Large Hooklift Skip Bins
How to order a skip bin Glenelg
Contact Best Price Skip Bins in Glenelg of course! We have one of the simplest skip hire ordering systems out there. We only work with the most reliable and well-established skip bin hire companies and we have access to every single one of them. Once you visit our orders page, simply put in the post code for Glenelg and your waste type and skip bin size we will find you the cheapest skip available and get it to you as soon as you need it. We will provide you with the highest quality service for all your rubbish removal requirements.
Is skip bin hire the best way of rubbish collection Glenelg?
You have two choices when it comes to rubbish removal. The double handling method or the easy way. The double-handling method is where you're the middle-man. You have to fill your trailer with the rubbish you've sorted out and you have to take it to the closest dump in Glenelg. Skips are the easy way…you just need to choose your size and order. We deliver and we remove.
Remember that Best Price Skip Bins will choose the cheapest option for your needs and get it to you super-quick. Just get in touch for your skips Glenelg.
Do the council require a permit for skip bins?
If you are going to be placing your skip bin on your own private property, then no permit is needed. However, if you want to place the skip bin on public land such as a nature strip, then you will need to apply for a permit. Think carefully about access to your property and about where the rubbish will be brought from before you decide on the best location for your skip bin.
Contact the City of Holdfast Bay directly for more information about skip bin permits.
To find a cheap skip bin, just go online 24/7 and
get a quote from Best Price Skip Bins Adelaide or if you see something that suits, book a skip bin on the spot. You can have a skip bin delivered to your door anywhere in Glenelg the very next day! You will wonder why you hadn't booked a skip sooner!