Skip Bins Glenelg East
Best skip bins Glenelg East
Glenelg East is a beautiful beach-side suburb only a short drive from Adelaide's CBD. It's a popular place to live because of it's particularly beautiful properties. From stylish, contemporary apartments to characterful Victorian villas, there's something to suit everyone. Skip bins Glenelg East are a popular option for anyone wishing to ensure their property remains beautiful.
One thing which most residents have in common is a regular need for Glenelg East skips. Good quality and reliable skip bin hire Glenelg East is a must-have because of the fact that so many of these properties are on the large side.
A big garden is great but you can't ignore the amount of green waste created! New residents might find they have a big clear-up to undertake when they move into their new home. Glenelg East skip bins are a great way to ensure a clean start in a new home!
This is where Best Price Skip Bins can help! Fast and reliable, Best Price Skip Bins will deliver your skip within 24 hours of first contact and not only that, they'll also make sure you get the cheapest deal out there.
All you need to do is call Best Price Skip Bins or enter your postcode to make your order. If you have any questions, get in touch with the team and they will be happy to advise you.
What can you put in skip bins?
Best Price Skip Bins collect almost anything. We are happy to remove concrete and bricks, tyres and old mattresses. Unlike dumps, we don't charge extra for these items. If you have anything you would like to be removed but you're unsure if it is a hazardous material such as asbestos, you will need to speak to your local council for advice.
Other items which are fine to put in your skip bin include, green waste, old furniture, books, soil and carpets. Don't hesitate to get in touch should you have any questions about Glenelg East skips or services provided by Best Price Skip Bins.
What size skip do I need to hire?
Here at Best Price Skip Bins we have access to a very wide selection of skips. Glenelg East residents have varying needs so we ensure that a good choice is always on offer. We have skip bins which range in size from 2m3 to 30m3 so whether you just have a big clear-out to do or a major renovation, we have something suited to your needs.
If you're unsure as to how much waste you have to remove, order a larger size…otherwise you may find that you need to order a second skip to deal with the leftovers.
We are able to provide skip bins in the following sizes.
•2m3 Mini Skips
•3m3 Mini Skip Bins
•4m3 Small Skip Bins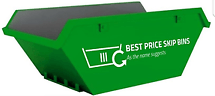 •6m3 Large Skip Bins
•7m3 Large Skips
•8m3 Extra Large Skip Bins
•9m3 Extra Large Skips
•11m3 Hooklift Skip Bins
•15m3 Large Hooklift Skips
•30m3 Extra Large Hooklift Skip Bins
Remember that the team at Best Price Skip Bins is always ready to help you with any enquiries you may have. Get in touch to find out more about skip bins Glenelg East.
What makes Best Price Skip Bins the best for skip bin hire Glenelg East?
Our many years of experience combined with extensive industry connections means that Best Price Skip Bins offer not only the cheapest but also the most reliable skip bin hire Glenelg East.
We're a family operated skip hire company and we genuinely care about the service we provide. Your call and what you order will be given priority and we always ensure that we get the very best deals for our customers.
Once you've visited our order page, fill in the postcode box and the details of what you need and we'll do the rest!
What else do I need to know about skip bins Glenelg East?
When you order a skip bin with Best Price Skip Bins, you will be able to choose what size and when your skip bin arrives. Filling it up is the only work you need to do because we will remove the skip once it's been filled.
Filling your skip is simple; place larger, flat items at the bottom of the skip and then pack the more awkwardly shaped items in. Fill gaps with any smaller refuse you have. It's a good idea to sort items out a little before you place them in the skip. This makes it simpler for things to be recycled once they reach the depot.
Most of our skip bins come with a ramp so that you can easily push a wheelbarrow up to the mouth of the skip. This saves both time and your back!
If you have any questions, get in touch and we will be happy to advise.
Do I need a council permit for a skip bin in Glenelg East
If you are planning on placing your skip bin on your own land, then no permit is needed. If however you need to place the skip bin on the nature strip or on the street outside your property, then you will need to obtain a permit.
Glenelg East residents can contact Holdfast Bay Council for more information on skip bin permits.
Don't delay! Contact Best Price Skip Bins today to find out more or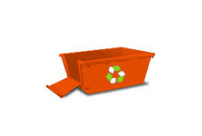 to order a skip bin or mini skip. Glenelg East residents can take advantage of the cheapest skip bins around!