Skip Bins Central Coast
Hiring Skip Bins Central Coast
Central Coast is one of the largest urban area in NSW; with a large population it encompasses a network of towns which have been steadily growing over the past 50 years and development is constantly underway here. This of course means that as people move into the area, skip bins Central Coast are always in high demand.
The choices of housing are vast and include contemporary new builds and period properties. Retail centres are excellent in general as there's a huge demand for them. Schools and entertainment are also high priority here and people have lots of choice when it comes to education.
Best Price Skip Bins have been providing skip bins Central Coast for a long time and understanding the area as we do, we know how important it is to our Central Coast customers that they have a broad choice of skip bins Central Coast in addition to the best prices available.
Best Price Skip Bins place a lot of emphasis on our ability to offer the most competitive prices out there. Price is a priority for many people and with our extensive links in the area, we're always able to find you the best deals when you book with us. Working with the cheapest and the best suppliers, we'll always get you the best price.
If you'd like to book skip bins Central Coast or to find out more about how we operate, please get in touch and a member of our team will be more than happy to assist you. Our knowledge of the Australian waste industry is extensive and we're always happy to chat.
What can you put in Central Coast skips?
There's not a lot you can't put in Central Coast skips!  Skip bin hire Central Coast allows you to easily dispose of all manner of waste. This includes general waste, green waste, concrete/bricks, soil and even mixed waste.
We do not accept asbestos in our skip bins for safety reasons. If you're concerned that your waste may contain asbestos, do not touch it or attempt to deal with it yourself in any way but seek assistance. Renovation is a risky time for many people due to the presence of asbestos in many domestic properties in Australia. Even if your home was built in the 1990s, there is still a possibility that asbestos might be present. Take extreme care if you are undertaking work on your property yourself and be aware of the following areas in particular.
Flooring including lino
Roof tiles
Walls
Downpipes and gutters
Asbestos cement water tanks
Loose fill insulation
Pipe lagging
Don't risk handling asbestos or placing it in skip bins. Call the professionals who are equipped to deal with it properly.
What size skip bin hire Central Coast do I need?
We have a large range of skip bin sizes and types available in the area. We also stock mini skips Central Coast which are great for those smaller clear-up jobs. Depending on what you're dealing with, there will be a suitably sized skip for your needs. The infograph below will illustrate to you how large a particular skip is in comparison to an averagely sized male.
When you pack your Central Coast skips, you need to plan how you're going to fill it in order to make effective use of the space available. Laying flat items into the skip bin first, is a good tactic; once your flat items such as doors or old window frames are in, then you can pack bulky or awkward items around and on top of them. You will want to utilise all of the available space in your Central Coast skips to save having to order a second one.
Once you've worked out how large your skip bin needs to be, we will do the rest!
•2m3 Mini Skips
•3m3 Mini Skip Bins
•4m3 Small Skip Bins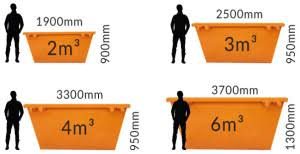 •6m3 Large Skip Bins
•7m3 Large Skips
•8m3 Extra Large Skip Bins
•9m3 Extra Large Skips
•11m3 Hooklift Skip Bins
•15m3 Large Hooklift Skips
•30m3 Extra Large Hooklift Skip Bins
How do I find the cheapest skips Central Coast?
Easy! Just contact Best Price Skip Bins. You simply cannot get cheaper skip hire Central Coast because our business model is based on ensuring that you as the customer, always get the cheapest deal out there. We do this by shopping around among our extensive contacts so that you don't have to. We have excellent links with all of the very best skip suppliers in your area…that's how we can be certain that you get the best price…every time. Skip hire Central Coast needn't break the bank when you book with us. As a family-owned and run company we place a lot of value on budget. We know that you do to…so you can be sure that we're on your side when it comes to price.
Get in touch with us today to learn more about how we can get you the lowest priced skips Central Coast!
Is skip hire Central Coast the best way of removing my rubbish?
There's no better! You basically have two options when it comes to rubbish removal. The double handling method or the easy way. It's hard enough work filling a trailer but then to have to take it all the way to the nearest dump and then unload it all again is exhausting! Not to mention the dumping fees, needing to reverse a trailer or even having to hire a trailer in the first place. Just book skips Central Coast and be done! Once you have filled it we will collect the skip and you can forget all about it!
Using skip hire Central Coast is an extremely convenient and cost-effective method of waste disposal and Best Price Skip Bins can make it the cheapest method too.
Did you know that most skips Central Coast even have a ramp for easy access so if you need to dispose of concrete or soil you can do so using a wheelbarrow.
Skip Bin Safety Tips
Using skip bins Central Coast is very safe and easy to manage as long as you follow a few simple rules. The first thing to be aware of when managing your Central Coast skips, is to fill it up with care. Overfilling is never advisable as it can lead to accidents and of course, mess! When a skip bin is overfilled, it's almost impossible to keep the rubbish contained and this is especially true when it comes to collection. Heavy or dirty items dropping out of your skip is not pleasant. So never fill a skip bin higher than the rim.
Another useful tip to remember is to distribute the rubbish evenly inside the skip bin. This ensures that you make the most of all available space and also that collection is safer. When filling your skip up, if you have heavy items, ensure that you have someone else on-hand to assist you in getting them into the skip bin. Trying to lift large or cumbersome things into a skip bin alone is dangerous.
If you have any questions you'd like to ask or if you would like to get a quote or book, get in touch with us today and we will be glad to help!
Do I need a council permit for a skip bin?
Only if you want to place it on public land. If you place it on your own land…your garden or driveway for example, then no permit is needed. You can learn more about skip bin permits and skip hire Central Coast by visiting Central Coast Council.
To book your skip bin with Best Price Skip Bins or to ask questions about the use or hiring of skip bins Central Coast, get in touch with our friendly team and make your enquiry today.
Meet The Team at Best Price Skip Bins
Suite 501 6/197/205 Church St,
Parramatta NSW 2150
Phone: 1300 79 11 32