Skip Bins Campbelltown
Hiring Skip Bins Campbelltown
Campbelltown is an extremely popular and well-established town centre. Close to Sydney's CBD and full of excellent amenities, it's always in high demand for both business and residential properties. This of course means that skip bins Campbelltown are also in high demand as people move into the area or make improvements to their properties. Just 42km from Sydney's bustling CBD it's a great location for families with commuting parents or for young singles keen to live near the city. Properties range from beautiful classic period homes to modern and streamlined new-builds.
Best Price Skip Bins are in the perfect position to provide skip bins Campbelltown because we've been in the industry for many years and have built extremely strong connections. We use our connections to ensure that our customers always get a great deal. Whether you're moving, having a clear-out or renovating, skip bin hire Campbelltown is the perfect solution to keeping your workload down to a minimum.
If you'd like to get a quote or to take advantage of skip bin hire Campbelltown, just enter your postcode into our online form and we will do the rest! Entering your postcode doesn't commit you to ordering, it simply allows us to get you some prices and sizes.
What can you put in skip bins Campbelltown?
There's not a lot you can't put in Campbelltown skips!  We accept many types of waste including green, general, soil and cement, rubble and bricks.
You might have wondered why we try to keep waste types separated in our skips– it's to allow for recycling when possible! Best Price Skip Bins work hard to ensure that landfill is minimal so you can rest assured that anything which can be recycled is.
Did you know that dumps charge extra for certain items that you may need to dispose of including mattresses and tyres? But you can save some money by using a skip bin instead of taking it to the dump. With mattresses, just remove the outer material off the springs and put them separately in the skip bin. The springs can then be disposed of as scrap metal.
Skip hire Campbelltown is the simplest and most convenient way to dispose of all sorts of rubbish including furniture.
What size skip hire Campbelltown do I need?
We have a huge range of skips Campbelltown available for all sorts of removal jobs. Mini skips Campbelltown are a good choice for anyone needing to clear smaller amounts of waste. If you're unsure about which size skips Campbelltown to order, take a look at the infographic below. It's a great guide for anyone trying to visualise our skip sizes.
Once you've worked out how large your skip bin needs to be, we will do the rest!
Here's a list of all sizes available.
•2m3 Mini Skips
•3m3 Mini Skip Bins
•4m3 Small Skip Bins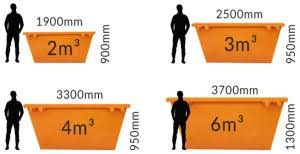 •6m3 Large Skip Bins
•7m3 Large Skips
•8m3 Extra Large Skip Bins
•9m3 Extra Large Skips
•11m3 Hooklift Skip Bins
•15m3 Large Hooklift Skips
•30m3 Extra Large Hooklift Skip Bins
How do I find the cheapest skips Campbelltown?
Easy! Just contact the team at Best Price Skip Bins. You simply will not get cheaper skip bins than those we offer because our business model is based on ensuring that you as the customer, always get the best deal out there. We do this by shopping around among our extensive contacts so that you don't have to. We have strong links with all of the very best and most experienced skip suppliers in the Campbelltown area…that's how we can be sure that you'll get the best price…every time.
As a family-owned and run company we place a lot of value on budget and on offering a bargain. We know that you do too…so you can be certain that we're on your side when it comes to price.
Get in touch with us today to learn more about how we can get you the lowest priced skips Campbelltown!
Is skip hire Campbelltown the best way of removing my rubbish?
Always! You have two options when it comes to rubbish removal. The double handling method or the easy way. Skip hire through Best Price Skip Bins is always the easy way. It's tough enough work filling a trailer especially if you're dealing with heavy waste such as bricks or soil… but then to have to take it all the way to the dump and unload it all again is exhausting!
Using skip bins is an extremely convenient and cost-effective method of waste disposal and Best Price Skip Bins can make it the cheapest method too.
Did you know that most skip bins even have a ramp for easy access so if you need to dispose of concrete or soil you can do so using a wheelbarrow.
Do I need a council permit for a skip bin?
Only if you want to place it on public land. If you place it on your own land…your garden or driveway for example, then you won't need any extra paperwork. You can learn more about skip bin permits and skip hire Campbelltown by visiting Campbelltown City Council.
To book your skip bin with Best Price Skip Bins or to ask questions about the use or hiring of skip bins, get in touch and a member of our team will be pleased to assist.
Meet The Team at Best Price Skip Bins
Suite 501 6/197/205 Church St,
Parramatta NSW 2150
Phone: 1300 79 11 32