Skip Bins Cabramatta
Cabramatta is just 30km from Sydney's CBD which makes it a great choice for professionals who need to be within a stone's throw of work and also for families who like to be close to the buzz of the city. Being a popular suburb of course means that there's always plenty of action going on as people move in and out of the area. Skip bins Cabramatta, therefore, are in high demand. People need to utilise skip bins Cabramatta to get rid of the accumulated junk which builds up in any home or business and equally for renovations.
Best Price Skip Bins have been providing first-class service to residents from the area for a long time. Our knowledge and links within the industry mean that we're perfectly placed to ensure that our customers always get the lowest price possible on Cabramatta skips. We're not only the fastest local skip providers…able to get your skip to your doorstep within 24 hours…but we're also the cheapest.
If you'd like a quote or to book, visit our simple to use our online booking form. All you need to do is enter your postcode and follow the prompts.
What can you put in Skip bins Cabramatta?
Almost anything! We don't accept asbestos or liquids for safety reasons but there's not much else we can't deal with! We accept green waste, concrete, bricks, cement and soil in addition to general rubbish and furniture. If you'd like to check that your waste type is acceptable, just give us a call or visit our waste types page to learn more about Cabramatta skips and what's safe to put in them.
We are an eco-friendly company so we try our best to keep landfill contributions down. This means that sometimes we ask you to keep certain types of waste separately from others so that we can easily recycle them.
What size skip bin do I need?
We have a large range of skip bin sizes and types available in the area. We also stock mini skips Cabramatta which are great for those smaller clear-up jobs. Depending on what you're dealing with, there will be a suitably sized skip for your needs. Remember, skip bin hire Cabramatta is the simplest way to get rid of small and larger amounts of waste so however much waste you've got, we're the best solution.
The infograph below will illustrate to you how large a particular skip is in comparison to an averagely sized male.
Once you've worked out how large your skip bin needs to be, we will do the rest!
•2m3 Mini Skips
•3m3 Mini Skip Bins
•4m3 Small Skip Bins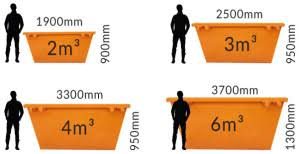 •6m3 Large Skip Bins
•7m3 Large Skips
•8m3 Extra Large Skip Bins
•9m3 Extra Large Skips
•11m3 Hooklift Skip Bins
•15m3 Large Hooklift Skips
•30m3 Extra Large Hooklift Skip Bins
How do I find the cheapest skip bin hire Cabramatta?
Easy! Just contact Best Price Skip Bins. You simply cannot get cheaper skip hire Cabramatta because our business is based on ensuring that you as the customer, always get the cheapest deal out there. We achieve this by shopping around among our many contacts in the business so that you don't have to. We have excellent links with all of the very best skip suppliers in your area…that's how we can be certain that you get the best price on skip hire Cabramatta…every time.
As a family-owned and run company we place a lot of value on budget. We know that you do too…so you can be sure that we're on your side when it comes to price.
Give us a call today to learn more about how we can get you the lowest priced skips Cabramatta!
Are skips Cabramatta the best way of removing my rubbish?
There's no better! Super-convenient, skips Cabramatta are the perfect solution to any excess waste you might have on your hands.
You can either book skips Cabramatta and have a skip bin on your doorstep within 24 hours, or deal with multiple time-wasting trips to the dump…for which you'll need to pay anyway! Skip hire means that all you do is load up the skip. We do the rest.
Using skip bins is an extremely convenient and cost-effective method of waste disposal and Best Price Skip Bins can make it the cheapest method too.
Did you know that most skip bins even have a ramp for easy access so if you need to dispose of concrete or soil you can do so using a wheelbarrow?
Do I need a council permit for a skip bin?
Council permits are not needed unless you plan to place the skip on public land. Public land might be the road outside your business or property or it might be a nature strip. If you have any doubts about what constitutes public land or if you'd like to ask other questions related to permits, contact  Fairfield City Council.
To book your skip bin with Best Price Skip Bins or to ask questions about the use or hiring of skip bins, get in touch with the team at Best Price Skip Bins. We're always happy to help!
Meet The Team at Best Price Skip Bins
Suite 501 6/197/205 Church St,
Parramatta NSW 2150
Phone: 1300 79 11 32