Proper waste disposal is not only important in terms of protecting our environment but can benefit businesses, organisations and individuals in a financial sense.
There are various factors to consider, though, not just cost. For example, proper waste management also involves the organisation and proper storage of waste so that it does not pose a hazard or create a health risk.
Then, there are local laws to consider – this is important for both commercial and residential projects.
In this article, we will break down the important aspects of waste management plans with our top 10 tips for creating an effective waste management plan.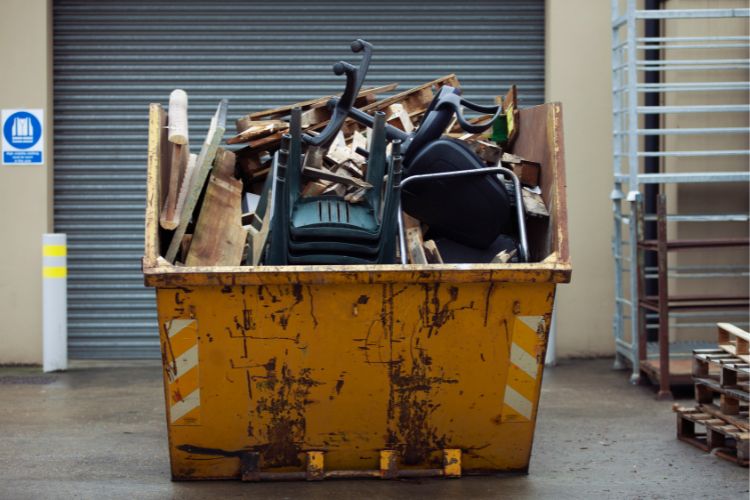 1. What is a waste management plan?
Put simply, a waste management plan is a comprehensive document outlining the various strategies you or your organisation might implement for effective waste management.
It should also include policies and procedures for managing waste material.
A good policy is designed to reduce the amount of waste generated and the impact that waste has on the environment.
2. What are the objectives of a waste management plan?
To reduce the amount of waste being generated
Identify storage and disposal methods
Ensure the waste is managed in an environmentally friendly way
Generally, a waste management plan aims to identify the sources of waste and outline ways in which the waste might be reduced.
For example, an office won't have the same waste sources as a school, and a factory will differ from a building site. The waste types and sources need to be carefully assessed.
In addition, a well-conceived waste management plan should also target storage and disposal methods that are safe, cost-effective, environmentally responsible, and sustainable.
3. What are the benefits?
A good waste management plan ensures that the working environment is safe, clean and free from pests.
This is especially important when waste is bulky and potentially dangerous in the construction industry. Skip bin hire for construction is a great way to manage a site safely.
In addition, it should reduce the organisation's carbon footprint by helping to reduce waste as much as possible.
Your waste management plan should also save money by identifying the most affordable and fast method of disposal and storage of your waste.
4. Who is responsible for developing and implementing it?
This will always depend on the size and scope of the waste management plan, which will also depend on the size of the organisation, business or scope of work being done.
The responsible parties are, in general, the management, government agencies, and a variety of other individuals who bear some responsibilities towards waste disposal and safety requirements on the premises.
At the governmental level, the development and implementation of a waste management plan is typically the responsibility of the relevant environmental agency or department.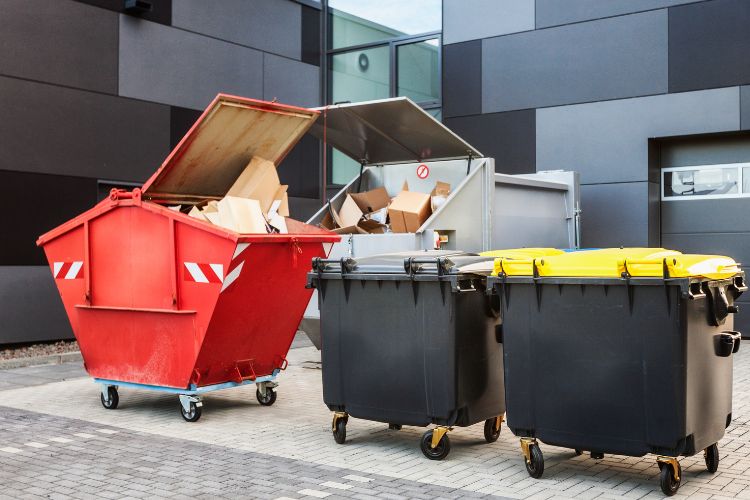 5. What are the key components of a waste management plan?
A waste management plan is, in effect, a strategy that an organisation will handle, manage and dispose of their waste.
Because of the differences in waste production depending on the size of organisations, the specific needs of each will vary, but in general, the key components are as follows.
Assessment
Identifying and quantifying the types and amounts of waste which are and will, in the future, be generated and then classifying it into categories such as recycling, green organics and general waste.
Reduction and minimisation
Develop strategies to help minimise waste in your place of business or organisation. For example, a zero waste policy for staff. This will ensure the sustainability of your organisation and improve efforts towards helping the environment.
Storage
Deciding on a storage method for waste so that it is safely contained until it is removed. This might, for example, include skip bin hire. Planning storage is a vital part of your strategy.
Skip bins provide a large container that can stay on site until it is full, thus safely containing the waste.
Regulatory compliance
This is important for everyone. It's not only larger organisations that have to consider regulations and local laws regarding the storage and production of waste.
For example, the placement of a skip bin for commercial premises will not require a permit unless it is on public land. The same rules apply to residential customers.
Monitoring and reporting
This is especially useful for waste produced by businesses and organisations or for event management teams.
Keeping a close eye on waste streams and knowing how much waste is typically produced will allow for more accurate management in the future.
This is great when it comes to booking skip bins for events as an effective solution because the management will be able to predict their potential waste production in advance and then order the right amount of skips.
6. How often should a waste management plan be reviewed and updated?
A waste management plan should be reviewed and updated regularly to ensure that it is up-to-date and relevant to the current situation.
The frequency of review and updates will depend on the type of waste management plan and the organisation's particular circumstances. Some research will be required initially, and it's a good idea to produce some guidelines for staff.
For example, an organisation with a large-scale waste management plan may need to review and update it more frequently than a smaller one.
An organisation that holds regular events throughout the year should review their plan after each event to be certain that growth is taken into account, as this will, of course, impact the amount of garbage produced.
For other organisations, such as offices, a yearly review should suffice and will give a clear picture of seasonal variations.
7. What are the penalties for not having a waste management plan?
The penalties for not having a waste management plan vary depending on the organisation and how much waste they are producing. Local council requirements also vary, and this should be taken into consideration.
Industrial waste management can fall foul of a number of laws pertaining to the proper disposal of waste, especially toxic waste and materials that build up in their facilities, and so waste management plans in the industrial sector must be very well organised.
Skip bin hire for industrial waste is an effective way to manage large amounts of waste.
8. How can a plan be used to improve waste management practices?
The fact that the document puts strict policies into place will ensure measurable improvements. This is the first step towards improving practices.
The plan can be used to see if goals are being met and, if not, where the plan is going wrong so that improvements may be made.
9. What are some common challenges?
Common challenges often include budget constraints. This is mainly the case with schools and charitable organisations, which are on a tight budget.
However, for schools, skip bin hire remains one of the most affordable waste management methods. Skip bin hire for schools allows the waste that is created on-site to be removed in a sustainable, reliable fashion.
10. Are there any templates or examples of waste management plans available?
Yes, there are a variety of templates and examples of waste management plans available. Several resources are available depending on the type of waste management plan you are looking for.
Template for primary industries
A free waste management template is available from the NSW Department of Primary Industries. Click here to access the PDF.
Template for a general waste management plan
The Victorian government has created a free waste management plan template, which you can access here.
Key Takeaways
An effective, well-written waste management plan can save money and reduce waste and improve our environment by helping to keep waste out of landfills.
Behind every good waste management plan, there is usually a skip bin hire company with a robust infrastructure to ensure that all waste is sorted and recycled where possible.
Ensuring the working environment is safe for all those using it is important, and the help of professional waste removal experts is vital.
Book your skip bin here  – simply enter the postcode of the property, choose a waste type and size of skip bin, and then select a date for delivery.
Effective collection, budget-conscious solutions – skip bin hire represents reliable waste removal as and when it's needed.