How to Hire Skip Bins Woodcroft
Woodcroft is one of Adelaide's most popular suburbs for young families. As a result, it's a lively and thriving place with plenty of good quality housing and community activities. As a result of the high concentration of families, there's often a strong call for skip bins Woodcroft. People using Best Price Skip Bins can book in confidence because we're all about getting the lowest price possible for our customers.
As a family owned and run company, Best Price Skip Bins know how important budget is to many people. We use our connections within the industry to link with the most reliable and cheapest skip bin hire companies and we use that to our customers' advantage. As soon as you book a skip bin with us, we set out to find you the lowest price.
We deal with all kinds of waste too…small amounts or large. Whether your garden needs remodelling or you're moving house, we've got a skip bin to suit your needs.
Skip bin hire Woodcroft is a convenient and cost-effective way to deal with your waste. We deliver within 24 hours of your order so there's no waiting around.
Call us today or enter your postcode to get a price for skip bin hire Woodcroft.
What can you put in Woodcroft skips?
We accept most common types of waste including;
Green garden waste
Soil
Rubble
Bricks
Cement
Old tyres
Mattresses
General waste
We can't take hazardous materials such as asbestos. If you suspect the presence of asbestos in your home or outbuildings and you're planning on renovations, do not attempt to tackle it yourself. Always bring in the experts. Onkaparinga Council has some resources available to Woodcroft residents regarding asbestos. Click this link to learn more.
Remember that Best Price Skip Bins supply the cheapest Woodcroft skips out there. We can't be beaten on price because the moment you order, we find the best deal for you.
We accept bulky items like old mattresses and tyres.
What size skip bin should I order?
We stock a very wide range of skip bins. From mini skips Woodcroft to huge, 30m3 skip bins…so there's something for everyone no matter how big or small the task. If you're planning on clearing out a spare room, shed or cupboard, mini skips Woodcroft would be a great solution and saves you needing to book hard rubbish collections which are very strict in their criterea or from having to go to your local dump, loading and unloading trailers.
Here's a list of our skip bin sizes so you can plan your skip hire Woodcroft without any problems.
•2m3 Mini Skips
•3m3 Mini Skip Bins
•4m3 Small Skip Bins
•6m3 Large Skip Bins
•7m3 Large Skips
•8m3 Extra Large Skip Bins
•9m3 Extra Large Skips
•11m3 Hooklift Skip Bins
•15m3 Large Hooklift Skips
•30m3 Extra Large Hooklift Skip Bins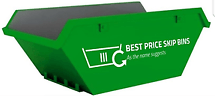 How do I find the cheapest skip hire Woodcroft?
Simple…just call Best Price Skip Bins and we'll find it for you! That's literally our speciality. We have links and relationships with all of the skip bin hire companies in the region so we're best placed to get you a great deal. The moment you place your order, we do the research for you. We ensure that you get the right skip and at the right price.
Is skip hire Woodcroft the best way of removing my rubbish?
If you want a convenient, affordable and clean way to remove your rubbish, then yes, skip hire with Best Price Skip Bins is the way forward. Some people make the mistake of thinking that your local dump is the best way…wrong! Not only do you need to do a lot of physical work filling up trailers and then driving them, you're also charged for dumping. Best Price Skip Bins deliver your skip and once it's full, we take it away! What could be easier? We even provide a ramp with many of our skips so that you can easily dispose of wheelbarrow-loads without hurting yourself.
Call Best Price Skip Bins today or input your postcode here.
Do I need a council permit for skips Woodcroft?
A council permit is only necessary if you plan to place your skip on a public road or on public land. The nature strip outside your property is considered public land so you would need a permit to place the skip there. You can find out more about permits in Onkaparinga here.
Get your skip bin delivered today…call or click here to see how affordable and simple the process is.