Skip Bins Somerton
Best skip bins Somerton
Looking for the best option for skip bins Somerton isn't hard when you know what you're looking for. Somerton is a pleasant suburb less than half an hour from Adelaide's CBD and with plenty of high quality housing. Most householders want the same thing in a skip, they want it delivered at a time which is convenient and they want it removed as soon as it's full.
Best Price Skip Bins offer just that. Removing the stress of waste management from an already busy household is what we do. Somerton skips are in high demand but we pride ourselves on our fast turnaround. When you want a skip, you want it fast which is why we have connections with all of the very best suppliers.
The best thing about ordering Somerton skips is that you don't have to worry about a thing. Simply fill the skip bin and wait for it to be taken away. No awkward dump runs!
Most households will have periods where there's more waste than usual to contend with and that's the norm for residents of Somerton. Skip bin hire is a simple process when you order with Best Price Skip Bins. Simply enter your postcode and we'll walk you through the next steps.
What can you put in skips? Somerton waste removal made easy!
Best Price Skip Bins collect almost anything. We will take green waste, concrete, bricks and soil and even mattresses and tyres. Dumps will charge extra if you arrive with mattresses and tyres but here at Best Price Skip Bins, what you pay is what you pay.
If you only have a small amount of waste to be removed, but it's still too much for your household bins, don't worry…we also supply mini skips! Somerton residents will find it easy to organise a clear-out whether there's a lot or a little to get rid of.
If you have some waste which you're unsure of…perhaps you're not sure what it is or if it's toxic, give us a call and we will be more than happy to advise you further.
What size skip should I order?
We have a huge range of skip bin sizes and skip bin hire Somerton is tailored to your needs. We're happy to advise you if you're unsure about how much will fit in a skip. Here's a handy guide to sizes and types of skip bin.
A good rule of thumb when filling your skip bin is to plan the filling of it. Don't throw waste in without thinking about how best to pack it; think of it like packing a suitcase. You will find that you can fit more in if you put the larger, flat items in first and then pack everything else around them.
Best Price Skip Bins have skip bins for hire of all sizes, ranging from 2m3 up to 30m3, so no rubbish removal job is too big or small.
Here's a breakdown of the sizes we offer, including mini skips. Somerton waste removal has never been so simple!
•2m3 Mini Skips
•3m3 Mini Skip Bins
•4m3 Small Skip Bins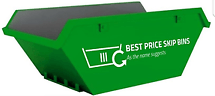 •6m3 Large Skip Bins
•7m3 Large Skips
•8m3 Extra Large Skip Bins
•9m3 Extra Large Skips
•11m3 Hooklift Skip Bins
•15m3 Large Hooklift Skips
•30m3 Extra Large Hooklift Skip Bins
How do I find the cheapest skips available in Somerton?
Just contact Best Price Skips in Somerton and we'll do the rest. As a family owned and operated skip hire company we have a commitment to offering value for money at all times. Our customers know they're in good hands because we understand that keeping costs low is a priority.
We have a very simple ordering process and we only work with the best skip hire companies out there. Once you've entered your postcode, the rest is a walk in the park.
Is skip bin hire the right choice?
There are two choices when it comes to getting rid of your waste. The double handling method or the Best Price Skip Bins way. We know how your time is precious; you don't need to waste it filling trailers and then having to drive to the dump only to have to unload it all. That's why ordering skips Somerton is the smart way to deal with your waste.
Order your skip, fill it up at your convenience and then tell us you're ready to wave it goodbye. That's all there is to it. We will collect the skip as soon as you need it to go.
Many of our skips also come with a ramp which makes it easy to unload wheelbarrows full of concrete or soil. Get in touch to find out more.
Do I need a council permit for a skip bin in Somerton 
A council permit is not required if you plan to place your skip on your own land. Within your own drive or garden for example. However, if you want to place the skip on the road or nature strip then it is highly likely that you will need a council permit. Somerton is governed by the City of Holdfast Bay so you will need to contact them to arrange a permit.
Get in touch with Best Price Skip Bins Somerton if you have any questions to ask regarding skip bins or waste management.