Skip Bins Hackham
Cheap Skip Bins in Hackham 5163?
Don't believe everything you have heard about Hackham. Ask a local – Hackham is a great place to live. It is one of the few suburbs where you can still buy affordable homes with large backyards. Hackham is very close to the Colonnades Shopping Centre, which offers many shops and services and there is a great selection of quality schools, kindergarten and child care facilities in the area too. The now completed, Southern Expressway makes a trip to the wineries in McLaren Vale a lot quicker and commuting to the CBD is also more enjoyable. Our pristine southern beaches are only a short drive away also. So if the time is right to do that long overdue yard or shed tidy up you might need a skip bin from Best Price Skip Bins. It will save you time and money.
Dump or Skip Bin Hire in Hackham?
This really isn't a decision at all. The answer is hire a skip bin. Why would you go to the bother of loading a trailer, or hiring one if you must, then having to load it and take it to then nearest dump to Hackham? It's much easier to hire a skip bin! We will take all your rubbish away from your front yard – just like that!
But how can I find the cheapest skip bin available?
We all want to save our hard-earned cash so if you are looking for the cheapest skip bin hire available in Hackham just go online and visit Best Price Skip Bins. It is as easy as 1,2, 3. We have one of the easiest ordering systems on the net. Just enter your postcode 5163 choose your bin waste type, skip bin size and select your dates. Our system will then give you the best price for one of our skip bins in Hackham from one of our many suppliers. We only work with the best skip bin suppliers Hackham has to offer so we know that you will receive prompt, professional and friendly service.
Get a Quote 24/7 and book online, it doesn't get any easier!
Who are Best Price Skip Bins?
Best Price Skip Bins Adelaide are one of the leading skip bin hire companies in Australia and the best part is they are based locally here in South Australia and are family operated.
They are the leading skip bin hire specialist in Hackham and have a large range of skip bin sizes for hire and can accommodate most waste types.
When you choose to work with Best Price Skip Bins in Hackham, you can expect a high quality of service and professionalism. If you don't know what you can put in your skip bin or what size you need, our trained staff are always on hand to answer any of your questions.
We can help you with all of your rubbish removal needs and can also help you save money and time! We do this by finding the best possible price for your skip bin hire in Hackham and surrounding areas.
Why use a skip bin for rubbish removal?
For the householder, hiring a skip bin is probably the most convenient and versatile waste disposal system in the world. That's why you see so many skip bin hire trucks on the road. Everyone has cottoned on to the idea now and know that it is the best way to get rid of all that unwanted garden or household waste.
The skip bins are unloaded off the back of a truck into your chosen destination. They can even be lifted over fences, if the fences aren't too high, and most sizes of skips even come with a ramp for ease of access for a wheelbarrow to use when disposing of the heavy rubbish. The trucks can even lift an amazing amount of weight – up to 15 tonnes in fact. That's a few trailer loads to the dump if you decided to do it the hard way!
What size skip bins are available in Hackham?
Mini skips, Skip bins and Hooklift Bins come in many different sizes ranging from 2m3 right up to 30m3.
Mini Skip Bins and Marrel Skip Bins lift off the back of the trucks onto its chosen location. Hooklift Skip Bins have wheels on the back and slide off the truck and roll onto the ground.  So no matter what you want to dispose of or how much rubbish you have, skip bin hire is the way to go. It is cheap, easy and time efficient. We can even deliver a skip the next day to wherever you are in Hackham or surrounding areas.!
Below are the skip bin sizes we have available.
•2m3 Mini Skips
•3m3 Mini Skip Bins
•4m3 Small Skip Bins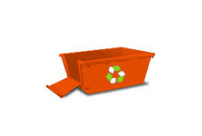 •6m3 Large Skip Bins
•7m3 Large Skips
•8m3 Extra Large Skip Bins
•9m3 Extra Large Skips
•11m3 Hooklift Skip Bins
•15m3 Large Hooklift Skips
•30m3 Extra Large Hooklift Skip Bins
Can I put anything into a skip bin?
Well you can nearly put everything in a skip. Garden prunings, that old rusty chair that you have no idea why you are keeping, the broken surfboard that has no use and even the kitchen sink! If you are unsure of what we can collect just give the friendly team at Best Price Skip Bins a call and they will happily answer your queries.
It is good to be aware that most dumps charge extra to dispose of tyres, LPG bottles and mattresses.  The extra costs for disposing of a mattress can be avoided by pulling the material and foam off the springs and then placing it all separately in the skip bin. This is due to mattresses being unable to go to landfill as a whole and the rubbish dumps charge the extra for this to be done.
We cannot disposes of asbestos in our skip bins and if you need advice, please visit asbestos.sa.gov.au for more information on the safe disposal of asbestos.
If you have any of these items, please contact us so we can let you know what the additional costs of disposing these items are in Hackham.
Who are you going to call if you need a skip bin in Hackham?
Take all the hard work out of rubbish removal and contact Best Price Skip Bins. They really are your first point of call when it comes to skip bin hire in Hackham.