Skip Bins Glengowrie
Hiring skip bins Glengowrie 
Only two kilometres from the popular beachside suburb of Glenelg and a further 12 from Adelaide's CBD, Glengowrie is an attractive and popular suburb. Most of Glengowrie's residents pride themselves on their immaculate properties so skip bins Glengowrie are often in demand.
Pleasant parks and good shopping facilities make this a popular location for families and it has proven to be a suburb which is growing in popularity in recent years. Moving to a new property or selling an old one, gives rise to a lot of "stuff". Things which need to be removed as soon as possible so that residents can settle in or move on quickly.
Skip bin hire Glengowrie is the perfect way to clear the clutter. Whether you're moving or perhaps undertaking renovations, skip hire Glengowrie could be the answer to all your problems.
There's no shortage of skip bin hire companies near Glengowrie but with Best Price Skip Bins, you know you're getting the best available and not only that but you're also getting the cheapest skips Glengowrie.
Best Price Skip Bins are also the easiest to use; you only need to enter your postcode choose a date and what size skip bin you require and we'll do the rest.
Glengowrie skips and what you can and can't put into them
We can collect and dispose of most types of waste including green waste, concrete, bricks, soil and general waste. We also remove mattresses and old tyres at no extra cost to you. This is a real bonus…if you try to take mattresses and tyres to the local dump, you will usually be charged an extra fee.
If you have any doubts about a material or substance which you need to get rid of, get in touch with us and we will be happy to advise. Never handle waste which you suspect might be toxic.
What size skip should I order?
Skip hire Glengowrie is simple to manage when you know a little about how to pack your skip and what sort of skips Best Price Skip Bins offer. We have a very broad range of skips available and there will be something suited to all needs. We even stock mini skips. Glengowrie residents can relax knowing that refuse collection can be easily managed with us.
We can provide skips which range in size from 2m3 to 30m3 so whether you've just got a room to clear or an entire house to renovate, there's something for you.
Below is a list of all sizes available.
•2m3 Mini Skips
•3m3 Mini Skip Bins
•4m3 Small Skip Bins
•6m3 Large Skip Bins
•7m3 Large Skips
•8m3 Extra Large Skip Bins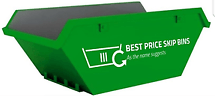 •9m3 Extra Large Skips
•11m3 Hooklift Skip Bins
•15m3 Large Hooklift Skips
•30m3 Extra Large Hooklift Skip Bins
Remember, that when it comes to packing your skip, being organised about it will help you fit more in. Put large, flat items at the base of the skip and pack other items on top. Fill in the smaller gaps with smaller pieces at the end of the process.  We supply ramps with larger skips (ask our team to ensure you get a ramp if it's available) and this makes filling your skip even simpler with the aid of a wheelbarrow.
Don't try to pack your skip without help. If you need to place heavy items into your skip, enlist the help of a friend or neighbour.
Is Best Price Skip Bins the cheapest skip hire Glengowrie?
Yes it is. This is because we have access to all of the skip hire companies in the area and beyond; we use our connections to make sure that the skip you get, is the cheapest available to you.
As a family owned and operated company, we are proud of our commitment to our customers. We always endeavour to provide high quality at a low price.
Is skip bin hire the best way of removing my rubbish?
The other option is to load up multiple trailers and drive them to the dump. This method is exhausting and you end up getting charged too. Hire a skip and be done with the job! We collect as soon as your skip is full so you don't need to worry.
Using skip bins is an extremely convenient and cost-effective method of waste disposal and Best Price Skip Bins can make it the cheapest method too. They can deliver whatever bin size you require.
Do I need a council permit for skip hire Glengowrie?
Hiring skips Glengowrie will require a council permit if you plan to place the skip on public land. If you want to place the skip on your own land though, no permit is needed.
Get in touch with Marion Council to enquire about permits if you're unsure about what to do or where you're allowed to place a skip.
To find a cheap skip bin, just go online 24/7 and get a quote form Best Price Skip Bins Adelaide or if you see something that suits, book a skip bin on the spot. You can have a skip bin delivered to your door anywhere inGlengowrie the very next day! You will wonder why you hadn't booked a skip sooner!