Skip Bins Darlington
Skip Bins Darlington 
Darlington is a beautiful and relatively quiet suburb of Adelaide. Close to beaches and an excellent large shopping centre, it's a popular suburb for families. The high quality housing in the area ensures that people are keen to maintain their properties by booking skip bins Darlington.
For families and smaller households alike, the ability to quickly and easily book Darlington skips is a bonus. Whether there's a house move on the horizon or perhaps just a clean-up, skips Darlington make things much simpler. Best Price Skip Bins have great availability in the area and because our service is so well organised, you can book a skip and have it on your doorstep within 24 hours.
You don't need to worry about dump-runs when you've got the convenience of skip delivery to rely on. No more loading trailers or making multiple journeys.
Visit Best Price Skip Bins to make your order. Enter the postcode for Darlington, add your bin waste type and size, choose your dates and the job is as good as done! We will find the best available price for skip hire Darlington.
What are you allowed to put into a skip bin?
Best Price Skip Bins will take most types of waste so skip bin hire Darlington is a sensible option. We're happy to accept soil and rubble, bricks and concrete, green waste and even tyres and old mattresses. If you take your old tyres to the local dump, chances are you will be charged extra for them. We don't do that…so you can be certain that Darlington skips are a good investment.
If you have waste to dispose of but you're not certain that it is safe to handle, get in touch with us to discuss it first. We can help you to identify whether a material or substance is toxic or not…or we can point you in the right direction to be certain.
Asbestos can hide in old outbuildings, so never try to dismantle them yourself without first knowing that it is safe to handle. If you live in Darlington Onkaparinga and need further advice regarding asbestos, contact the Onkaparinga asbestos team here.
What size skip do I need? What about mini skips Darlington?
Mini skips are a great option for people who only have a small amount of waste to dispose of but which is too much for their general dustbins.
Best Price Skip Bins have a huge range of skips Darlington and there are several types to choose from. Ranging in size from 2m3 all the way up to 30m3, there's something for the smallest job and the biggest.
Below are the skip bin sizes we have available for the Darlington area:
•2m3 Mini Skips
•3m3 Mini Skip Bins
•4m3 Small Skip Bins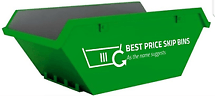 •6m3 Large Skip Bins
•7m3 Large Skips
•8m3 Extra Large Skip Bins
•9m3 Extra Large Skips
•11m3 Hooklift Skip Bins
•15m3 Large Hooklift Skips
•30m3 Extra Large Hooklift Skip Bins
How to find the cheapest skip bin hire Darlington
There's only one way and that's to contact Best Price Skip Bins. We have access to all of the skip bin hire companies in the area and only work with the best available. If you need Darlington skips, all you have to do to get a great deal is to access our simple ordering system.
Confirm your postcode and we will get you the best deal available. We're a family owned and run business so we understand the importance of budgeting. We offer the best prices and the best services.
Is skip bin hire the best way of removing my rubbish?
Skip hire Darlington is always the best method of waste removal when you use Best Price Skip Bins. Filling a trailer is an irritating job and it's a time consuming one. Having a skip delivered to your door saves you time and trouble. Simply fill the skip, let us know that the job's completed and we will come out to take it all away.
Using skip hire Darlington is simple, easy to arrange and always reliable. Did you know that we can also provide a ramp to make accessing your skip bin easier? Ask our team about a ramp for your skip when you order.
Do I need a council permit for a skip bin?
A council permit is only needed if you want to place your skip on public land, such as on the nature strip outside your property or perhaps on the road.
Contact Onkaparinga Council to learn more about permits. You won't need one if you place your skip bin within the grounds of your own property but if in doubt, make enquiries.
To find a cheap skip bin, just go online 24/7 and get a quote form Best Price Skip Bins Adelaide or if you see something that suits, book a skip bin on the spot. You can have a skip bin delivered to your door anywhere in Darlington the very next day! You will wonder why you hadn't booked a skip sooner!