Skip Bins Coromandel Valley
Ordering skip bins Coromandel Valley
Being semi-rural is a big plus for Coromandel Valley. Residents benefit from the raw beauty of South Australia's fauna and flora. Kangaroos, koalas and other stunning wildlife are part and parcel of life here. For residents wanting to keep their homes and gardens in check, skip bins Coromandel Valley are a great way to ensure that waste is dealt with quickly.
With a broad choice of beautiful properties, it's a suburb in high demand. So whether you're moving in or out of the area, you'll probably need the services of Best Price Skip Bins sooner or later. Coromandel skips are a great option for anyone with an overgrown garden, a shed which has got out of control or for general clear-outs and renovation work.
There are a number of skip hire companies in the area but if you're looking for the cheapest and most reliable skip bin hire Coromandel Valley, then Best Price Skip Bins are what you need. Best Price Skip Bins offer a reliable service which allows you to take advantage of the lowest prices available. We do the research for you so when you order a skip, you can rest assured that you're getting the best deal.
All you need to do is to enter your postcode and follow the prompts regarding waste type and size and we will do the rest to make sure your experience with skip hire Coromandel Valley is simple and easy.  You could have a skip bin on your doorstep within 24 hours.
What can I put in skip bin Coromandel Valley?
Best Price Skip Bins are able to remove almost anything. So whether you've got a pile of old bricks, soil or rubble, or a load of green waste, we can help. We also remove tyres and mattresses making Coromandel Valley skips the easiest option by far.
If you can fit it into your skip, we can take it away. Remember that toxic substances such as asbestos will need to be dealt with by professionals. If you have any material which you think could be dangerous, get in touch with us first and we will be happy to advise you on its safe disposal.
What size skip bin do I need?
We offer a vast range of skip bins of all sizes ranging from 2m3 to 30m3, so whether you're just clearing out a room or dealing with the waste of a build or renovation, we can help. Mini skips Coromandel Valley are a great option if you only have a little refuse to deal with but don't want the bother of hauling it to your local dump.
Here's a list of all available sizes.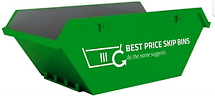 2m3 Mini Skips
2m3 Mini Skip Bin
3m3 Mini Skip Bin
4m3 Small Skip Bins
6m3 Large Skip Bins
7m3 Large Skips
8m3 Extra Large Skip Bins
9m3 Extra Large Skips
11m3 Hooklift Skip Bins
15m3 Large Hooklift Skips
30m3 Extra Large Hooklift Skip Bins
Are skips Coromandel Valley the cheapest option?
In short, yes. We have access to all of the best skip hire companies in the area and beyond. This means we are best placed to locate the best deals.
We only work with the absolute best and most affordable companies so you can relax once you've ordered. We will ensure your skip bin arrives on time and leaves when you want it to. Enter your details in our online order-form and we will do the rest.
Is skip bin hire Coromandel Valley the best way of removing rubbish?
 Hiring a skip bin is by far the most convenient and simple way of disposing of your waste. There's no need to make repeated trips to the dump; no need to pay the dump fees and no need to worry about unloading.
Once you've ordered your skip bin, it will be delivered quickly to your address and all you need to do is fill it up.
We even make filling it up easy with the provision of a ramp. This enables you to wheel a barrow up to the opening of the skip and to dump even heavy materials into the skip without any stress.
Do I need a council permit for skip bin hire Coromandel Valley?
The short answer to this is "maybe". If you're planning to have your skip placed on your own private property, then no permit is needed. If however you would like to place it on the nature strip outside your property or perhaps in the road, then you will need a permit. Contact the City of Mitcham to find out whether you need a permit or not.
Best Price Skip Bins are here to assist you in all your skips Coromandel Valley requirements. Our friendly and knowledgeable team are on hand to answer any questions you might have so get in touch to learn more.
Or fill in our online order form and have your skip delivered soon!