If you're new to skip bin hire, you may have a few questions about skips and the different types we supply.
Here at Best Price Skip Bins, we offer a wide range of skips, each suited to specific purposes.
The 3 types of skip bins that we supply include the following –
Hooklift Skip Bin
Mobile Skip Bin
We're going to break down each type for you so that you fully understand the different benefits they bring to you, the customer, and explain the ins and outs of each so that you know which to choose.
Once you know the difference between the skip bins, you can book the right skip bin for your needs. Whether you're managing a busy construction or demolition project, dealing with a small business, or moving house, you will have a suitable option.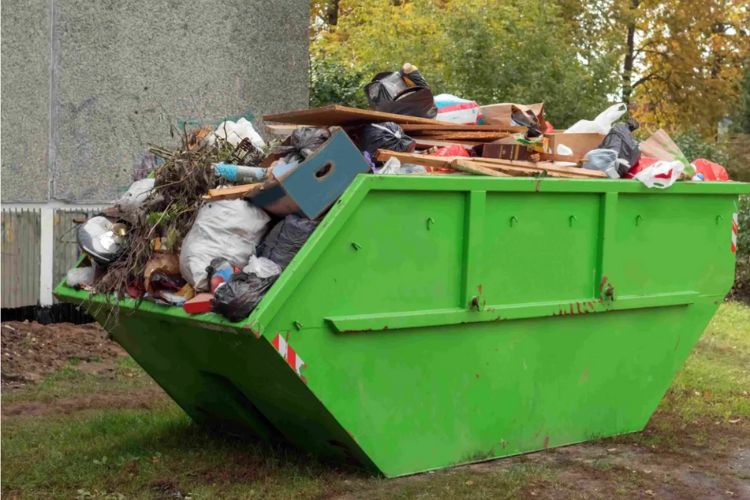 What is a Marrel Skip Bin?
This is the most commonly used skip bin, and you've probably seen marrel skip bins around your own neighbourhood or on building sites.
Marrel skip bins have high sides, so they safely contain lots of waste, and they're also quite short in length.
Their length means that in terms of parking, they need around the same space as a car would need in a driveway, so they're very convenient for using at residential properties.
Because marrel skip bins are available in a wide range of sizes, they're useful for professional building projects where a large amount of waste is produced and for smaller domestic uses.
What are the sizes of marrel skip bins?
Marrel skip bins come in sizes between 2 cubic metres all the way up to 17 cubic metres.
A 2 cubic metre marrel skip bin is a good size for a small domestic clean-up, and the larger sizes work well for projects which might create a larger amount of waste, such as an estate clearance where you might need to dispose of lots of awkwardly shaped furniture or household waste.
How is the marrel skip bin delivered?
Marrel skip bins are delivered on a truck and lowered into place with chains.
You will need to ensure access clearance of 3 metres so the delivery vehicle can safely install your marrel skip bin.
Another consideration is overhanging branches, wires or foliage in the drop-down area. These can cause issues, and you must ensure there are no such overhead hazards before delivery.
Delivery is easy if a space is set aside for the skip bin. Once it's in place, you can begin to use it.
How do I get rubbish into a marrel skip bin?
Marrel skip bins have relatively high sides but generally have a hatch-style opening at the rear.
This means you can open the rear of the skip bin and use the hatch door as a ramp. With a wheelbarrow, you can push heavier items into the container.
If you need a ramp with your marrel skip bin, please state this when booking to avoid any difficulties.
Why choose a marrel skip bin?
Marrel skip bins are a sort of default skip bin. They're very commonly used by domestic and commercial customers because of their versatility.
Marrel skip bins are a good choice no matter what your waste type.
We provide marrel skip bins for the following types of rubbish –
General waste
Mixed waste
Green waste
Soil and dirt
Building waste such as rubble, concrete, bricks and more
There aren't many instances where a marrel skip bin wouldn't be the best choice, but just in case, you should consider the following –
Pros of using a marrel skip bin
Convenient delivery
Wide range of sizes
Suited to commercial and domestic properties
Suitable for all sorts of waste types, including green, mixed, general and building
Easy to use
Cons of using a marrel skip bin
Not suited to very tight/covered spaces such as a carport
As you can see, there are far more positives to marrel skip bins than negatives. In certain circumstances, a marrel skip bin would not be an ideal choice for most people.
If you're wondering if you can fit a marrel skip bin on your property or if you have any questions about marrel skip bins, don't hesitate to get in touch.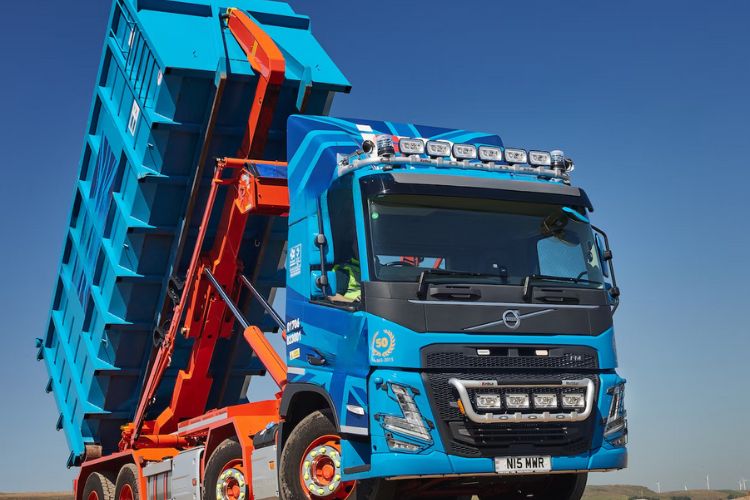 What is a Hook Lift Skip Bin?
Hook lift skip bins are larger than marrel skip bins, and as such, they're used for bigger quantities of waste.
Hook lift skip bins start at 4 cubic metres in size and go all the way up to 30 cubic metres, so in general, they're ideal for building and demolition projects where a great deal of waste is generated.
A hook lift skip bin is a long, straight-sided skip bin and rather than having a small ramp to aid filling, the entire rear end can be opened up so that walk-in access is allowable.
This makes it very easy to stack waste inside in an organised manner.
Why are they called hook-lift skip bins?
This is self-explanatory, really. These big skip bins require a special delivery process and so they're lifted off the back of the truck with the aid of a large hook.
Because they're bigger, they need a larger clearance space. You should account for around 15 metres in length and about 6 metres in height clearance if you want to have a hook lift skip bin delivered to your property.
In general, hook lifts skip bins are used for commercial waste, but the smaller models may occasionally be used in domestic situations.
Why choose a hook lift skip bin?
Hook lift skip bins are a great way to dispose of larger waste. Booking a smaller skip bin is only viable if you don't have a lot of rubbish.
If you book a skip bin that is too small for the amount of rubbish you're dealing with, then you may need to book a second skip bin for the excess.
One reason many people prefer a hook lift skip bin is accessibility. Because you can walk right into a hook lift skip bin, you can finely manage how the waste is placed inside.
This means you'll maximise the space you've paid for because you're not throwing rubbish inside in a haphazard fashion.
For professionals, hook-lift skip bins are ideal as they allow direct access to bobcats and forklifts, which means you can manage your waste disposal most effectively.
So, in many instances, a hook lift skip bin is the best option, but here are some pros and cons to check before you decide.
Pros of using a hook lift skip bin
Large capacity
Ease of access
Suited to most waste types
Wide range of sizes
Cons of using a hook lift skip bin
Not suited to smaller parking areas
There are many more pros than cons when it comes to hook-lift skip bins. If you have questions about hook lift skip bins, their use and management, don't hesitate to get in touch.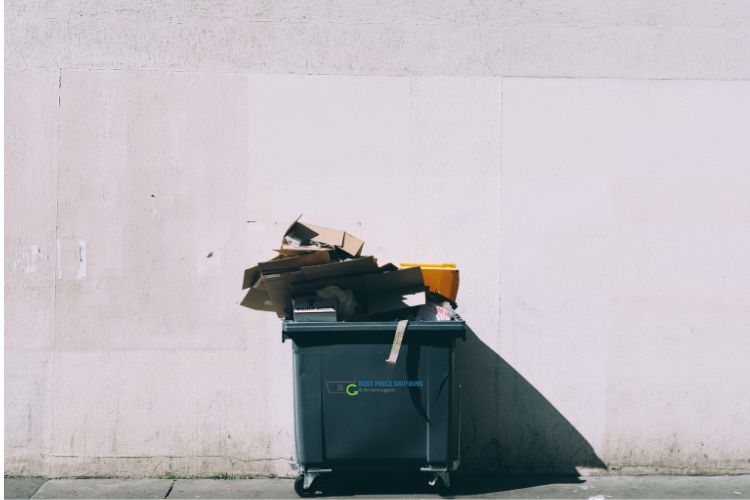 What is a Mobile Skip Bin?
Mobile skip bins are different to marrel and hook lift skip bins in that they're on wheels and so are conveniently mobile.
They're also smaller and usually attached to a trailer. The reason for this is that because they're not freestanding but are mobile, they do not require a permit.
If you want to place a marrel or hook lift skip bin on public land, then you will need to apply for a permit from your local council.
Mobile skip bins will never need a permit and can simply be placed wherever is most convenient.
Due to their smaller size and mobility, mobile skip bins can be situated in the most awkward of spots.
You can fit them into underground parking areas and beneath carports, for example.
Users can also move the skip bin closer to the source of the rubbish rather than taking the rubbish to the skip bin.
Why choose a Mobile Skip Bin?
In addition to being compact, all mobile skip bins come with a fold-down, lockable lid which is very convenient, particularly if you live in a busy, urban area where there's a risk of other people putting rubbish in the skip bin.
With the smaller size of mobile skip bins, plus the fact that no permit is necessary, they're a great choice in all sorts of situations.
For businesses, mobile skip bins make a good choice for regularly produced waste. For example, retail stores which generate a lot of packaging waste, a mobile skip bin is a good way to ensure this waste is contained and removed regularly.
It won't matter if the store is situated in an urban area, because no permit is needed.
With many upsides to their use, mobile skip bins are a very popular option, but read on to learn if there are any downsides.
Pros of using a mobile skip bin
Compact size
No permit needed
Fits into tight and awkward spaces
Lockable
Cons of using a mobile skip bin
Smaller size means mobile skip bins are unsuitable for heavier waste
Please note that there are generally two sizes of mobile skip bin available – 2 and 3 cubic metres. However, it may sometimes be possible to book a larger size.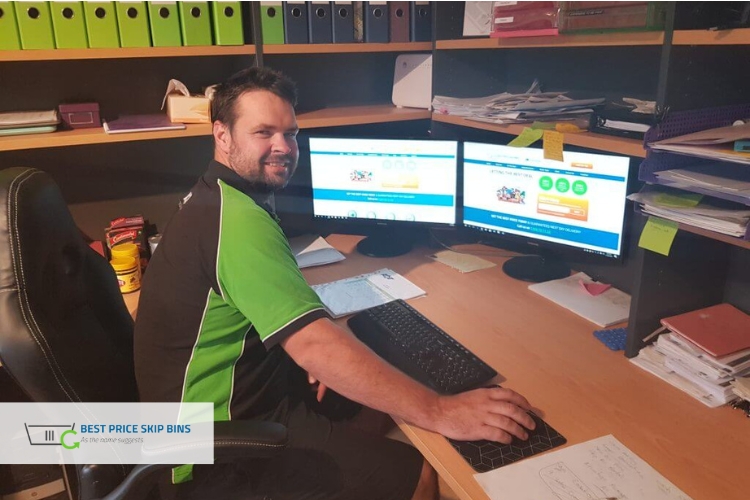 A note about skip bins in general
All skip bins have some restrictions regarding hazardous waste and weight. Hazardous waste includes asbestos, oil, paint, e-waste, chemicals, tyres and gas canisters. To be sure that you comply with weight requirements and the contents of your skip bin, please double-check with us if you have any concerns about how you use your skip bin.
Booking any skip bin is easy – just enter your postcode.