Moving out? Feeling the pressure of that final inspection? A stress-free end-of-lease cleanout can seem like a unicorn in Melbourne's rental scene — as elusive as finding a parking spot in the CBD during peak hour.
Whether it's a cosy suburban house, a lofty inner-city apartment, or even a bustling office, the end-of-lease cleaning process can be a beast. But, with the right planning (and top-notch tips), it doesn't have to be.
In this ultimate guide, we'll take you through 9 tried and tested tips and tricks for a smooth residential or commercial move. We'll reveal when and why to hire a skip bin, how to tackle the cleaning process, and the best way to leave your old rental in pristine condition.
Read on to turn your end-of-lease cleaning into an efficient farewell to your old Melbourne abode.
End of tenancy lease: Moving home or moving office?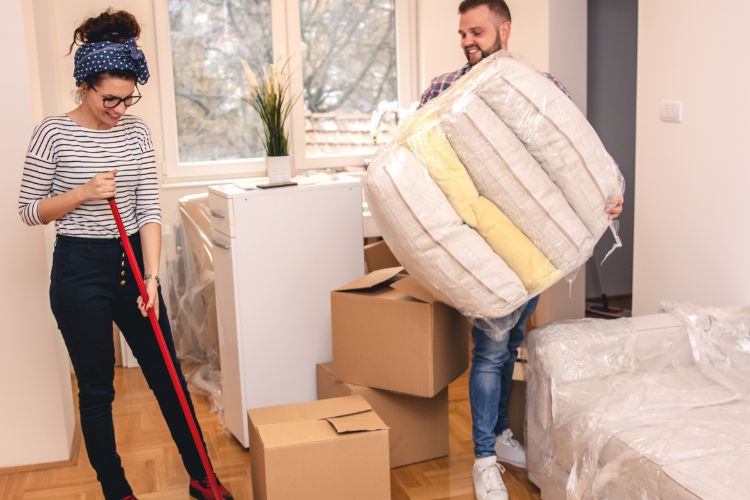 Moving home?
When it comes to moving out of a residential property, every tenant's goal is to leave the place clean and tidy to get that valuable bond money back. But, between the oven that hasn't seen a good scrub in a while, the dusty blinds, the cobweb-laden corners, and the marks on the walls from your furniture, there's a lot to tackle.
Remember, your end-of-lease cleaning checklist should cover all areas, from the bathroom tiles to the kitchen cupboards and everything in between.
You may need a skip bin for…
Here's where a skip bin comes into the picture. How about that broken furniture taking up space in storage that you need to dispose of? Or the outdated appliances you don't want to lug to your new place? Even piles of garden waste from your final lawn trimming can be loaded into a skip bin.
Hiring a skip bin ensures that you dispose of all your waste in one go, reducing trips to the tip. This saves you time and money, making moving out a smooth and stress-free process.
Moving office?
The commercial end-of-lease cleaning in Melbourne can be a whole different ballgame. From the accumulated paperwork and outdated office equipment to old office furniture, the list of items that need to be disposed of can be extensive.
And let's not forget about the kitchen area or bathrooms. They need a good cleanout too!
You may need a skip bin for…
A skip bin can be your secret weapon in this scenario. Consider hiring a larger skip bin to handle bulky items like desks, chairs, and shelves. Smaller skips are perfect for getting rid of accumulated e-waste, paperwork, and other general office clutter.
By utilising a skip bin service, you can focus on what's important — transitioning your business to the new location. Just like a residential move, it saves you time, cuts down on costs, and allows for a seamless transition to your new premises.
9 tips for a stress-free end-of-lease cleanout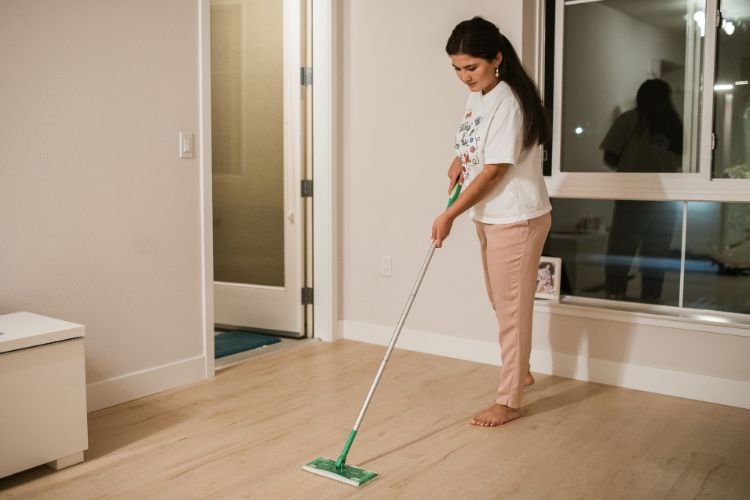 No matter if you're moving out of a residential property or transitioning out of a commercial space, we've got you covered. This guide aims to arm you with practical tips, a comprehensive cleaning checklist, and the knowledge to troubleshoot common cleanout issues. Let's dive in!
1. Overview of end-of-lease cleanouts
An end-of-lease cleanout is more than just a routine cleaning. It is a thorough process that involves leaving the property in a condition similar to when you moved in.
From scrubbing the oven to cleaning the windows and wiping down the insides of all the cupboards, it can be a daunting task. But, with the right plan and resources (like a handy skip bin for all your unwanted items), it can become a breeze.
2. Types of cleanouts
Cleanouts can range from residential to commercial properties. Residential cleanouts involve deep cleaning all rooms, outdoor areas, appliances, and fixtures.
Commercial cleanouts, on the other hand, can include disposing of old office furniture, cleaning common areas, and ensuring all office appliances are left in good condition. For both types, a skip bin can make waste management easier and more efficient.
3. Preparing for the cleanout
Before you start cleaning, it's wise to declutter your space. Dispose of anything you no longer need or want to take with you in a skip bin.
Once you have a clearer space, make a list of areas that require your attention. Don't forget to check your tenancy agreement for any specific cleaning requirements.
4. Cleaning supplies & equipment
Having the right cleaning supplies and equipment at hand can make your cleaning process more efficient.
Basic supplies include brooms, mops, vacuum cleaners, dust cloths, scrubbing brushes, and various cleaning agents. Don't forget your gloves for protection!
5. Step-by-step cleanout process
Begin your cleaning process from the top and work your way down. Start with ceilings, light fixtures, and windows before moving on to walls and then finally, floors.
Clean each room thoroughly, paying special attention to areas like the kitchen and bathroom, which often require more effort. Make sure to keep your skip bin close for easy disposal of waste.
6. Cleaning tips & tricks
Use a toothbrush to clean hard-to-reach areas like grout between tiles. For stubborn oven grime, a mixture of baking soda and vinegar works wonders.
Remember to empty and clean your appliances, such as the refrigerator and dishwasher. Again, keep that skip bin handy for any large items you decide to discard during the cleaning process.
7. Cleanout checklist
Create a comprehensive checklist to make sure you've covered all areas.
This should include everything from the condition of the floors, walls, doors, and windows to appliances, cupboards, and other fixtures. Don't forget to check outdoor areas, if applicable.
8. Common end-of-lease cleanout issues
Common issues during end-of-lease cleanouts can include missed spots, damage that needs repair, or excessive rubbish that needs to be disposed of.
Hiring a skip bin can be a lifesaver in managing excessive rubbish, ensuring you have a single place to dispose of all unwanted items responsibly.
9. Troubleshooting cleanout problems
If you face problems during your cleanout, take a step back and reassess. For stubborn stains, you may need to try different cleaning solutions.
If you have items that are damaged beyond repair, don't stress about moving them. Simply dispose of them in your skip bin.
Some questions to ask and things to consider in an end-of-lease cleanout in Melbourne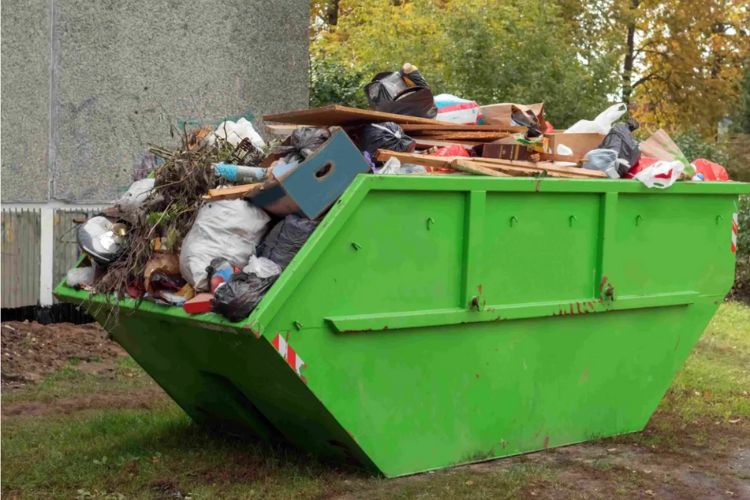 What are the key steps involved in an end-of-lease cleanout?
An end-of-lease cleanout requires careful preparation and execution. It can be broken down into a few key steps:
Decluttering:  The first step involves sorting through your belongings and deciding what to keep, sell, donate, or discard. This step also helps you determine the size and type of skip bin you might need for efficient waste management.
Furniture and appliance removal:  Any furniture, appliances, and personal items need to be removed from the property. This includes items not originally part of the leased property, such as additional furnishings or decorations. Large items like sofas, beds, fridges, and washing machines can often be disposed of in a skip bin.
Deep cleaning:  Once the property is clear, it's time to begin cleaning. This involves thoroughly cleaning all rooms, from the kitchens and bathrooms to the outdoor areas. Deep cleaning ensures the property is returned in a satisfactory condition. Any waste generated during this process, like old cleaning supplies or broken items, can be placed in your hired skip bin.
Repairing and maintenance:  Check for any damage that may have occurred during your tenancy. This could include scuffed walls, broken fixtures, or damaged appliances. Any waste from small repairs can be disposed of in the skip bin.
Final inspection and waste disposal:  Prepare for a final walkthrough with your landlord or real estate agent. Make sure the property is tidy, with no personal items left behind. Ensure that all waste is correctly disposed of. Hiring a skip bin can make this final step easier and more efficient, as it provides a single place to discard waste throughout the cleaning process.
What are some common mistakes made during end-of-lease cleanouts?
Overlooking walls and windows is a common mistake during end-of-lease cleanouts. It is essential to clean walls thoroughly, vacuum cobwebs, and give special attention to windows. Any waste generated from these tasks can be conveniently discarded in a skip bin.
What are the consequences of not properly completing an end-of-lease cleanout in Melbourne?
Failing to complete a satisfactory cleanout will most likely result in withheld bond money. Alternatively, your landlord may ask you to revisit the unfinished clean, further dragging out the process of moving out. When planning your cleanout, consider hiring a skip bin to avoid potential problems related to waste disposal.
What are some possible solutions to common problems encountered during an end-of-lease cleanout in Melbourne?
Hiring a professional cleaning service can efficiently solve most problems. If you decide to save your money and invest your time instead, you'll want to make the process as smooth as possible. Consider booking the perfectly sized skip bin to suit your needs.
How do I manage waste types, and when should I book a skip bin?
Recognising your waste types is crucial for successful waste management. Booking a skip bin saves you the hassle of hiring trailers or making multiple trips to the tip, ultimately saving you time and money.
How can I make my end-of-lease cleanout environmentally conscious?
Illegal dumping does nothing but harm the environment and attracts heavy fines. Using a skip bin ensures that all waste is disposed of correctly. Remember, doing the right thing contributes to a cleaner, healthier Melbourne.

Streamlining your end-of-lease cleanout with effective planning
The power of effective planning and responsible waste management is undeniable. From decluttering your property and removing furniture and appliances to deep cleaning and repairing, each step poses unique challenges and waste disposal needs.
Investing in a skip bin offers invaluable benefits such as safety, convenience, and efficiency. It eliminates the risks associated with improper waste disposal, including potential fines and environmental harm. What's more, with a skip bin in place, you save considerable time and energy, freeing you up to focus on cleaning.
As you navigate your end-of-lease cleanout journey, remember to plan well, clean thoroughly, and choose the right skip bin for the job. This strategy ensures a smooth transition, optimal waste management, and peace of mind, knowing you're leaving the space clean and tidy for the next occupant (and, even better, getting your bond back!).
Looking for the right skip bin for the job?
As you face your end-of-lease cleanout, don't compromise on efficiency and convenience. Choose Best Price Skip Bins, your local provider of quality and affordable skip bins, for a stress-free and cost-effective cleanout experience.