Many Australian states, municipal and local governments have been thrown into a recycling crisis since the start of 2018 when China introduced its Blue Sky 2018 programme. Why should decisions taken in China affect Australian local authorities? Because those authorities have been using China as an "easy fix" solution to their recycling problems.
For many home and business owners in Australia, this will come as something of a shock. Not only do we want to do the right thing for the environment, but we are also actively encouraged to do so.
Between incentives and financial punishments, laws across the country in recent years have pushed us increasingly towards recycling our waste. We at Best Price Skip Bins have proudly been at the forefront of this movement. Recent events in Beijing, however, have somewhat thrown all of this in the air.
Early Adopters For Recycling
Australia and New Zealand have been rightly proud to lead the way in recycling processes and technology. Both countries have long traditions of effective waste management which should be the envy of other developed nations.
Although parts of Australia are now witnessing a minerals boom, this is a relatively new phenomenon. In past times, scarcity of natural resources such as trees to make paper led to intelligent re-use. The first paper mill to use recycled cloth appeared in the early 19th Century, and the city of Melbourne has been collecting waste paper from homes and businesses since 1920.
Community and business initiatives throughout the 20th Century included "cash for can" aluminium recycling, magnetic separation plants and beverage container deposit schemes. All these took place before the more recent concerns about environmental damage came to the fore.
Over the last two or three decades, other developed countries have played recycling catch up with Australia and New Zealand. We ourselves have continued to push the boundaries to find effective recycling solutions. Or so we thought.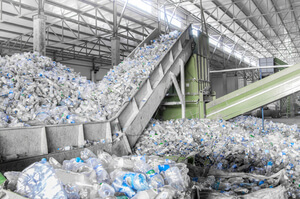 Rubbish Solution
Part of the whole ethos of recycling is the correct separation of waste types. Organic matter is disposed of differently from plastics, hazardous materials taken to specialist plants, etc. Once the correctly identified waste gets to where it's going, however, it's out of all our hands.
As waste legislation tightened over the last 20 or so years, so the Chinese government uses this as a money making opportunity. As part of its plans to develop the country's economy,
it saw potential in dealing with waste from other countries. It charged Australia and others a fee to take certain waste materials off their hands.
China took a fee to do the hard work of correctly separating one type of waste from another. Bad practices in Australia and other countries mean contamination which slows the recycling process down. This in turn makes it more expensive and resource intensive.
It is estimated that China has imported 30 million tonnes of "recyclable" waste from other countries. In 2011 – 12, that included 4.4 million tonnes from Australia, at a cost of $2 billion. Last year, China imported half of Australia's waste paper. For a country which has been using recycled paper for 200 years, this is a startling statistic.
End of the Line For Recycling In China
This state of affairs is coming to an end. In eastern China, there are provinces where towns and cities are no longer able to process any more foreign waste. The Chinese government has signalled since 2013 that its current arrangements with Australia and others are no longer sustainable.
With five years' warning, it might be reasonable to expect exporters such as Australia to have put plans in place to deal with this. As leading providers of recycling solutions, we at Best Price Skip Bins have been waiting for such a solution.
As we deal with waste from all over Australia, we are aware of different effects across the country. Unfortunately, it seems that there has been no national, coordinated approach to the problem. This has led to the current situation, which has been described in some media outlets as a national emergency.
Bottle Neck
While China has not actually "banned" any materials from entering the country, it has imposed restrictions on certain types. Unfortunately, Australia relies heavily on two of them; plastic and paper. China's action means that the country has lost a third of its exported "recycling" market.
There are stopgap options available, such as paying other Asian countries to accept Australian waste. This will help alleviate the problem somewhat, but only temporarily. Some waste processors are stockpiling certain materials until such time as they can find somewhere to export it. Again, this is only a temporary measure.
Visy, which processes recycling from a large number of localities, has taken steps to alleviate its own problems. It has stopped accepting recycling from some authorities and greatly increased fees for others. This in turn has led to stockpiling which will only increase.
Way Forward 
Some authorities are suffering more than others. South Australia has an exceptional recycling separation record, so is still able to export some of its waste to China. Victoria, on the other hand, has been severely hit by Blue Sky 2018. That state has introduced a $13 million rescue package, but this is money already earmarked for waste management.
In the long term, real solutions are needed. Many environmentalists believe that China has done Australia a favour by making us face up to our responsibilities. The Waste Management Association of Australia (WMAA) is calling for a national action plan backed by $150 million in investment.
WMAA and other organisations favour a combined approach. This includes better separation practices, increased onshore recycling facilities, and most importantly a reduction of waste altogether.
We at Best Price Skip Bins know that every home and business has a part to play in effective waste management. As a developed economy, Australia will never be in a position to produce no waste. What we can do is keep it to a minimum, and reuse it as much as possible. Blue Sky 2018 is a wake up call for all of us.