Learning how to fill a skip bin correctly is an important part of getting the most out of your skip bin hire.
Skip bins are a very effective waste management solution when used correctly. Both homeowners and business owners can make use of skip bin hire to remove all manner of excess rubbish.
People new to skips need to learn to skip bin hire's dos and don'ts.
In this guide, we'll talk you through the most important rules for using skip bins and offer some handy tips!
Correctly filling a skip bin – why it's important
Before you hire your first skip bin, it's important to understand that filling skips isn't as simple as randomly throwing everything inside.
Although you might be pressed for time or stressed due to the pressures of moving house or managing a building project, you must take the time to fill your skip bin with a little care.
Whether you're a business owner or a homeowner, the rules affecting weight and overfilling could affect you. If you overfill a skip bin or fill it incorrectly, you may be charged extra.
Here are our top 10 tips to help customers fill their skip bin correctly.
Tip 1 – Never overfill your skip bin
No matter where you live and work in Australia, the rules remain the same. You can never overfill the skip bin.
What is overfilling? The basic rule is that no waste should reach above the top of the skip bin.
The reasons for this are simple – if the skip bin is overfull, it will probably exceed the weight limits for that skip bin. Also, if the waste is piled high, it poses a hazard.
The skip bin truck cannot safely remove and transport a skip that is full to brimming as some waste will surely fall onto the road.
Falling cargo is a hazard to other road users and, sometimes, to passers-by.
If you overfill the skip bin, your operative will not be able to remove it. The choices are removing some waste for your disposal later or booking another skip bin to manage the excess.
Should the truck not be able to pick up the bin due to the customer overfilling the bin, there will be an extra charge for rescheduling delivery and attracting extra transportation costs.
Overfilling can add up to extra charges
Sometimes, the excess waste might be minimal. In cases like that, covering the skip bin with a tarp may be possible to secure the rubbish.
This is entirely at the operative's discretion; the customer will still be charged for overfilling.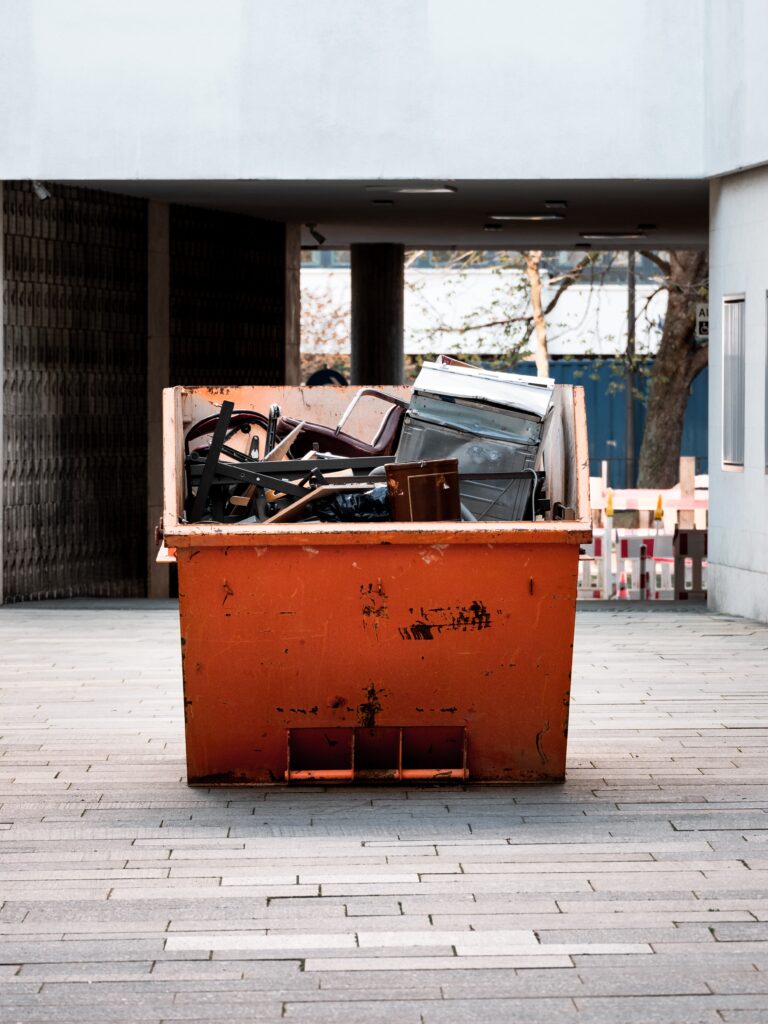 To avoid time wasting, additional costs and inconvenience to yourself, ensure you fill the skip bin only to the top edge. Try to keep the rubbish level, and if you find this too difficult, or you realise you'll need another skip bin, book one as soon as possible so your excess waste can be removed quickly.
If you book the second skip before the first is collected, the delivery truck will bring you a new, empty container as it picks up your full one. This is much more sensible for you in terms of cost and time.
Tip 2 – How to fit rubbish into a skip bin
We want you to make the most out of your skip bin hire. That means packing the skip bin in the best possible way. Before you put even one piece of waste inside the skip bin, look at everything you have and assess each piece's size, shape and weight.
Packing the largest and flattest pieces first will get the most out of the skip bin. That could be things like planks or boards of timber and pieces of furniture which have been taken apart.
Lay the things down in the base of the skip bin flat. Don't prop them up – this creates air pockets which equal wasted space.
Most skip bins come with a rear-opening hatch or door, which doubles as a ramp. This is to enable users to fill the skip bin with heavier items. A wheelbarrow can be pushed up the skip's ramp and emptied via this rear hatch. This is especially useful with heavy bricks, metals or concrete.
Tip 3 – Safety first
Using a skip bin is safe and without risks, but users should bear a few things in mind.
Moving from house to skip bin, or from building site to skip bin, it's possible to get careless. This is especially true if you're busy and under pressure to finish a task.
Take your time!
This is the most important tip we can offer. Don't try to rush. Take extra care when carrying heavy items, and be careful of your back when using a wheelbarrow.
Dropping bricks, stones, tiles or concrete on your feet is never a good idea! Wear work boots with steel toecaps if possible and secure some help with heavier items. The last thing you want is a back injury!
Gloves are also a sensible option as it's easy to catch your hands on nails or broken parts as you work.
Tip 4 – Stick to the correct waste types
When you book a skip bin, you'll notice we have different skip bins for different waste types.
That's a way to ensure that recycling of the waste we collect is maximised. We care deeply about the environment, and offering special skip bins, such as our green waste skip bin or our soil and dirt skip bin, is an eco-friendly move on our part.
Our team can recycle things much easier when separated from other waste types.
We do offer mixed waste and general waste skip bins, though – we know that it's not always possible for customers to keep to one waste type.
However, you must check the list of allowed materials for the skip bin type you order, no matter which type you book.
Check our Waste Types Guide to learn exactly what can and cannot be put into each skip bin.
Tip 5 – Watch out for these hazardous materials
When you're busily managing a renovation, house move or clearance, it's easy to miss potentially hazardous materials.
Things often found in and around most properties can't always be put into skip bins because they may pose a hazard.
These items include the following –
Batteries can spontaneously burst into flames and must be disposed of at a special battery recycling point. Your local council will have multiple – often in libraries.
Oils may not be placed in skip bins. No type of oil is suitable for disposal in a skip bin.
Paint – again, not suited for skip bin disposal.
Asbestos – please do not attempt to touch, remove or manage asbestos in any way whatsoever. It is not allowed in skip bins, and even moving it can cause untold damage to your health. Contact a professional asbestos removal company.
For items like car tyres and mattresses – they are allowed in some skip bins but mean additional fees. This is because they cost the skip bin supplier extra to dispose of.
Please contact to ask about disposing of mattresses, tyres and electrical items.
Hopefully, our guide will be useful to you before you choose and book your skip bin. Remember, our team is always here to assist you with any questions you might have about skip bins and the process of hiring them.