For proper skip bins waste management it is necessary that you know how to classify your waste and effectively use skip bins services. This infographic would help you make a more informed choice on the type of skip bin you need depending on your requirements.
The general waste skip bin is used for general waste. This includes things that are in your home or office on day to day basis, such as electrical goods, white goods, cupboards, unwanted personal objects, furniture, toys, books, office furniture, light building waste such as dry timber, and light green foliage such as grass clippings. Everyday items,  those things we all collect that either need replacing or updating that have accumulated over time that just need be sorted, trimmed & cleared out.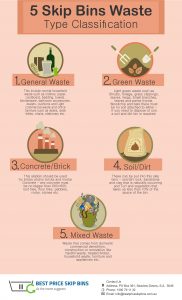 Other Waste Categories include:
Mixed Heavy (suitable for combination mixed and general waste)
Mixed rubble (Sand, dirt/clay bricks, sandstone, pebbles, rocks, roof & floor tiles, concrete rubble (no bigger than 600 x 600) No other materials of any sort except what is specified
Household (no weight limit) this bin is also suited for general waste ONLY. The difference between a general waste and household waste bin, is there is no weight limit on a household bin and most times the household bin is more expensive, but the same rules apply incorrect waste will incur additional charges
Clean Waste (suitable for 1 waste material only) sand & dirt or concrete or pavers or tiles NO WASTE CAN BE COMBINED.
One thing that should never be put into Skip bins is hazardous waste.