Skip Bins Whites Valley
Hiring skip bins Whites Valley
Hiring skip bins Whites Valley is something we excel at here at Best Price Skip Bins. Whites Valley is a beautiful and popular suburb around an hour outside Adelaide's CBD and it's popular with people from all walks of life. The high quality homes in this area mean that people also have high standards so we pride ourselves on providing an excellent service for skip bins Whites Valley.
Best Price Skip Bins have been in the business for long enough to build up excellent connections within the industry and it's these connections which ensures our customers get the cheapest available skip bins every time they order. We utilise our connections and links to grab the cheapest deals for you every time your order Whites Valley skips.
Whether you're planning a move or maybe undertaking renovations to your property, we have a skip bin to suit your needs. All you need to do is call us and we will set to work to grab you the cheapest possible skip bin available at the time of ordering.
What can you put in a Whites Valley skips?
All sorts! We accept green waste, bricks, soil, cement, general waste and even tyres. Skip bin hire Whites Valley is the fast, convenient and clean way to deal with any unwanted waste. Best Price Skip Bins cannot accept asbestos and ask that if our customers suspect the presence of asbestos on their property, that they call the experts. Handling asbestos is highly dangerous and best left to the qualified.
If you want to place mattresses in our skip bins, we ask that you take them apart so that we can easily recycle the metal parts. This makes it easier for us to ensure that we're an eco-friendly company. If you have any doubts about the the sort of waste you want to put in a skip bin, contact us today to ask about your concerns and we will be happy to advise you. Skip bin hire Whites Valley is a great way to ensure that your renovations or clean up job is super-fast and super-efficient.
What size skip do I need to hire?
Skip hire Whites Valley is great for jobs of all sizes. We offer mini skips Whites Valley for those smaller tasks such as clearing out one room or for those times when your general waste is more than usual. Other than mini skips Whites Valley we have a massive range of sizes for our customers to ensure there's the perfect skip hire Whites Valley for every task. Our skips start at 2m3 and go all the way up to 30m3 so you've got a great choice of sizes.
Here's a list of all available sizes and types.
•2m3 Mini Skips
•3m3 Mini Skip Bins
•4m3 Small Skip Bins
•6m3 Large Skip Bins
•7m3 Large Skips
•8m3 Extra Large Skip Bins
•9m3 Extra Large Skips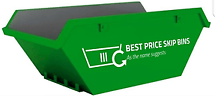 •11m3 Hooklift Skip Bins
•15m3 Large Hooklift Skips
•30m3 Extra Large Hooklift Skip Bins
Call Best Price Skip Bins to learn more about sizes and what types of waste we can accept.
How do I find the cheapest skip available?
We do that for you because that's what makes us different from all of our competitors. We know how important budget is to most people, so we go all out to ensure that our customers get the best deals possible. As we have such strong links with the skip bin industry in this area, we are able to leverage those links and make sure you get the cheapest possible skip bin when you order.
We're a family owned and managed company so you get a great personal service with us doing the work for you. We know our customers don't have time to ring multiple companies asking for quotes, so we do that for you! All you need to do is fill in our responsive form to get a quote.
Is skip bin hire the best way of removing my rubbish?
Ordering skips White Valley is definitely the best way forward when it comes to rubbish removal. There are two ways to handle rubbish…the double-handling method or the simple way! We manage the simple way for you. If you choose to manage your own waste, then you're setting yourself up for multiple back-breaking trips to the dump with trailers full of rubbish. Call us and you only have to wait for your skip bin to arrive, fill it up and then we will remove it.
What could be simpler? We even provide ramps with many of our skip bins so that loading it up is a breeze! Ask us about a ramp for your skip bin…call today!
Using skip bins is an extremely convenient and cost-effective method of waste disposal and Best Price Skip Bins can make it the cheapest method too.
Do I need a council permit for a skips Whites Valley?
Only if you want to place your skip on public land. If you want to place your skip on your own land, such as in your driveway or garden, then no permit is needed. Permits are easy to arrange though and will enable you to put your skip where you want it. Contact The City of Onkaparinga to learn more about permits.
To find a cheap skip bin, just go online 24/7 and get a quote form Best Price Skip Bins Adelaide
Meet The Team at Best Price Skip Bins