Skip Bins Sunnybank Hills
Hiring Skip Bins Sunnybank Hills
At only 15km from Brisbane's CBD, Sunnybank Hills has long been one of Brisbane's most popular suburbs. Good quality housing coupled with great amenities, make it the perfect place for people from all walks of life to settle down. Skip bins Sunnybank Hills are always in demand as people move in and out of the area or make improvements to their properties.
Best Price Skip Bins are in the perfect position to provide skip bins Sunnybank Hills to the residents and business owners of the area. Thanks to our long established knowledge of the area and our strong links with all of the very best local suppliers. We're in an ideal spot to ensure that our customers get the cheapest skip bins possible when they book through us….and we know that price matters to our customers!
We utilise our great position in the industry to get great deals every time. Ordering or getting a quote is easy . All you need to do is enter your postcode into our easy-to-use online form and we will do the rest. Entering your postcode doesn't mean that you're committed to ordering. It just allows us to work out where you are and then find you the best priced skip bin. If you do choose to order, then we can have a skip bin at your address within 24 hours. Skip bins Sunnybank Hills are perfect for all kinds of waste so if you're planning a house move or maybe renovations, don't forget…you can't get cheaper than us!
What can you put in Sunnybank Hills skips?
You can put almost anything in Sunnybank Hills skips!  Skip bin hire Sunnybank allows you to easily dispose of all kinds of waste. This includes general waste, green waste, concrete/bricks, soil and even mixed waste plus tyres.
One of the few things we cannot accept in Sunnybank Hills Skips is asbestos. Asbestos is far too dangerous and unstable for you…and us, to deal with. If you suspect that there is asbestos present in some of your waste materials, call the experts in for your own safety.
If you're unsure about whether skip bin hire Sunnybank Hills is right for you, please don't hesitate to get in touch and we will be happy to discuss your needs.
What size skip hire Sunnybank Hills do I need?
We an extensive range of skip bin sizes and types available in the area. We also stock mini skips Sunnybank Hills which are great for those smaller clear-up jobs such as the renovation of one room only or even clearing up after your teenager! Depending on what kinds of waste you're dealing with, there will be a suitably sized skip for your needs. The infograph below will illustrate to you how large a particular skip is in comparison to an averagely sized male.
Some tips on making the most of your skip bin are as follows;
Pack large, flat items first
Lay heavier items in the middle of the skip bin
Pack smaller items around the larger items
Do not overload your skip bin
Once you've worked out how large your skip bin needs to be, we will do the rest! Order or grab a quote here.
•2m3 Mini Skips
•3m3 Mini Skip Bins
•4m3 Small Skip Bins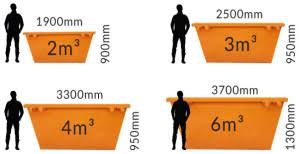 •6m3 Large Skip Bins
•7m3 Large Skips
•8m3 Extra Large Skip Bins
•9m3 Extra Large Skips
•11m3 Hooklift Skip Bins
•15m3 Large Hooklift Skips
•30m3 Extra Large Hooklift Skip Bins
How do I find the cheapest skips Sunnybank Hills?
The only way to find the cheapest skips Sunnybank Hills is to contact Best Price Skip Bins! You simply cannot get cheaper skip bins than those supplied by us because our business model is based on ensuring that you as the customer, always get the best deal out there and that means the lowest prices! We manage this by shopping around among our many excellent contacts so that you don't have to. We have strong links with all of the very highest quality skip suppliers in your area…that's how we can be sure that you get the best price…every time.
As a family-owned and run company we place a lot of value on budget. We know that you do to…so you can be sure that we're on your side when it comes to price.
Get in touch with us today to learn more about how we can get you the lowest priced skips Sunnybank Hills!
Is skip hire Sunnybank HIlls the best way of removing my rubbish?
Definitely! It's easier than dumping because you don't need to drive to the dump! Driving to the dump also entails loading and unloading multiple trailers as well as paying for fuel and dumping fees. Why go through all that when Best Price Skip Bins can deliver your skip bin within 24 hours? Once you've filled up your skip bin, then we take it away again! So clean, simple and convenient you'll wonder why you didn't do it earlier!
Using skip hire Sunnybank Hills is an extremely convenient and cost-effective method of waste disposal and Best Price Skip Bins can make it the cheapest method too.
Did you know that most skip bins even have a ramp for easy access so if you need to dispose of concrete or soil you can do so using a wheelbarrow.
Do I need a council permit for skip bin hire Sunnybank Hills?
Only if you want to place it on public land. If you want to put your skip bin on your own land…your garden or driveway for example, then no permit is needed. You can learn more about skip bin permits and skip hire Sunnybank Hills by visiting the website of Brisbane City Council.
To book your skip bin with Best Price Skip Bins or to ask questions about the use or hiring of skip bins, give us a call and a friendly team-member will be happy to assist.
Meet The Team at Best Price Skip Bins
Suite 501 6/197/205 Church St,
Parramatta NSW 2150
Phone: 1300 79 11 32