Skip Bins Seaview Downs
Hiring Skip Bins Seaview Downs – What do you Need to Know?
Seaview Downs is a beautiful and popular suburb of Adelaide. As close as it is to Adelaide's CBD, it's the sort of suburb which attracts many professionals and families alike. Skip bins Seaview Downs are always in high demand as people seek to keep their homes in good condition.
Best Price Skip Bins have been providing an outstanding service in the area for many years. As one of the most established suppliers of skip bins Seaview Downs, we understand what matters to our customers…price and quality of service.
We are able to provide Seaview Downs skips at the lowest prices you'll find. We can do this thanks to our many connections in the area. When you book with us, you are always offered the cheapest skip bin available. We're able to do this because of our links with all the best suppliers in the region. You simply can't get cheaper than Best Price Skip Bins.
Booking or getting a quote is easy; just enter your postcode into our easy to use online booking form and we will help you find what you need…whether that's a price or a skip bin.
What can you put in skip bins Seaview Downs?
Seaview skips are good for almost any type of waste. This is including general waste, green waste, concrete/bricks, soil and even mixed waste. You might wonder why we try to keep waste types separated in our skips– it's to allow for recycling when possible! We care about the environment at Best Price Skip Bins and we're keen that skip bin hire Seaview Downs impacts the environment as little as possible.
We do accept mattresses and you can help us by taking into account the fact that certain parts of a mattress can be recycled. Just remove the outer material off the springs and put them separately in the skip bin. The springs can then be disposed of as scrap metal and the material is general waste. No more extra dumping fees!
Contact us to ask questions if you'd like to check whether certain waste types are acceptable or not.
What size skip bin hire Seaview Downs?
This is a question which many people ask; especially if they've never ordered a skip bin before. Check out the useful illustration below. It will give you a clear picture of how large some of our models are.
Our skip bins begin at 2m3 and go all the way up to 30m3 so there's something for everyone's needs. Mini skips Seaview Downs are a good option if you only have a small amount of waste.
Below are the sizes we have available for skip bin hire Seaview Downs.
•2m3 Mini Skips
•3m3 Mini Skip Bins
•4m3 Small Skip Bins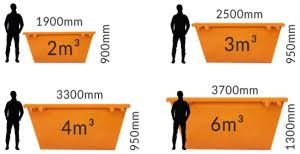 •6m3 Large Skip Bins
•7m3 Large Skips
•8m3 Extra Large Skip Bins
•9m3 Extra Large Skips
•11m3 Hooklift Skip Bins
•15m3 Large Hooklift Skips
•30m3 Extra Large Hooklift Skip Bins
How do I find the cheapest skip hire Seaview Downs?
Just contact us! It's really that simple. You won't find cheaper than us because we shop around on your behalf and always get the best prices.
We're a family owned and run company so we really understand the importance of budgeting!
Is skip bin hire Seaview Downs the best way to remove my rubbish?
Always! You have two options when it comes to rubbish removal. The double handling method or the easy way. Skip bin hire represents the easy way. You have no need to make multiple dump runs when you've got a skip bin on your doorstep!
It's convenient and simple. We even provide ramps with many of our skips. This makes it easy for you to move heavy waste such as concrete!
Do I need a council permit for skips Seaview Downs?
A council permit is not required if placing the skip on private property. If you want to place it on public land then a permit is needed. Contact Marion Council for more information or give us a call and we will be happy to discuss your needs.
Meet The Team at Best Price Skip Bins
<div "style: clear:both;">