Skip Bins Parramatta
Hiring Skip Bins Parramatta
Parramatta is just 12km from Sydney's bustling CBD and it's a hive of industry and creativity. There's a lot of history here and the housing reflects that with a good mixture of older and contemporary living spaces. Skip bins Parramatta are always in high demand thanks to the sheer amount of people in the area. Where there are people there are homes and businesses in need of clearing!
Best Price Skip Bins are well-placed to help the people of Parramatta with all their skip bin needs. As a well-established and experienced company, we've got plenty of strong links in the industry and it is these links which enable us to ensure that our customers get the lowest possible prices on skip bins Parramatta.
When you book through Best Price Skip Bins, you don't need to worry about shopping around for the best price. That's what we do!
Parramatta skips allow you to dispose of awkward or weighty rubbish without the bother of visiting your local dump. We deliver your skip bin to your door; you fill it and then we remove it. It's as simple as that!
To get a quote or to book, simply enter your postcode into our easy-to-use online form and we'll take it from there.
What can you put in skip bins Parramatta?
There's not much you can't put in Parramatta skips! We can't take asbestos or liquids but we can collect most other types of waste, including general waste, green waste, concrete/bricks, soil and even mixed waste. You might wonder why we try to keep waste types separated in our skips– it's to allow for recycling when possible! We're a very eco-friendly company and we do our utmost to ensure that your waste is recycled where possible so you can rest assured that using Parramatta skips won't mean you're contributing to landfill more than strictly necessary.
Did you know that dumps charge extra for certain items that you may need to dispose of including mattresses and tyres? But you can save some money by using a skip bin instead of taking it to the dump. With mattresses, just remove the outer material off the springs and put them separately in the skip bin. The springs can then be disposed of as scrap metal and the material is general waste. No more extra dumping fees!
If you have any concerns or questions about skip bin hire Parramatta, don't hesitate to get in touch with us. Our team is friendly and knowledgeable and always happy to help.
What size skip do I need to hire?
You will be pleased with our large selection of skip sizes. We have everything from mini skips Parramatta to the largest hooklift skip bins Parramatta on offer and everything inbetween. Working out which is best for your needs is not difficult. Look at the infographic below to learn more about the sizes of our skips Parramatta.
•2m3 Mini Skips
•3m3 Mini Skip Bins
•4m3 Small Skip Bins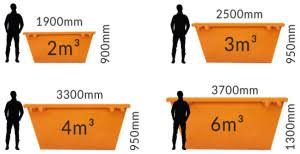 •6m3 Large Skip Bins
•7m3 Large Skips
•8m3 Extra Large Skip Bins
•9m3 Extra Large Skips
•11m3 Hooklift Skip Bins
•15m3 Large Hooklift Skips
•30m3 Extra Large Hooklift Skip Bins
How do I find the cheapest skip hire Parramatta?
Just contact Best Price Skip Bins. You're guaranteed to get the lowest possible price on skip hire Parramatta when you book with us.
As a family owned and operated skip hire company we fully understand the importance of budget. This is why you can't go wrong when booking skips Parramatta with us. All you need to do to get the best price is to enter your postcode in our form and we will then ask you a few questions regarding the size of skip bin you need and also the type of waste you need to dispose of.
Are skips Parramatta the best way to remove my rubbish?
Without a doubt! There's no simpler or more convenient way to remove your waste than with a skip bin.
You have two options when it comes to rubbish removal. The double handling method or the easy way. It's hard enough work filling a trailer but then to have to take it all the way to the nearest dump and then unload it all again is exhausting! Not to mention the dumping fees, needing to reverse a trailer or even having to hire a trailer in the first place. Just hire a skip and be done! Once you have filled it we will collect it and take it away
Did you know that most skip bins even have a ramp for easy access so if you need to dispose of concrete or soil you can do so using a wheelbarrow.
Do I need a council permit for a skip bin?
A council permit is not required if placing the skip on private property. However, if the skip bin is to be placed on public property in Parramatta such as the nature strip, street or footpath, a permit is required.
If you'd like to know more about permits or have doubts about the area in which you'd like to place your skip bin, contact The City of Parramatta Council for more information.
If you'd like a quote for a skip bin or to learn more about our service, get in touch with us and we will be more than happy to help.
Meet The Team at Best Price Skip Bins
Suite 501 6/197/205 Church St,
Parramatta NSW 2150
Phone: 1300 79 11 32