Skip Bins Newcastle
Hiring Skip Bins Newcastle
Newcastle is a beautiful harbour town and is considered one of the jewels in NSW's crown. Studded with amazing beaches which have international reputations, it's an extremely popular area for both tourists to visit and for potential residents to home-hunt. The housing is mixed, high quality modern apartments vie with beautiful old colonial style houses so there's something to suit everyone. Skip bins Newcastle are always needed as more and more people make the area their home.
New residents mean one thing…renovations! And renovations as well as house moves mean that there's a need for skip bins Newcastle. All renovations are messy, resulting in waste timber, tiling, bricks and even entire kitchens. Skip bins Newcastle mean that dealing with the mess is far simpler. Hiring skip bins Newcastle is the first thing on the list of many people who are moving in or out of property. All house-moves make mess and that's without the trouble of renovations. Throwing out old garden furniture, general rubbish and gardening all create waste which is generally too much for general waste bins.
Best Price Skip Bin have been in the business of making it easier for both homeowners and business owners to make their moves with the minimum of fuss for many years now. We specialise in not only providing a super-fast service, delivering bins generally within 24 hours…but also in keeping prices so low they're unbelievable. We can do this thanks to our links with all of the very best suppliers in the area.
When you need Newcastle skips, you need Best Price Skip Bins. The ordering process is very easy to manage. Simply enter your postcode into our online booking form and you will be taken through a series of basic questions. These questions about Newcastle skips are designed to help you to get the right skip for your needs. You can then rest easy knowing that we're going to shop around among our many connections to ensure you're offered the cheapest skip bin going. Newcastle skips are a fast and convenient way to deal with any amount of rubbish and our team is friendly and helpful.
What can you put in Newcastle skips?
There's not a lot you can't put in Newcastle skips!  Skip bin hire Newcastle allows you to easily dispose of all kinds of waste. This includes general waste, green waste, concrete/bricks, soil and even mixed waste.
You might wonder why we try to keep waste types separated in our skips– it's to allow for recycling when possible! Did you know that dumps charge extra for certain items that you may need to dispose of including mattresses and tyres? But you can save some money by using a skip bin instead of taking it to the dump. With mattresses, just remove the outer material off the springs and put them separately in the skip bin. The springs can then be disposed of as scrap metal and the material is general waste. We encourage and actively try to recycle as much as possible here at Best Price Skip Bins so you can rest easy that your waste isn't going straight to landfill but will be re-purposed wherever possible.
There are a few items which you cannot put into skips Newcastle and these include asbestos and liquids. Asbestos is a dangerous and unstable material which should only ever be handled by professionals. Unfortunately, many homes and businesses in Australia have some form of asbestos within their frameworks. The most common areas to find asbestos include the following.
Roofs and ceilings
Walls and insulation
Pipes and lagging
Floor tiles and lino
Asbestos cement water tanks
Downpipes and drains
It can also hide in other places including outbuildings and it's for this reason that we suggest you don't try to remove it.
If you're unsure about whether skips Newcastle are right for you, please don't hesitate to contact us and we will be happy to discuss your needs.
What size skip bin hire Newcastle do I need?
We have a large range of skip bin sizes and types available in the area so skip hire Newcastle is suitable for all kinds of jobs. We also stock mini skips Newcastle which are great for those smaller clear-up jobs. Depending on what you're dealing with, there will be a suitably sized skip for your needs. The infograph below will illustrate to you how large a particular skip is in comparison to an averagely sized male.
Packing your skip bin carefully will mean that you are able to make the most of the space available to you. Throwing things in randomly will create 'pockets' of wasted space within the skip…so try to plan out what should go in first. Larger, flat items such as doors are a good place to begin. If you find there is too much waste for your skip bin, you can always order another.
Once you've worked out how large your skip bin needs to be, we will do the rest!
•2m3 Mini Skips
•3m3 Mini Skip Bins
•4m3 Small Skip Bins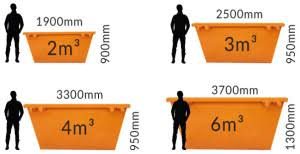 •6m3 Large Skip Bins
•7m3 Large Skips
•8m3 Extra Large Skip Bins
•9m3 Extra Large Skips
•11m3 Hooklift Skip Bins
•15m3 Large Hooklift Skips
•30m3 Extra Large Hooklift Skip Bins
How do I find the cheapest skips Newcastle?
Easy! Just contact Best Price Skip Bins for the cheapest skip bin hire Newcastle. You simply cannot get cheaper skip bins because our business model is based on ensuring that you as the customer, always get the cheapest deal out there. We do this by shopping around among our extensive contacts so that you don't have to. We have excellent links with all of the very best skip suppliers in your area…that's how we can be certain that you get the best price…every time.
As a family-owned and run company we place a lot of value on budget. We know that you do to…so you can be sure that we're on your side when it comes to price. Skip hire Newcastle works out well for most people because not only does it save you the bother of driving to the dump but also the bother of loading and then unloading. Skip bin hire Newcastle is simple, clean and efficient.
Get in touch with us today to learn more about how we can get you the lowest priced skips Newcastle!
Is skip hire Newcastle the best way of removing my rubbish?
There's no better! You basically have two options when it comes to rubbish removal. The double handling method or the easy way. It's hard enough work filling a trailer but then to have to take it all the way to the nearest dump and then unload it all again is exhausting! Not to mention the dumping fees, needing to reverse a trailer or even having to hire a trailer in the first place. Just hire a skip and be done! Once you have filled it we will collect the skip and you can forget all about it! Skip hire Newcastle is efficient, clean and won't break your back or the bank!
Using skip bin hire Newcastle is an extremely convenient and cost-effective method of waste disposal and Best Price Skip Bins can make it the cheapest method too.
Did you know that most skip bins even have a ramp for easy access so if you need to dispose of concrete or soil you can do so using a wheelbarrow.
Safety and skip bins
There are a few precautions which you should take into consideration when using skip hire Newcastle. Skip bins are generally very safe but it is always best to be careful not to overfill them. Fill your skip bin only to the rim. Over filling may result not only in spills and mess but in accidents.
When placing your rubbish into the skip bin, be careful how you distribute the weight of it. The heaviest items should be in the middle and at the bottom if possible. Don't balance weighty things on top of other items if the skip is nearly full.
Also take extra care when you are filling up the skip bin and try to have someone else around to assist you so that you do not injure yourself.
Do I need a council permit for a skip bin?
Only if you want to place it on public land. If you place it on your own land…your garden or driveway for example, then no permit is needed. You can learn more about skip bin permits and skip hire Newcastle by visiting the City of Newcastle's website.
To book your skip bin with Best Price Skip Bins or to ask questions about the use or hiring of skip bins Newcastle or mini skips Newcastle, just get in touch today and we will be happy to help.
Meet The Team at Best Price Skip Bins
Suite 501 6/197/205 Church St,
Parramatta NSW 2150
Phone: 1300 79 11 32