Skip Bins McLaren Vale
Hiring Skip bins McLaren Vale
McLaren Vale is a beautiful and historical town set right in the heart of wine country. With rolling vineyards and a hint of the ocean in the distance it's really a breathtaking place to drive through or visit. For those lucky enough to actually live there, skip bins McLaren Vale are a great way to keep the generously sized properties in good order. The blocks here tend towards the large, though the more recently build homes are not quite as commodious, they are still big.
Skip bins McLaren Vale are in high demand as people move into the area or improve on their property. Best Price Skip Bins are a great local service which truly understands what's important for it's customer base. Affordable and reliable skip delivery is what most people want and that's just what we offer.
We make it our mission to provide our customers with the cheapest possible McLaren Vale skips possible. We achieve this by using the strong links which we've built up over our years in the business with the best skip hire companies in the area. When you contact us to order a skip bin, we immediately start investigating the best possible and cheapest skip bins out there. Then we get it delivered to your door. We can get skips out to you within 24 hours of your first contact.
There are many skip bin hire companies in the area but only Best Price Skip Bins makes it their mission to get you the best price available. Contact us today to find out more.
What can you put in a skip bin in McLaren Vale skips?
We can collect most types of waste, including general waste, green waste, concrete/bricks, soil and even mixed waste. We accept tyres and old mattresses too. With mattresses, just remove the outer material off the springs and put them separately in the skip bin. The springs can then be disposed of as scrap metal and the material is general waste. No more extra dumping fees!
If you are unsure about what can go in your skip bin or if garden waste can be mixed with household rubbish, just get in touch and a member of our team will be happy to advise. If you are ready to order a skip bin today simply fill in our contact form and we'll get on with the important business of making sure you get the cheapest deal on McLaren Vale skips possible!
What size skip do I need to hire?
Skip bin hire McLaren Vale is simple to manage if you plan ahead. Many people assume there's only one size of skip bins available but we offer many sizes and types starting at just 2m3 and going all the way up to 30m3 in size! We also have Marrel skip bins and Hooklift skip bins; some are lifted off a truck whilst others have wheels. Mini skips McLaren Vale are a great way to deal with smaller amounts of waste.
Skip bin hire McLaren Vale makes getting rid of awkward waste so simple! Mini skips McLaren Vale mean that you can easily clear out smaller junk piles from your home.
Below is a list of all our skip sizes. Get in touch if you see something you'd like or if you would like more information.
•2m3 Mini Skips
•3m3 Mini Skip Bins
•4m3 Small Skip Bins
•6m3 Large Skip Bins
•7m3 Large Skips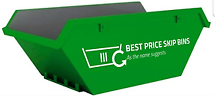 •8m3 Extra Large Skip Bins
•9m3 Extra Large Skips
•11m3 Hooklift Skip Bins
•15m3 Large Hooklift Skips
•30m3 Extra Large Hooklift Skip Bins
How do I find the cheapest skip hire McLaren Vale?
Just call Best Price Skip Bins! That's what we excel at! We find you the cheapest skip bin as soon as you place your order and what's more, we can get it out to you within 24 hours of your first contact with us. We are a family owned and run company so we know how important it is for many of our customers, to stick to their budget. That's why we work hard to get you the price you want with no compromise on quality of service. If you'd like to book a skip bin, contact us today and get the ball rolling.
We're the best option for skip hire McLaren Vale!
Is skip hire McLaren Vale the best way to remove my rubbish?
If you find yourself in the position of having too much trash in your home or garden but not quite enough for a skip, then mini skips McLaren Vale might be your best option. You don't need to have a tonne of rubbish to get rid of to use our services, mini skips McLaren Vale are the perfect option for those times when you've got too much for your general waste bins.
With dump runs, you'll find yourself making multiple trips to the dump and paying fees. Loading and unloading a trailer is no fun! With Best Price Skip Bins, all you need to do is fill up the skip and then we take it away. We even provide a ramp with many of our skips so you can easily load up heavier waste items.
Using skip bins is an extremely convenient and cost-effective method of waste disposal and Best Price Skip Bins can make it the cheapest method for Skips McLaren Vale.
Do I need a council permit for skips McLaren Vale?
A council permit is not required if placing the skip on private property but if the skip bin is to be placed on public property, such as the nature strip, street or footpath, a permit is required. Councils charge for these permits too. The City of Onkaparinga will give you more information regarding skip bin permits.
To find a cheap skip bin, just go online 24/7 and get a quote. You can have a skip bin delivered to your door the very next day! You will wonder why you hadn't booked a skip sooner!
Meet The Team at Best Price Skip Bins