Skip Bins McLaren Flat
Hiring skip bins McLaren Flat
McLaren Flat sits right in the middle of wine country. Adelaide's wine region is renowned not only for it's high quality and well-established wine production but also for the extreme beauty of the area. Rolling hills and lush vineyards coupled with its proximity to the stunning coat, make this a popular location. Skip bins McLaren Flat are often in high demand as many people here have seriously large gardens which require a lot of maintenance. Aside from gardens, the popularity of the area means that there are many people moving into McLaren Flat on any given week
Best Price Skip Bins are experienced in providing skip bins for all manner of uses. We not only provide skips to homes and businesses but we also find the cheapest possible skip bin available at the time of ordering. That means that when you contact us to book a skip bin, you don't need to worry about calling multiple skip companies for quotes but can rely on us and our extensive links in the skip bin industry.
Skips McLaren Flat are convenient and affordable way to deal with all kinds of excess waste.
What can you put in skips McLaren Flat?
Skip bin hire McLaren Flat is the most convenient and speedy way to deal with all types of waste. Best Price Skip Bins accept green waste, bricks, soil, rubble and even old tyres. We cannot accept liquids or asbestos. If you suspect that some of your waste might contain asbestos, contact the experts. Please do not attempt to handle it yourself.
We ask that waste is separated into types; this is to aid recycling. Best Price Skip Bins are always working hard to protect our environment. If you are unsure about whether the waste you have to get rid of is safe to put in a skip bin, get in touch with us and a member of our team will be happy to advise.
What size skip do I need to hire?
When you need to ditch excess waste, skip bin hire McLaren Flat is the most sensible way to go. We have skip bins of all sizes including mini skips McLaren Flat. Whether you're simply clearing out your shed or engaging in a big garden remodel, we have a suitably sized skip bin for your needs. Our skips start at 2m3 and go all the way up to 30m3 so no job is too big or too small.
Here's a list of all our skip bin types and sizes.
•2m3 Mini Skips
•3m3 Mini Skip Bins
•4m3 Small Skip Bins
•6m3 Large Skip Bins
•7m3 Large Skips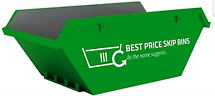 •8m3 Extra Large Skip Bins
•9m3 Extra Large Skips
•11m3 Hooklift Skip Bins
•15m3 Large Hooklift Skips
•30m3 Extra Large Hooklift Skip Bins
How do I find the cheapest skip available?
We do it for you! That's literally our speciality. Best Price Skip Bins have been in the business for long enough to have established excellent links with all of the very best skip hire companies in the area and we use those links to book you the cheapest skips McLaren Flat.
We are a family owned and operated company which means we really do understand the importance of budget. We're able to ensure that your skip bin is always the cheapest available and when you book it, we do the research to make sure you get the best.
Simply put in your postcode and we will walk you through the questions we need to ask regarding the types of waste you have and when you need your skip bin.
Is skip bin hire the best way of removing my rubbish?
Skips McLaren Flat are the best option if you want a clean and convenient service. The other method is for you to make multiple trips to the dump…which means loading and unloading your trailer multiple times. With Best Price Skip Bins, you just order and we send the skip bin to your address when you need it.
We even supply a ramp for some skip bins which means you can easily load and unload your skip bin even with heavy waste. Get in touch today to find out just how simple it is!
Do I need a council permit for skip hire McLaren Flat?
You may need a permit if you want to place your skip bin on public land. If you choose to place your skip bin on your own land, no permit is needed. The City of Onkaparinga are very helpful when it comes to permits. You can get in touch with them if you need more advice regarding permits.
To find a cheap skip bin, just go online 24/7 and get a quote form Best Price Skip Bins Adelaide or if you see something that suits, book a skip bin on the spot. You can have a skip bin delivered to your door anywhere the very next day! You will wonder why you hadn't booked a skip sooner!
Meet The Team at Best Price Skip Bins