Skip Bins Marion
Hiring Skip Bins Marion
Marion is close to Adelaide's CBD and it's full of high-quality housing and excellent shopping opportunities. It's really got everything a family or professional single could want when looking for the ideal place to set up home. Skip bins Marion are as a result, often in high demand. Skip bins Marion are a great way to manage your house move or renovations easily and affordably.
When you book your Marion skips with Best Price Skip Bins you get a unique service in that we go all out to find you the cheapest possible skip bin available. Using our many contacts within the industry, we shop around until we've got you an outstanding deal.
You can't get cheaper than Best Price Skip Bins. Book yours today!
What can I put in Marion skips?
There's not a lot you can't put in them! We can collect most types of waste, including general waste, green waste, concrete/bricks, soil and even mixed waste. You might wonder why we try to keep waste types separated in our skips– it's to allow for recycling when possible!
As an eco-friendly company we place a lot of value in recycling and try to be as sustainable as possible. Marion skips are also great for getting rid of mattresses and old tyres. With mattresses, just remove the outer material off the springs and put them separately in the skip bin. The springs can then be disposed of as scrap metal and the material is general waste. No more extra dumping fees!
If you need advice regarding any waste you'd like to dispose of through skip bin hire Marion, just give us a call and we will be happy to help.
What size skip bin hire Marion do I need?
We offer a large range of sizes including mini skips Marion. If you're finding it hard to visualise your waste in relation to a skip bin, check out the handy infograph below. It gives a clear picture of how large skip bins are when compared to an average male.
Here is a list of all the sizes we have in stock. Again, if you need advice, please don't hesitate to get in touch!
•2m3 Mini Skips
•3m3 Mini Skip Bins
•4m3 Small Skip Bins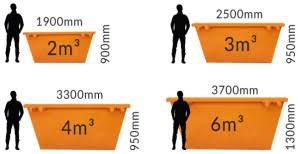 •6m3 Large Skip Bins
•7m3 Large Skips
•8m3 Extra Large Skip Bins
•9m3 Extra Large Skips
•11m3 Hooklift Skip Bins
•15m3 Large Hooklift Skips
•30m3 Extra Large Hooklift Skip Bins
How do I find the cheapest skip hire Marion?
Just contact us! We simply cannot be beaten on price. We're a family owned and operated company…so we understand how important your budget is. We go all-out to ensure that every single customer who orders with us, gets a great deal. Utilising our many contacts, we make sure you pay the lowest possible price.
Just enter your postcode into our easy-to-use online booking form and we will get the ball rolling! You could have a skip at your door within 24 hours.
Is skip hire Marion the best way of removing my rubbish?
Yes! Without a doubt. Skips Marion are the best way for you to quickly and efficiently clear the decks. When you order with us we do everthing in our power to make things easy for you. Including supplying ramps with many of our skips. Ramps make filling your skip much easier…especially with heavy waste.
Do I need a council permit for skips Marion?
Sometimes. If you're placing a skip on your own property however, then no permit is needed. Placing a skip on public property will require a permit. You can find out more from The City of Marion. Or ask us! We are always happy to advise.
Get in touch for a quote or order now! Your skip bin could be with you by tomorrow!
<div "style: clear:both;">