Skip Bins Cronulla
Hiring Skip Bins Cronulla
One of Sydney's most famous coastal suburbs, Cronulla has remained a popular seaside resort for well over a century. Loaded with great restaurants and shopping experiences in addition to some beautiful housing options, it's also only 26km South of the CBD. This of course has ensured that people are queuing up to land property in the area. When it comes to moving house or renovating here, it's Best Price Skip Bins that those who are in-the-know turn to for skip bins Cronulla.
Why Best Price Skip Bins? Because we literally offer the best prices on skip bins Cronulla that you'll find. It's no secret in the industry that we're on top of the prices and that when you book with us, you'll always be offered the lowest priced provider. That's what makes Best Price Skip Bins unique…our commitment to our customers to ensure they get a great deal on Cronulla skips.
All you need to do to grab a deal on Cronulla skips is enter your postcode in our handy online form and we will do the rest. Entering your postcode doesn't tie you down to ordering. It simply allows us to work out where you are and then find you the best price skip bin. If you do choose to order, then we can have a skip bin at your address within 24 hours. Skip bin hire Cronulla has never been so easy or so cheap!
What can you put in skip bins Cronulla?
There's not a lot you can't put in them! Best Price Skip Bins take most types of waste aside from a few exceptions which include asbestos and liquids. We can't take those for safety reasons.
However we can and do accept general waste, green waste, concrete/bricks, soil and even mixed waste in addition to the usual old furniture and rubbish.
You might wonder why we try to keep waste types separated in our skips– it's to allow for recycling when possible! Did you know that dumps charge extra for certain items that you may need to dispose of including mattresses and tyres? But you can save some money by using a skip bin instead of taking it to the dump.
Skip Bin Hire Cronulla is an eco-friendly way to remove much of your waste because we do try to recycle wherever we can…that's less of your waste into landfill.
If you're unsure about whether skip bin hire Cronulla is right for you, please don't hesitate to call us and we will be happy to discuss your needs.
What size skips Cronulla do I need?
We have a huge range on offer and working out which size is right for you is simple. Check out our handy infograph below to get an idea of how large some of our skips are. Mini skips Cronulla are a great choice if you only have a little waste to dispose of.
Once you've worked out how large your skip bin needs to be, we will do the rest! Just enter your postcode here for a quote.
•2m3 Mini Skips
•3m3 Mini Skip Bins
•4m3 Small Skip Bins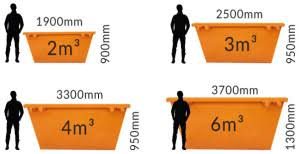 •6m3 Large Skip Bins
•7m3 Large Skips
•8m3 Extra Large Skip Bins
•9m3 Extra Large Skips
•11m3 Hooklift Skip Bins
•15m3 Large Hooklift Skips
•30m3 Extra Large Hooklift Skip Bins
How do I find the cheapest skips Cronulla?
Just call Best Price Skip Bins. We're the cheapest around because that's what makes us stand out. You simply cannot get cheaper skip bins because our business model is based on ensuring that you as the customer, always get the best deal available. We do this by shopping around among our extensive contacts so that you don't have to. We have great links with all of the very best skip suppliers in your area…that's how we can be certain that you get the best price and the best service…every time.
As a family-owned and run company we place a lot of value on budget. We know that you do too…so you can be sure that booking with us is always the right decision.
Get in touch with us today to learn more about how we can get you the lowest priced skips Cronulla!
Is skip hire Cronulla the best way of removing my rubbish?
There's no better! Think about it…you can either load up your trailer multiple times, drive it to the dump and pay the fees for that or you can book a skip bin and have us do all the dirty work for you! It doesn't take a genius to work that one out!
Using skip bins is an extremely convenient and cost-effective method of waste disposal and Best Price Skip Bins can make it the cheapest method too. It's so simple. All you need to do is make the booking!
Did you know that most skip bins even have a ramp for easy access so if you need to dispose of concrete or soil you can do so using a wheelbarrow.
Do I need a council permit for a skip bin?
In short…only if you place the skip bin on public land. Most people want to place their skip bin well within their own boundaries and in this case, no permit is necessary. Businesses are more likely to want to place a skip on public land. If you have any questions you'd like to ask get in touch with Sutherlandshire Council or give us a call at Best Price Skip Bins and we'll be happy to help. Our friendly team is always at-the-ready!
Meet The Team at Best Price Skip Bins
Suite 501 6/197/205 Church St,
Parramatta NSW 2150
Phone: 1300 79 11 32
Easy Ordering
[google-reviews-pro place_photo=https://maps.gstatic.com/mapfiles/place_api/icons/generic_business-71.png place_name="Best Price Skip Bins" place_id=ChIJAQBAvR-jEmsRDnCG0Agi5Vk rating_snippet=true sort=1 min_filter=4 hide_photo=true disable_user_link=true write_review=true text_size=120 view_mode=list]
Waste Types
Please read the important information below regarding what you can and can't put in the bin for each waste type