Skip Bins Caulfield
Skip bins in Caulfield are always in demand. Caulfield, Melbourne, is just 12km from the city centre, and as you'd expect, it's a thriving, buzzing district. Long known as the epicentre of Melbourne's strong Jewish community, it is a great place to live.
Full of family-friendly activities, cafes, restaurants and great shopping, many examples of beautiful architecture here exist.
The popularity of Caulfield sees that there are plenty of house renovations going on at all times. This necessitates regular, good-quality waste removal – and Best Price Skip Bins is always on hand to help.
Here at Best Price Skip Bins, our team knows Caulfield well. As a result, we're the go-to skip-hire Caulfield company. We deliver fast – next day if needed, and what's more, our prices are the lowest of the low.
When you book with us, you'll always get a great deal because our system is designed to sort through all local suppliers and then offer you the best price – every time.
Putting the customer in control of skip hire Caulfield
When you want a skip bin, you also want great service. You don't want to waste time phoning multiple companies to make price comparisons.
That's why our system does it for you. We've already vetted all the skip hire companies in Caulfield and surrounds, so you don't have to.
We only work with the best of the best. When you book with us, you get the cheapest skip bins in Caulfield, great service, and friendly support.
What can you put in a skip bin in Melbourne?
You can put a lot in skip bins, but a few exceptions exist.
Asbestos
Batteries
Oils
Paints
Fluorescent tubes
You also need to ask about some items before putting them into a Caulfield skip bin. These include televisions, mattresses and tyres. It's best to check first to avoid unexpected charges.
If you are unsure about what can go in your skip bin or if garden waste can be mixed with household rubbish, just call us, and we will be pleased to advise you further.
What size skip bin hire Caulfield should I order?
This is something that many people worry about, but it's quite simple. Our infographic below gives a good idea of how to judge the capacity of our various skips.
Check this guide to skip bin sizes for more help.
You can work out how much waste you have with the help of the guide above, then select the best skip hire Caulfield for your needs.
Packing your skip bin
Pack your skip bin with care so as not to waste any space. Some tips for packing effectively are below –
Lay flat items on the base of the skip bin
Break furniture or old cabinets apart so you can stack the pieces
Use a wheelbarrow to load things into the skip bin's rear hatch
Do not over-fill the skip bin beyond the rim
Best Price Skip Bins have skip bins for hire of all sizes, ranging from 2m3 up to 30m3, so you will always find a suitable skip bin for your needs.
Mini skips Caulfield are a great option for those smaller clear-up tasks.
Here's a list of all available sizes for skip hire Caulfield.
•2m3 Mini Skips
•3m3 Mini Skip Bins
•4m3 Small Skip Bins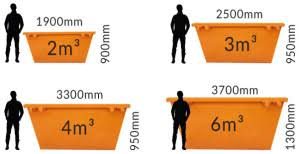 •6m3 Large Skip Bins
•7m3 Large Skips
•8m3 Extra Large Skip Bins
•9m3 Extra Large Skips
•11m3 Hooklift Skip Bins
•15m3 Large Hooklift Skips
•30m3 Extra Large Hooklift Skip Bins
Cheap skip hire Caulfield
Best Price Skip Bins is always the cheapest option for skip bins in Caulfield and beyond. We've worked hard to ensure that all the best skip hire companies in Caulfield are on our database.
That means that when you enter your postcode, you'll be offered the cheapest available skip bin for the date of your choice.
We are a family-owned and run company with one of the easiest skip hire ordering systems online. Once you enter your postcode into our easy-to-use order form, the ball will roll, and you can decide if you want a quote or to place an order.
Is skip bin hire Caulfield the best way of removing my rubbish?
Without a doubt! Skip bins are convenient and affordable, and they are also eco-friendly. When you hire a skip bin, the waste is removed and sorted for recycling.
We work hard to ensure no waste in landfill could otherwise be recycled. Green waste is turned into compost, and other recyclable materials are processed at various plants.
Contact us today to find out more!
Do I need a council permit for skips Caulfield?
A council permit is not required if placing the skip on private property. However, you will need a permit if the skip bin is placed on public property.
Visit Melbourne City Council to learn more about skip bin permits in Caulfield.
To book the most affordable skip bins in Brunswick and surrounding areas, simply fill in the order form online or call us, and we'll get your skip bin to you within 24 hours!
Meet The Team at Best Price Skip Bins