Skip Bins Geelong
All You Need to Know About Hiring Skip Bins in Geelong
Hiring skip bins in Geelong is simple when you do it the right way. Best Price Skip Bins have been in the business for many years and we've fine-tuned the process so that it's as easy as possible for our customers.
It's easy to become confused when booking skip hire Geelong so we've made our ordering process simple and easy to understand. Best Price Skip Bins are also in a position to offer customers the cheapest possible deal. We do this via our booking form. When you enter your postcode into the system, you're asked a few basic questions about waste type and preferred day of delivery, then the system searches to find the cheapest supplier available. That's the skip bin you're offered – the one that will cost you the least.
Our suppliers are the best in the business. We only work with tried and tested skip bin suppliers in Geelong so you can enjoy reliable delivery and low cost.
How do I know which size skip bin to hire?
Working out which size skip bin to hire in Geelong is simple thanks to our foolproof skip bin size guide. The guide shows you a comprehensive list of differently sized skips in Geelong and compares each size to the average wheelie bin and how many full wheelie bins worth of waste you can fit into each.
Most people are used to working with wheelie bins when we deal with ordinary household waste. So it's quite simple to predict which size skip bin you're going to need to hire.
Remember, you're not supposed to fill skip bins above the edge – it's unsafe, so don't underestimate the size you need. If you're in any doubt as to which skip bin to hire, get in touch and we will assist you in working it out.
What can you put in skip bins?
Geelong skips are good for all sorts of waste. We take green waste, concrete, bricks, general household waste and lots more. We don't take asbestos and liquids although some suppliers can arrange for this – if you need to dispose of asbestos, please get in touch with our office directly and we will help you find the right supplier.
There are many rules and regulations associated with the disposal of asbestos. It's a good idea to learn more at www.asbestos.vic.gov.au
In general, it's useful to remember that we stock various types of skip bins Geelong and that each type is for different sorts of waste. Check our skip bin waste types guide to get a clear picture of what you can put in the different skip bins. Some are meant for general waste for example, whilst others are for building waste such as concrete and bricks.
How does delivery of Geelong skips work with Best Price Skip Bins?
You book your skip bin via this form. Simply enter your postcode into the correct field – the box which says START HERE and you will be taken to a "waste types" selection page. This page clearly lists which sorts of waste go in each type of Geelong skips. You'll be able now to choose the best skip bin for your needs.
Now that you've selected the right skip bin type, you will be taken to the size page. This illustrates clearly the different size options for skip bin hire Geelong. You can see by the graphic illustrations how many wheelie bins of waste each size can hold.
Choose the best skip bin for your needs. Now you can choose a day for delivery and a day for collection. You can't always decide on the exact time of delivery or removal but if you are driven by time constraints, please get in touch and we can work with our suppliers to try to meet your needs as best we can.
Remember, we also stock mini skips Geelong – so if you've only got a small amount of waste, this might be the perfect option for you.
Is skip bin hire efficient and eco friendly?
Yes. Skip hire Geelong is incredibly convenient and simple to manage. Consider what dump runs involve – repeated journeys, trailers and paying out for fuel and dump costs too.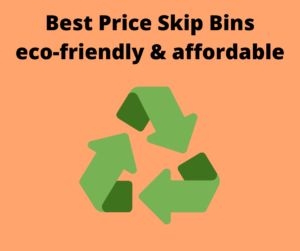 Geelong skips with Best Price Skip Bins allow you to ditch your junk right on your own doorstep. The environment is always at the forefront of what we do and how we do it too. That's partly why we have different skip bins for different waste types. To make recycling simpler.
We take your waste to another location and there it is sorted and what can be reused is reused. Here at Best Price Skip Bins, we try to avoid landfills completely where possible.
The team make filling your skip bin as easy as possible too. Most of the skip bins made for heavy waste also come with a ramp. This means you can use a wheelbarrow to push waste up and into the skip bin with ease. If you think you are going to need a ramp, do check beforehand that the skip bin you want comes with one.
Are skip bins affordable?
Yes. Hire of skip bins is affordable; prices vary with mini skips Geelong being the most affordable option. We also ensure every customer gets the best possible deal with our unique booking system. When you book, remember that you're always offered the cheapest option available.
How do I know where to place the skip bin – do I need a permit for a skip bin?
Most people have their skip placed on their driveway or sometimes on the verge outside. You must be careful not to place it on public land though as that will require a permit. Check this page from the Australian Government about permits in Geelong. It explains how you will need a permit if you want to place a skip bin on council-owned land. It also explains fees and how to apply.
Best Price Skip Bins – family owned and family run
You can book with confidence safe in the knowledge that we are a family-owned and run company. Our first concern is for you – the customer. Everything we do is geared towards making your journey with us as convenient and simple as possible as well as ensuring affordability.
Whether you're a business or a homeowner, we want you to benefit from our extensive supply chain and access the best possible skip bins Geelong available. That means the best service and the best price.
Just call on us and we will be right there in no time. This is what we stand for – on-time delivery and on-time pick up. From 2m3 to a whopping large 9m3, we provide a good range of skip bin hire Geelong. Our skip bins are affordable and are also of the highest quality. Regardless of the type of waste you have, you can always call on us to handle it for you. We offer both short term and long term hires.
We're always here to help if you need advice or guidance too. Get in touch with us any time and one of our friendly, knowledgeable team members will happily advise.